There was a lot of excitement about the TDS this year, with the new course adding an additional 23 kilometres and 1800 metres of ascent. There was also a very exciting line-up, with many former podium finishers of UTMB races.
The men's race included Dmitry Mityaev (second in Transvulcania this year and third in last year's TDS), Ludovic Pommeret (third in the 2017 CCC), Pablo Villa Gonzales (second at this year's Transgrancanaria and DNFd the TDS last year), and Tofol Castaner (won the CCC in 2012, 2nd at 2014 UTMB and 4th at last year's TDS)
The women's race had last year's winner Audrey Tanguy, who recently finished second at Lavaredo. But, the runner who beat her at Lavaredo – Kathrin Gotz – was also here! She also won the Eiger 101 a couple of weeks ago and she too DNFd last year's TDS. Hillary Allen was also be running, continuing her comeback from her awful accident at Tromso 2017 and a broken ankle at the start of this year.
The TDS also had a new start time of 4am on Wednesday and runners set off from Courmayeur into a nice cool morning. The quicker runners who managed to complete before the heat of the day on Friday enjoyed pretty cool conditions throughout. But those who toiled away through Friday and into that evening had hot temperatures and sun to deal with, along with everything else.
The men's race was a close run thing for most of the day. As expected there was a group including Pablo Villa Gonzales, Dmitry Mityaev and Hallvard Scholberg who were minutes apart in the early stages. Ludovic Pommeret climbed the rankings throughout the day. But it was Pablo Villa Gonzales who was to pull away for the victory in 18.03, around an hour quicker than was expected on the new course. Mityaev was second and Scholberg third.
Simon Bourne was top British man, finishing in 55th place and 2nd vet. Kim Collison was going well early on and in the top 20, but alas he had to stop at Beaufort.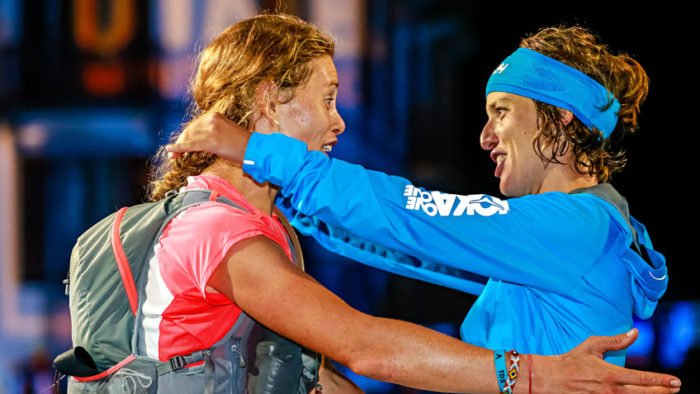 The women's race was close too, with defending champion Audrey Tanguy and Hillary Allen often neck and neck. Kathrin Gotz was rarely far behind either. There were two British runners, Sophie Grant and Anna Troup, hovering just outside the top 10 for much of the day, both making their way through the rankings. Unfortunately Anna Troup fell and may have fractured her ankle, so she had to DNF. But Sophie Grant continued to overtake women throughout Thursday.
Audrey Tanguy emerged the winner for the second year running in 21.36, with Hillary Allen in second and Kathrin Gotz in third. It was such a shame that the new format of the race meant that the top 3 women came in between 1am and 4am. They really deserve a better reception that the middle of the night affords.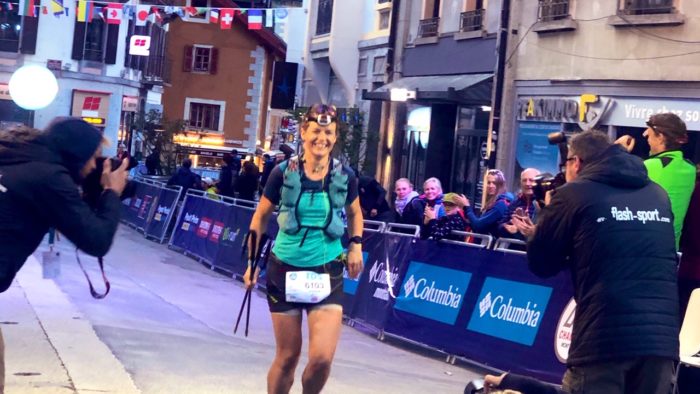 Sophie Grant finished in a fantastic 11th place with a characteristic smile on her face. She summed it up for many of the competitors by saying afterwards "the new TDS is a lot harder than UTMB". And as a 5 time finisher of the UTMB, and now TDS finisher, she should know!