Multiple World Champion Jon Albon continued his superb start to the season with victory in Sunday's Marathon Du Mont-Blanc – and in style.
The British star dominated the second half of the high-profile Golden Trail Series event which features over 2,500 metres of climbing, crossing the line in a packed Chamonix to rapturous applause.
Last week in his first blog for RUN247 the Team North Face runner wondered how the first big test of the campaign would reveal winter training had gone – it was some answer!
Here's his race report and reaction…
Solid start
As ever with races, I'm never at my most confident the week before. But I've trained well in the past months – ever since Christmas really – and have had some good training races so the form should be there.
I'd had a nice taper and felt pretty good as soon as we started. The big talk of the town was that the Kenyans were going to go out really fast as the first 13km had only about 700m of climb and no descent so a relatively flattish first part of the race.
But that helped me too as normally I need a decent warm up before the first major climb.
I spent the majority of that opening section keeping in touch if there was a little downhill and being sort of 50 metres behind on the gentle uphills – and then behind me were the main favourites, including Davide (Magnini).
Climbing clear
I knew how to do the Posettes climb – 700 metres up and then 1,000 metres of descending – and how that went would likely decide the race for me.
I was going to take it relatively conservatively and try and save a lot of energy but I decided to really go for it which is virtually unheard of for me as climbing is definitely my weakness, but the one I've worked hardest on over the last year.
It's the descending which is a big strength and the downhills are normally where I can put a big gap into most people, but funnily enough a couple of the guys stuck with me for the whole descent which was a bit worrying.
So we got into the aid station which marks the end of that second section of the race and to come was a gradual climb and then two proper ones.
My legs felt a bit hollow at that point but I grabbed my stuff, tucked in between the two guys who were just leading [Petro Mamu and Robert Pkemoi Matayango] and we ran together.
But then we got onto the climb and pretty soon I dropped both of them so I soon figured, 'okay this is pretty much mine to lose now' and just focussed on the two remaining big climbs.
Late scare before celebrations start
The last two were 300m up, the same back down and then 400m up and down and that was all the climbing done. I just thought if I can run the entire climbs – no hiking whatsoever – then the guys behind me shouldn't have been able to go that much faster.
That's exactly what I did and when I got to the final aid station I was told I had a three minute lead which I couldn't believe. I just had no idea that was even possible and thought someone must have made a mistake.
On the final downhill I got to a switchback and there was a guy on the bike who was going to film me and I just looked up, lost concentration for a split second and next thing I know I was suddenly looking at the ground and fell over.
So that wasn't good and then my right calf started to properly cramp up and I just thought, 'okay I want this to be over now'.
'Maybe it won me a bit of respect'
The crowd was amazing in Chamonix and I was properly tired when I was done but also very happy – content. It was a good day out!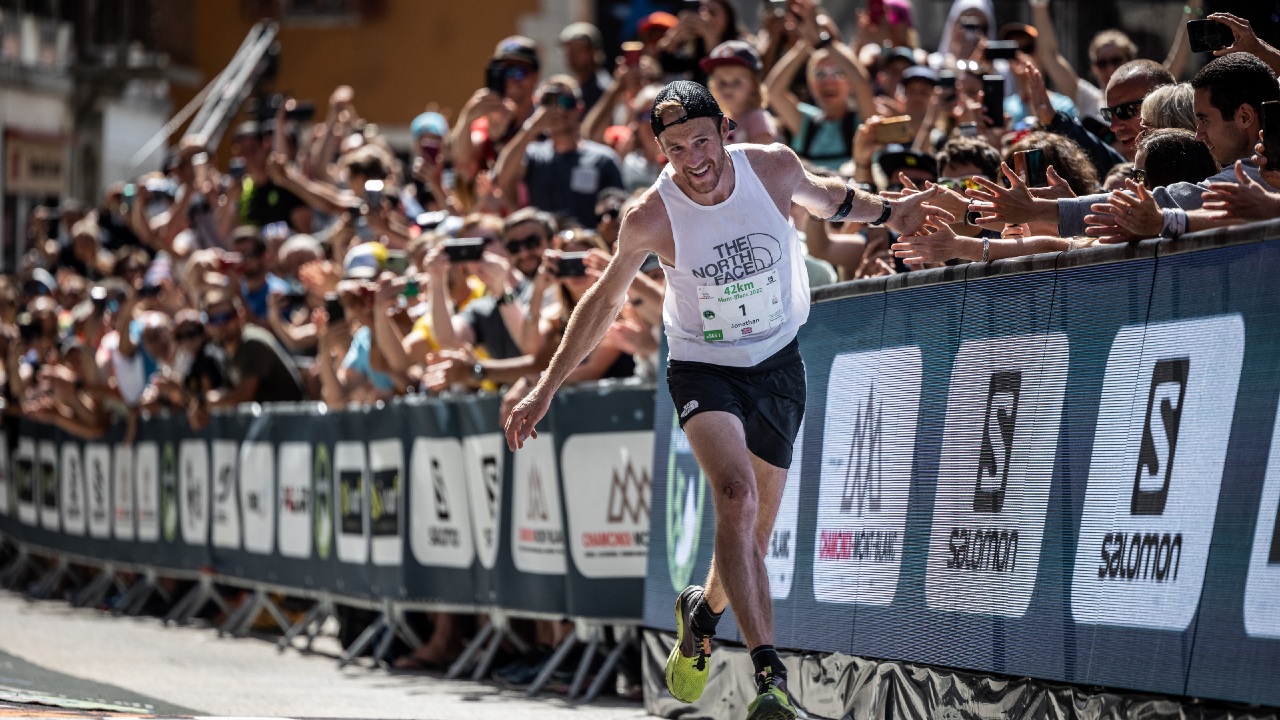 It's one of the biggest wins I've had in my career and also legitimises a lot of the other wins – it shows I did have good form and also deserve to have the ITRA score I have [Ed: Jon is third in the world, just behind Kilian Jornet and Jim Walmsley]. I think maybe it won me a bit of respect.
They're are a lot of people who think Golden Trail races are the only ones to watch when it comes to competitive trail running so to win my first one was pretty cool.
I'm very happy but need to rest up, then get back to training and concentrate on the rest of the year, especially the CCC.