Slovenian couple Jan Božič and Nina Frelih secured victories on home soil at Julian Alps Trail Run by UTMB 2022 at the weekend.
The UTMB World Series event in the Slovenian Alps delivered testing and tough conditions, with record rainfall hammering the mountains.
The downpour saw the 173km Ultra Trail Julian Alps, the longest race of the event, cancelled, with runners shifting their focus to the Ultra Sky Trail 108km, which still offered all-important Running Stones.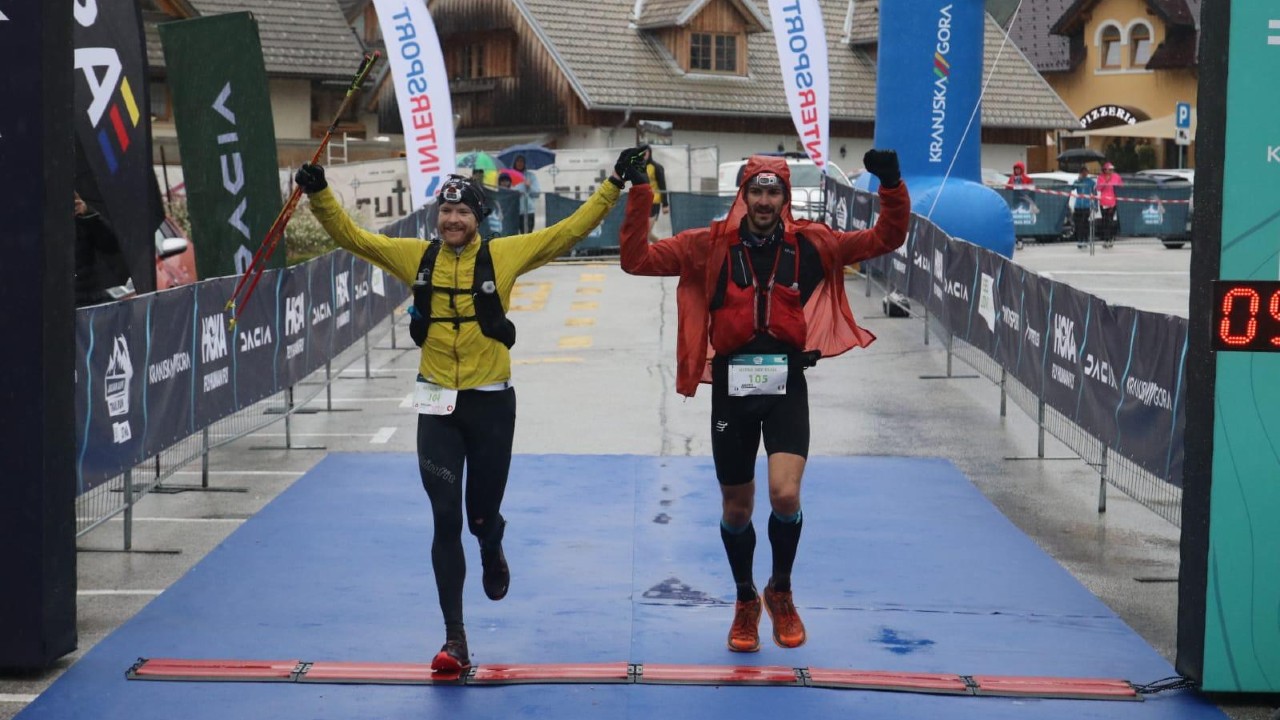 Ultra Sky Trail results
Božič took the tape in the Ultra Sky Trail 108km with an incredible time of 12:08:14, finishing almost 30 minutes clear of his competitors.
Benjamin Muller (SUI) and Andrea Paladin (ITA) finished in joint second, crossing the line hand in hand, in 12:37:40 after a race that Paladin described as "unforgettable"'
Following his triumph, Božič said, "The race served up some interesting weather conditions – from snow, rain, mud, wind, and gusts.
"The last climb was the hardest part of the race, as I was already a bit tired, and it was snowing with wind gusts."
In the women's race, Frelih ensured it was a double win for Slovenia as she ticked off her debut race across the distance in style.
Having recently returned from vacation and training in Africa with partner and male winner, Božič, the conditions were in stark contrast.
Testing conditions
"This was an extremely tough race, and the conditions were extremely tough," Frelih said. "I spent almost 15 hours in rain, fog, snow, mud and cold but I still loved the route. In good weather, this would be a truly fantastic experience."
In the 60km race, Jirí Petr (CZE) and Anna Jansen (GER) were first across the line in their respective categories.
It proved to be a close battle for the podium in both races, with Jansen finishing just 5:48 ahead of Martina Klancnik Potrč (SLO) after almost 7 hours of racing.
Žan Žepič (SLO) took the win in the men's 34km race, with Caterina Stenta (ITA) claiming victory in the women's.
With the weather conditions refusing to let up, the Julian Alps Trail Run by UTMB organisers were later forced to halt the 100km and 60km races at the mountain hut Golica.
In the 16km race, Aleksandra Bazulka (POL) enjoyed her first race abroad to win the female race while Vili Črv (SLO) went on to defend his title as male winner.
Full results from Julian Alps Trail Run by UTMB are available here.
Another UTMB World Series event begins this week, with the stunning French Riviera, Mercantour Massif and Nice Côte d'Azur Metropolis playing host to Nice Côte d'Azur by UTMB on September 22-25.