Lucy Bartholomew of Australia opened her season with a course record clocking at the Tarawera Ultramarathon by UTMB 100 miler, which was made even more impressive by the hurdles she had to overcome on the way to the start line.
Bartholomew, who won the Tarawera Ultramarathon 62km in 2018, was racing in her first 100-miler outside of Western States, as she won with a victory margin of over 40 minutes in 17:13:27.
"I don't think anyone understands what that meant to me out there"
Having only decided to enter last month after taking her dad's slot on the start line, Bartholomew entered the race with very little expectations.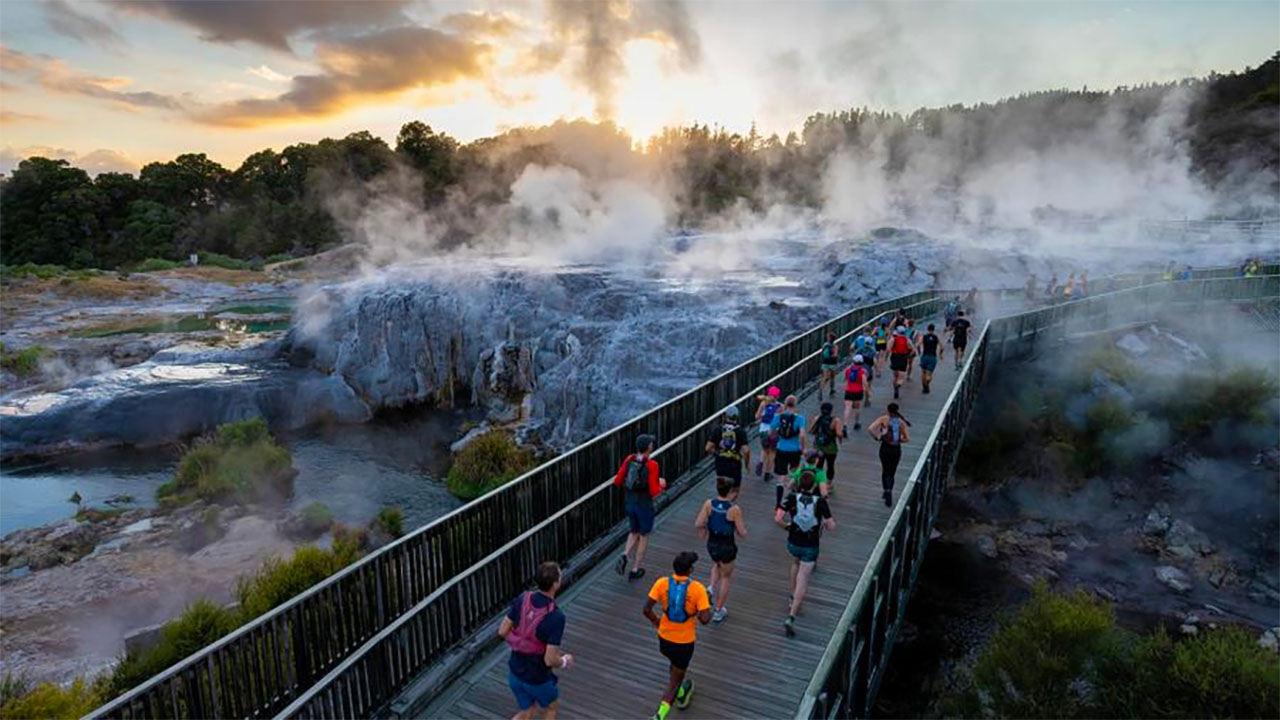 "I had no plan, my plan was just to get to the finish line in the best shape I could. I didn't really want to dig myself a hole too much, but I ended up doing that because as the day unfolded I was just curious of what I could do if I put the hammer down and picked up my pace. I said to my pacer, we got to send it, let's see what we can do to get to that finish line."
Having made it to the race with no elaborate plan to take the win, the Australian star, who now finds herself with a qualifying slot for the UTMB in Chamonix this summer, shared how her expectations quickly changed around mile marker 20.
"I definitely won't lie, around Blue Lake I was just like, I want to win this, I haven't come this far and dug this deep to give up, and that's when I said to Lydia, my pacer, we got to go all in, let's give it something."
"I was lucky that I was getting some splits from the app from people around and understood that I had time, but I didn't really want to lean on that, I wanted to see what my potential was out there and to just run my own race."
To get to the race, Bartholomew flew in from Boulder, Colorado where the weather temperatures were slightly different to the heat of the North Island. This heat, and the change in climate, was one of the main factors that challenged the Australian on the day.
"It got hot, and I felt that that was probably my downfall, just the management of that, but it was kind of one of those things where it's not something I could control, but I can control my hydration and my electrolytes and the things I could control is what I focused on."
As well as conquering the heat, Bartholomew and her crew spent the night before the race sleeping in a van, with her crew who flew in from all around New Zealand constantly on the move to give Bartholomew the best possible chance.
"The support of my crew, they all flew from around New Zealand to help and crew me, and they're not trail runners, so for them to spend a good 17, 18 hours out there, we slept in a van so I could get to the shuttle on time, and they sacrificed some good sleep and probably some good nutrition out there just so that they could watch me suffer and moan a lot, which I did."
Above all else, the former 62km event winner revealed that sharing the win with the team on the ground meant a lot to her, as these are some of the people who supported her as young ultra runner at the event in the past.
"Again, no one will understand, Ali (Pottinger) on the mic and Tim Day running me in. These are the people that have taken me in and looked after me, housed me when I was young and couldn't afford accommodation, so it's just like the family, and to have people out there read my bib and be like, 'oh my god, it's Lucy Bartholomew' and take photos and selfies, just to light someone up like that is just a gift to be able to do whilst hurting a lot."