Zach Miller (USA) backed up his pre-race credentials by winning the showpiece 100-mile race at the Tarawera Ultramarathon by UTMB, while Lucy Bartholomew (AUS) secured an impressive victory in the women's race in what was the 2023 UTMB World Series' season-opening event.
Both Miller and Bartholomew led their respective races from the outset and at no point looked like conceding their leads, both notching course record times.
Dominant displays
Miller finished the 100-mile/ 165-kilometre course in 14:41:41, 30 minutes ahead of second-placed Hajime Mamba (JPN), while Bartholomew finished in 17:13:27, over 40 minutes ahead of runner up Kimino Miyazaki (JPN). Kiwi Katie Wright completed the podium for the women's race, which favourite Ragna Debats never started.
Bartholomew is a previous winner at the Tarawera Ultramarathon (62km in 2018), but the 2023 TUMMiler was her first 100-mile race outside of Western States.
Meanwhile Miller, who finished fifth place at last year's UTMB, secured his ticket for this year's UTMB World Finals with his win, as did the first three in both events, with Britain's Nicholas Bamford rounding out the podium in third.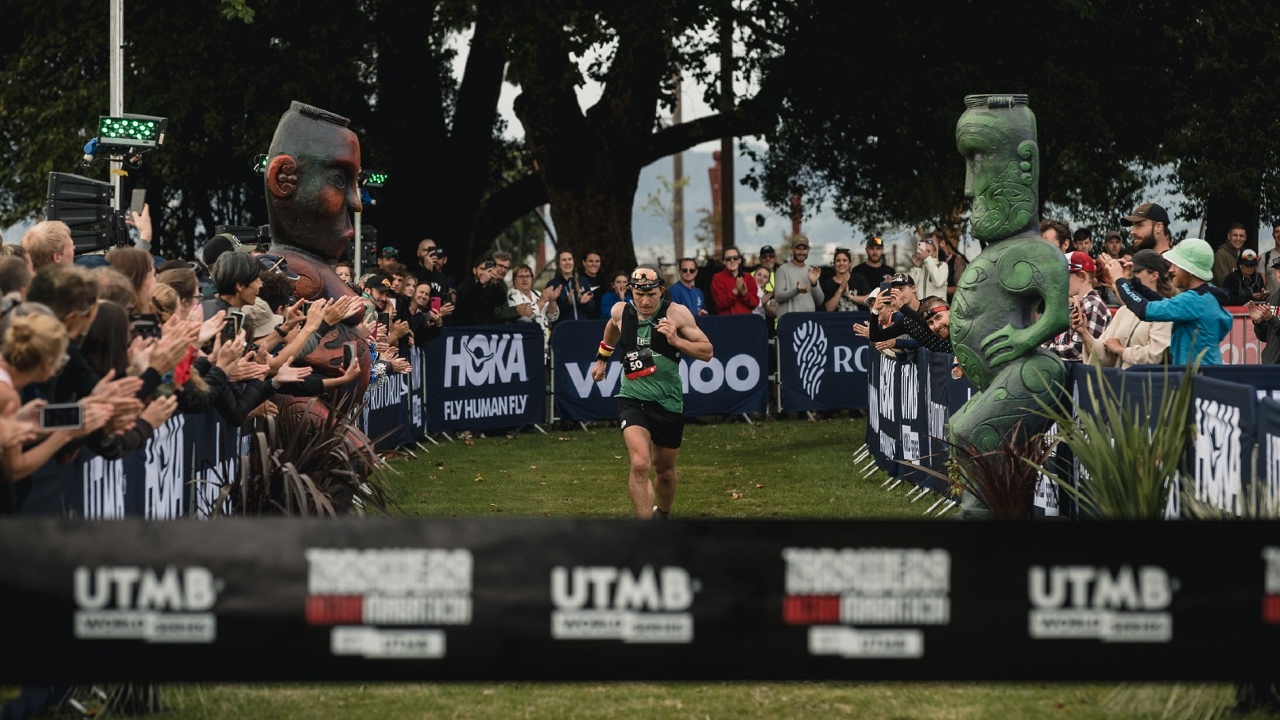 Jones and Jiang take TUM102 titles
In the men's 102km TUM102, New Zealand's Daniel Jones took first-place and secured his spot at the Western States 100-mile endurance race.
Jones broke free of runner-up and race favourite Hayden Hawks (USA) around halfway through the race and never looked back, picking up an impressively dominant win on his Tarawera debut.
A course-record time of 7:27:55 was enough to give the 32-year-old Kiwi the win, with his training partner Hawks coming in at 7:42:13 and American Ryan Montgomery completing the podium in a time of 8:11:21. 
The women's race also had a winner from New Zealand; Nancy Jiang won a nail-biting race, only breaking free from her competetors with a few km's to go.
She finished in a time of 9:26:08, just four minutes ahead of Australia's Stephanie Auston, with third-place Spaniard Aroa Sio just a further three minutes behind her.
Records fall in TUM50, Kiwis dominate TUM21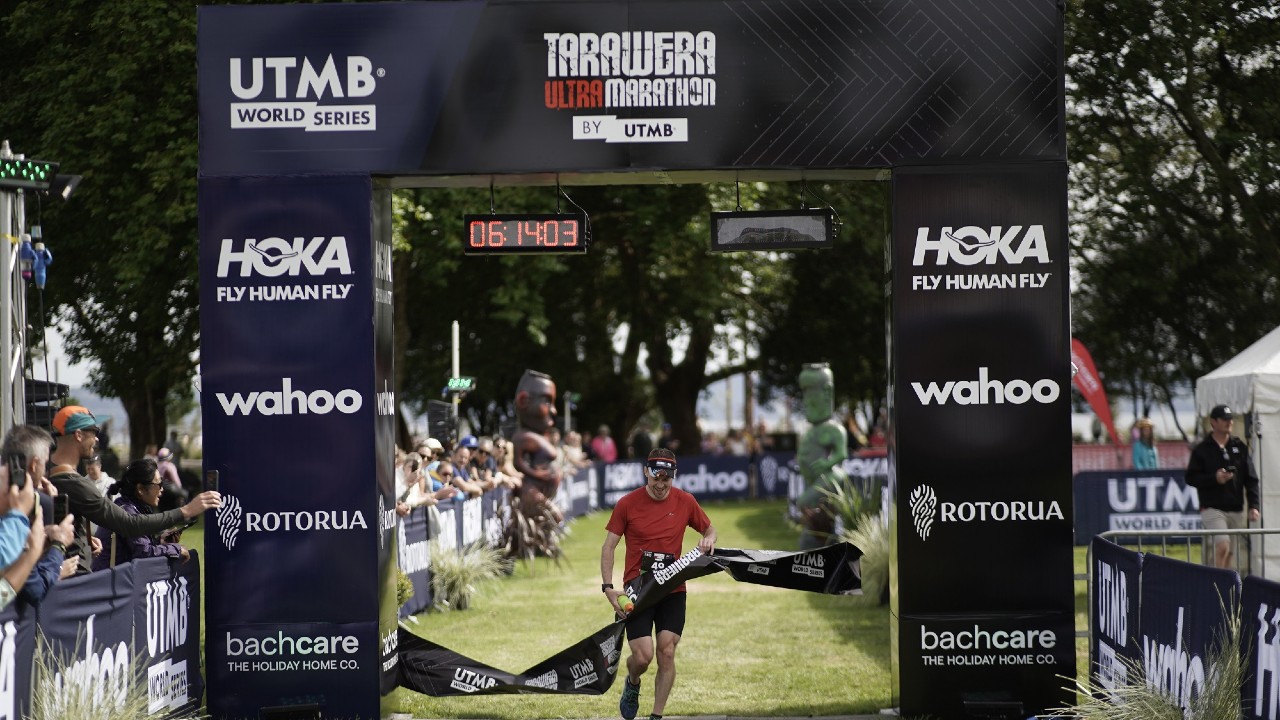 In the 50km TUM50, New Zealand runner David Haunschmidt won the men's race on home soil in a time of 3:33:03 while American Allie McLaughlin set a new women's record as she topped her field in a rapid 3:43:38.
That record previously belonged to Kiwi Caitlin Fielder, who also broke her own record as she finished runner-up in this year's event with 3:46:59 on the clock. Brit Kate Avery rounded out the podium.
In an otherwise tight men's race, Haunschmidt proved a dominant force on home soil. He finished seven minutes ahead of second place Piotr Babis who came in at 3:40:02, with Aussie Charles Hamilton just 45 seconds behind in third.
The men's 21km TUM21 had an all New Zealand podium, with Mike Robinson's winning time of 1:25:45 enough to beat out runner-up Liam Dooley and bronze medalist Brent Kelly.
Canadian Neasa Coll was the sole non-Kiwi on either podium- she finished third in the women's race behind Sydney-based winner Juliette Soule (1:40:59) and runner-up Sabrina Grogan.
Tarawera Ultramarathon by UTMB (TUMMiler), Saturday 11 February 2023, 100 miles
MEN:
Zach Miller (USA)- 14:41:41
Hajime Mamba (JPN) – 15:11:30
Nicholas Bamford (GBR) – 15:32:57
WOMEN:
Lucy Bartholomew (AUS) – 17:13:27
Kimino Miyazaki (JPN) – 17:54:50
Katie Wright (NZL) – 18:19:22
Tarawera Ultramarathon by UTMB (TUM102), Saturday 11 February 2023, 102km
MEN:
Daniel Jones (NZL) – 7:27:55
Hayden Hawks (USA) – 7:42:13
Ryan Montgomery (USA) – 8:11:21
WOMEN:
Nancy Jiang (NZL) – 9:26:08
Stephanie Auston (AUS) – 9:27:29
Aroa Sio (ESP) – 9:30:41
Tarawera Ultramarathon by UTMB (TUM50), Saturday 11 February 2023, 50km
MEN
David Haunschmidt (NZL) – 3:33:03
Piotr Babis (POL) – 3:40:02
Charles Hamilton (AUS) – 3:40:47
WOMEN
Allie McLaughlin (USA) – 3:43:38
Caitlin Fielder (NZL) – 3:46:59
Kate Avery (GBR) – 3:54:52
Tarawera Ultramarathon by UTMB (TUM21), Saturday 11 February 2023, 21km
MEN
Mike Robinson (NZL) – 1:25:45
Liam Dooley (NZL) – 1:26:55
Brent Kelly (NZL) – 1:28:12
WOMEN
Juliette Soule (NZL) – 1:40:59
Sabrina Grogan (NZL) – 1:42:12
Neasa Coll (CAN) – 1:46:16