Remi Bonnet set a new course record at the Pikes Peak Ascent as he claimed victory at the latest 2023 Golden Trail World Series race in Colorado on Saturday.
The Swiss runner finished the all-uphill 21.5km course, which features 2500m of ascent, in 2:00:20 to break Matt Carpenter's long-standing record – the American ran a 2:01:06 in 1993.
Meanwhile, USA's Sophia Laukli took victory in the women's race as she finished in 2:35:54.
Bonnet brilliance
2022 Golden Trail World Series winner and this year's leader Bonnet overcame heavy snow to eclipse the Pikes Peak Ascent course record, finishing just under four minutes clear of Kenyan Patrick Kipngeno.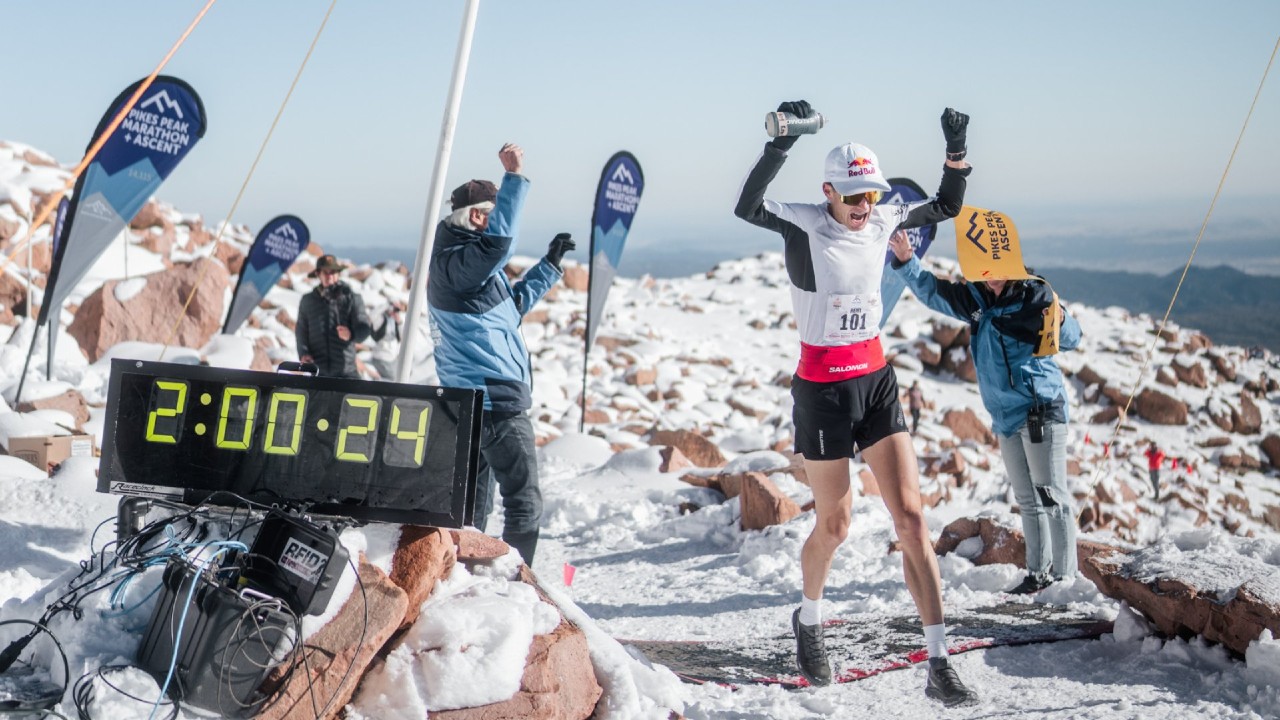 "I knew the altitude was the crux," he said. "I trained and slept in a hypoxia chamber for 20 days before coming here and today I suffered much less from the effects of altitude.
"I'm really pleased to have beaten this record! People thought it was impossible, but I did it and I'm really proud to show who the world's best climber is!
"Now I need to come back and go under the 2-hour barrier!
Kipngeno, the 2022 WMRA World Cup champion, admitted he couldn't live with the blistering pace set by Bonnet in the latter stages of the race, which was his first in the USA.
"I'm very happy with my race and this second place. Rémi was on another planet today, it was impossible to keep up with him," he said.
"I led the pace in the first part of the race but just as I took water, he forged a gap. I'm really pleased because it's my first time in USA and my first ever race on snow.
"It is the second time in a row that I've finished second on the Golden Trail Series circuit and I'm planning on giving it my all in Mammoth to chase down a victory."
USA's Eli Hemming was "very satisfied" to round off the podium, as he came home just over three and a half minutes behind Kipngeno.
Laukli dominance
Laukli's Pike Peak Ascent win saw her cement her position at the summit of the women's Golden Trail World Series rankings heading into the Grand Final and follows her triumph at Sierre-Zinal last month.
The American, who has also won the Marathon du Mont Blanc this year and second in the Dolomyths Run, crossed the line almost four minutes clear of Switzerland's Judith Wyder.
"At Sierre-Zinal I was thrilled to have been able to run a tactical race, but here I started stressing out when Judith overtook me," Laukli said after the race.
"In the end though, I managed to stay calm and gave a shot at being tactical again by waiting for the final 4 kilometres to attack, and it worked, so I'm really happy.
"It's my first Golden Trail Series victory on home ground in the USA, and I also know I'm out of reach in the overall rankings before the final."
Another USA runner, Anna Gibson, completed the podium as she came home over four minutes shy of Wyder,
The 2023 Golden Trail World Series Grand Final takes place at Il Golfo Dell'Isola Trail Race in Ligura, Italy, between 19-22 October.
Pikes Peak Ascent results
MEN:
Remi Bonnet (CHE) – 2:00:20
Patrick Kipngeno (KEN) – 2:04:09
Eli Hemming (USA) – 2:07:40
WOMEN:
Sophia Laukli (USA) – 2:35:54
Judith Wyder (CHE) – 2:39:35
Anna Gibson (USA) – 2:43:59
The full results for the 2023 Pikes Peak Ascent are available HERE.
The 2023 Golden Trail World Series standings are available HERE.