Switzerland's Rémi Bonnet and American Sophia Laukli both secured their 2023 Golden Trail World Series (GTWS) titles at last weekend's Grand Final at the Golfo dell'Isola Trail event in Italy.
Neither won the weekend's main events, with Bonnet finishing fourth in the men's Grand Final and Laukli third in the women's, but their dominance over the course of the season helped them both to overall victory.
Romanian Madalina Florea won the women's main event on Saturday, with Moroccan runner Elhousine Elazzaoui winning the men's race the next day.
Bonnet goes back to back
This was Rémi Bonnet's second Golden Trail World Series title in a row, a result of his dominance in the men's field over the past two years.
In the 2023 season he won three of the GTWS' six events, coming first at the Marathon du Mont-Blanc, Pikes Peaks Ascent and Mammoth Trail Fest.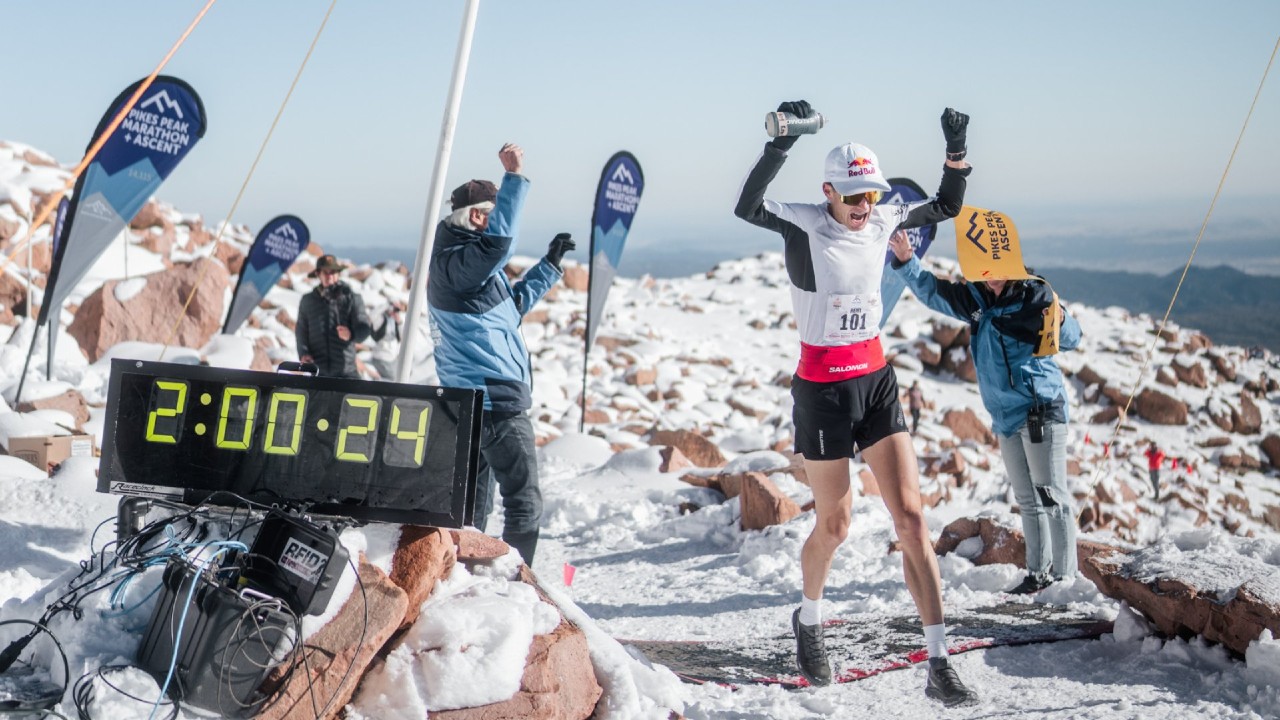 It didn't go his way this weekend, but then again it didn't need to; he had an 80 point lead heading into the final event, and that extended to 93 points after he finished third in the men's Prologue race- a shorter, 8.7km race with an elevation gain of 400m which was ran on the Friday.
That meant he had all but secured the title when he lined up for Sunday's 26km Grand Final, which had an elevation gain of 1,400m. He came fourth in that race, with a time of 1:59:35, to take him to 937 points for the season- 78 more than anyone else.
"The goal was obviously to win the title and I knew I had enough of a gap, but I also wanted to win the race," Bonnet said after the race.
"It was impossible today; I gave it my all but they were just too strong.
"I can't wait for next year, because with these three there's going to be some incredible battles!"
Elazzaoui states his case
The three he was referring too were the podium finishers on the day, race winner Elhousine Elazzaoui, runner-up Philemon Kiriago and third place Patrick Kipngeno.
Elazzaoui took both the Prologue and Grand Final wins, finishing fourth in the overall standings after he won at the Dolomyths Run earlier in the season.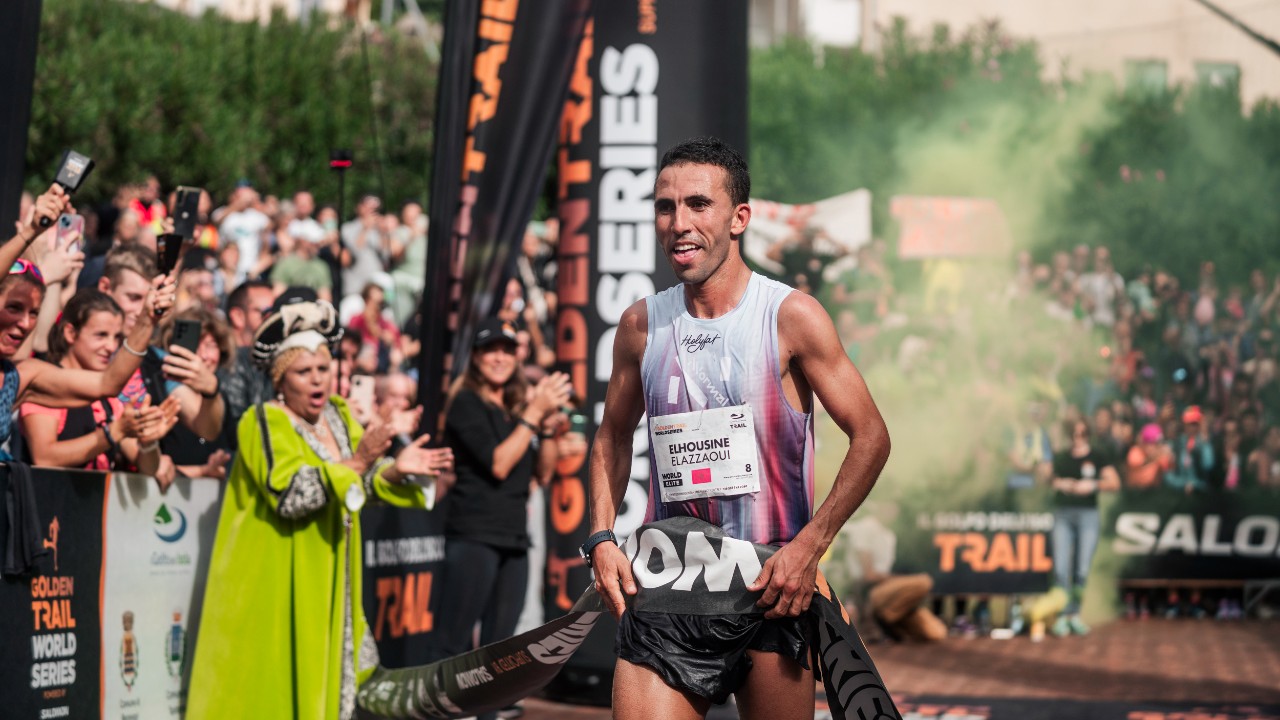 "I'm so happy," he said at the finish line, "I needed to prove that I could win another race after the Dolomyths.
"I couldn't go to the USA because of the visa and so I was eager to prove myself. I was feeling really strong today, but Philemon was incredibly fast.
"I just had to keep in pace with him and wait for the right moment! I'm thrilled with this result and I can't wait for next year!
"I'll say it again: my dream is to win the Golden Trail Series!"
He finished just seconds ahead of WMRA World Cup 2023 winner Kiriago, who came third in the overall table behind his teammate and countryman Kipngeno.
Laukli limps to GTWS win
Sophia Laukli has been this year's dominant force in the women's field of the Golden Trail World Series, and she secured her season victory over the weekend in Italy.
She was engaged in a tight battle with Judith Wyder heading into the weekend, with Laukli on 600 points to Wyder's 588.
Like Bonnet, the American had three wins, having taken victories at Marathon du Mont-Blanc, Sierre-Zinal and the Pikes Peak Ascent, but Wyder had two wins of her own at the Dolomyths Run and Mammoth Trail Fest 26k.
It was therefore a case of Laukli having to finish ahead of her rival, who won this series back in 2019, in at least one race, a feat she accomplished in the women's Prologue on Thursday. She came in second, with Wyder third.
That order was then reversed at the Grand Final on Saturday, which meant that both finished on 958 points for the season- but with Laukli having one more race win than Wyder, overall victory went to the American.
"I had weird sensations today," the 2023 champion said after Saturday's race, "The race didn't set off too fast and I was feeling good, but when the pace picked up I realised I couldn't keep up.
"I held on as best I could… At one point I even thought I was going to drop out, but I managed to hold on and keep my third position.
"I'm so proud of my season, even if it was really tough today in the final.
I told myself I didn't have the right to drop out and lose everything and, in the end, I won the GTWS! Of course, I will be back next year to defend this title!"
Florea picks up double win
If it was not for Romanian Madalina Florea, chances are Wyder would have won her second GTWS crown.
Florea won both the Prologue and Grand Final to propel herself to a third place finish overall, with her 16 second gap over Wyder on the Grand Final just securing the series win for Laukli.
"I can't believe it," she declared at the finish, "I keep thinking it's a dream and that I'm going to wake up!
"I felt good at the start staying behind the girls but then I felt out of pace, so I took the lead on the second loop and put the gas on.
"I felt really great today. I stayed focused right to the end and I it was enough despite Judith's comeback. I'm really happy! Happy is the word that describes how I feel today!"
"She [Florea] was in my sights in the last stretch," Wyder said, reflecting on her narrow loss, "but I made a slight mistake on a bend which cost me a few seconds, a few seconds too many.
"I was so close, but she was stronger. I'm happy I was able to share this race with all these athletes!"
Golden Trail World Series 2023 final standings
Men
1. Rémi Bonnet (SWI) – 937pts
2. Patrick Kipngeno (KEN) – 859pts
3. Philemon Kiriago (KEN) – 840pts
Women
1. Sophia Laukli (USA) – 958pts Three Wins
2. Judith Wyder (SWI) – 958pts Two Wins
3. Madalina Florea (ROM) – 832pts
Golden Trail World Series Grand Final / Golfo dell'Isola Trail results
Men
1. Elhousine Elazzaoui (MOR) – 1:56:14
2. Philemon Kiriago (KEN) – 1:56:29
3. Patrick Kipngeno (KEN) – 1:57:14
Women
1. Madalina Florea (ROM) – 2:18:04
2. Judith Wyder (SWI) – 2:18:20
3. Sophia Laukli (USA) – 2:22:24