Looking for a running challenge which will take you to an amazing place, test you to your limits and help raise funds for a good cause? Take a look at Run for Love.
The Azores, an autonomous region of Portugal in the mid-Atlantic, characterized by dramatic volcanic landscapes will host Run for Love 3 from 23rd November to 1st December. The six-day event pushes limits of human endurance by challenging the 500 participants to take on a 280km run all in aid of TRIBE Freedom Foundation which helps to fight modern slavery, with the aim of raising £250,000.
The TRIBE Freedom Foundation is a pioneering anti-slavery charity and athletic community, which works to harness the power of community and endurance fitness to increase awareness of modern slavery and support survivors. Funds raised will be used to set up two centres for trafficking victims in East London and Sheffield in partnership with Foundation long-term partners, Snowdrop and Ella's Home. Each will provide long-term support for victims of trafficking, enabling them to rediscover their freedom and independence after unimaginable cruelty and exploitation.
The event was established in 2013 when TRIBE Co-Founders Tom, Guy and Rob completed the first Run for Love – a 1,000 mile run across Europe, from Odessa to Dubrovnik, to set up the first home for trafficked children in the UK.
From the 23rd November until the 1st December, runners will take on a 6-day ultramarathon, across the stunning volcanic island of São Miguel. The route is split over three stages. There are three different route options for runners to take on over the course of the challenge. Stages 1 – 3, Full Run for Love. Stages 2-3 or stage 3. Key challenges include navigating 30-degree inclines in mountainous regions, wild bats, volcanic eruptions, wild tropical Atlantic storms, extreme weather conditions and Atlantic-force gusts at high altitude.
Stage 1 starts on 25th November and spans four days. From the capital of the Azores, Ponta Delgada to the scenic sandy cove of Calhetas, runners will average 54km per day as they navigate 30 degree inclines in the volcanic mountains. The toughest day in this stage is an 80km overnight leg where the runner's depart at 3 am with glow sticks and torches to climb the highest point, Pico da Vara (1,103 m), together as a team before running along the rim of the island.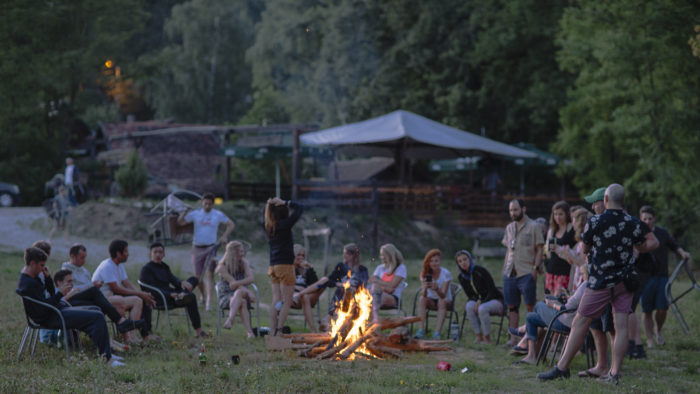 Stage 2 takes place on day five. Runners take on a 24km hike or run from Calhetas to Siete Ciedades through the stunning volcanic region on the island. During this penultimate stage, runners will battle Atlantic gusts and huge inclines whilst being treated to the islands most beautiful vantage points over the lagoons and craters that were created by volcanic activity thousands of years ago. The scenery that this volcanic activity created makes for some of the best in all the Azores.
The final stage is known as the Volcanoes Half Marathon. 500 runners from the TRIBE community will take on a 21km finale around the rim of a volcano in Ponta Delgada before well-deserved celebrations to mark the end of Run For Love.
TRIBE Co-Founder Tom Stancliffe said, "TRIBE was inspired by a 1,000-mile run to fight human trafficking in 2013 called Run for Love. More than 13,000 people are still living in slavery in the UK and the TRIBE community will not stop running until we have ended modern slavery in the UK."
He went on to add, "Run for Love 3 will push the limits of human endurance through one of the most volcanic regions of the world; running 7 marathons in 6 days with an overall elevation gain of more than 1.5x Everest. All will be raising funds to set up two homes for trafficking victims in the UK. We believe more needs to be done to provide long-term support for victims of trafficking."
For those looking for a challenge in 2020, Run for Love will return for a fourth edition with a route through the Copper Canyons region of northwestern Mexico. More details will be announced in the coming months.
For more information on Run for Love and to sign up to the challenge please visit triberunforlove.com
For more information on The TRIBE Freedom Foundation please visit: http://tribefreedomfoundation.com/