Australian Stephanie Auston claimed victory on home soil by winning the women's race in the Kosci100 at Ultra-Trail Kosciuszko by UTMB, while American Hayden Hawks picked up the prize in the men's category.
Finn Cecilia Mattas and Canberra-based Patricia McKibbin claimed the second and third women's prizes respectively, while Ronnie Sparke and Blake Hose rounded out the men's podium.
But both Auston and Hawks were comfortable winners over the 100km course at the final UTMB World Series event of the year, the start point of which had to be moved due to colder than expected weather.
Hawks dominant Down Under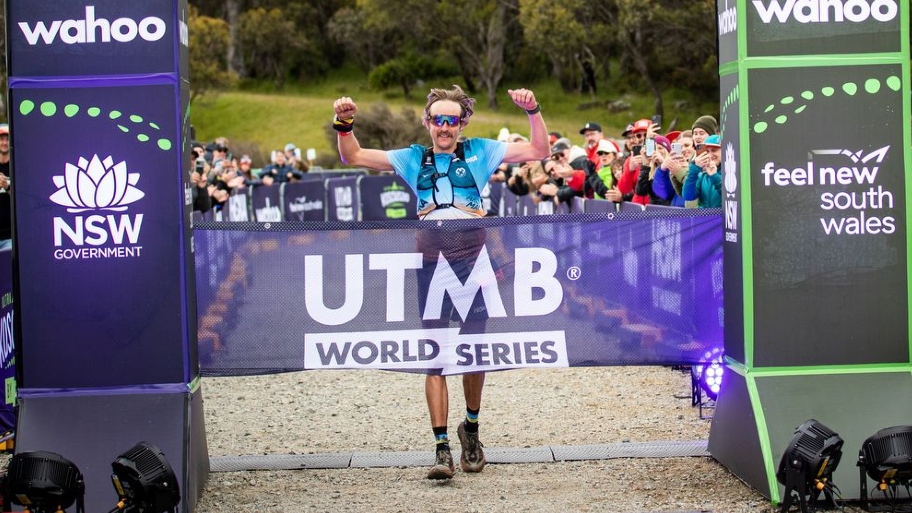 Hawks, who hails from Utah, was racing for the first time in Australia, but from the start of the the 100km race the 31-year-old looked right at home, eventually cruising to victory with a time of 7:48:55.
"I feel pretty good, I feel like I executed my gameplan perfectly today," Hawks said, "I was able to stay on top of my nutrition, my hydration, so I don't feel too beat up.
"I feel like I'll recover pretty good from this and I feel pretty happy that I was able to get the win today."
Despite Australia being in its summer season, extra cold weather brought snowfall to the aptly named Snowy Mountains, forcing the start to be moved to Perisher Valley and cutting the summit out.
"The start was actually pretty cool," Hawks said, "it was icy up there, it was pretty chilly and we were definitely having to bundle up and wear some extra gear that we're not normally used to.
"We got up to Seaman's Hut at the top and the sun was coming in through the clouds and it was a pretty cool experience and being out there with the other guys, I really enjoyed it.
"We had a group of maybe six or eight guys and we were chatting away, having a good time, joking with each other, really we kept it pretty chill for about 50km and they were sharing a lot about Australia with me and I was sharing a lot about the United States and we had a good time."
Runner-up Sparke claimed second place with a time of 8:06:48 in his first ever 100km, something which the Sydney-based Englishman couldn't quite believe.
"I'm over the moon, in a bit of shock as well," he said, "I wasn't sure how it was going to go, probably about 30 or 40k in my legs were like 'oh, this is about normally how far you run so what are you doing?'.
Third-placed Hose, who completed the route with 8:15:26 on the clock, was also full of praise for the Ultra-Trail Kosciuszko by UTMB event, although he said he wished he had been able to race the original course.
"I'm stoked, I'm really stoked," he said, "I came in and wanted to get a podium, I wanted to punch a ticket over to the UTMB festival, so mission accomplished with that.
"It was hard fought, it was a hard race, I think the original course would have been easier with the climbing, it was tough that it was so runnable for me, it's not necessarily my forte.
"I had a great day, kudos to everyone involved, making those changes in the last 24-48 hours is a monumental amount of work so kudos to everyone for getting it done and running a really well organised event."
Auston triumphs in Arctic conditions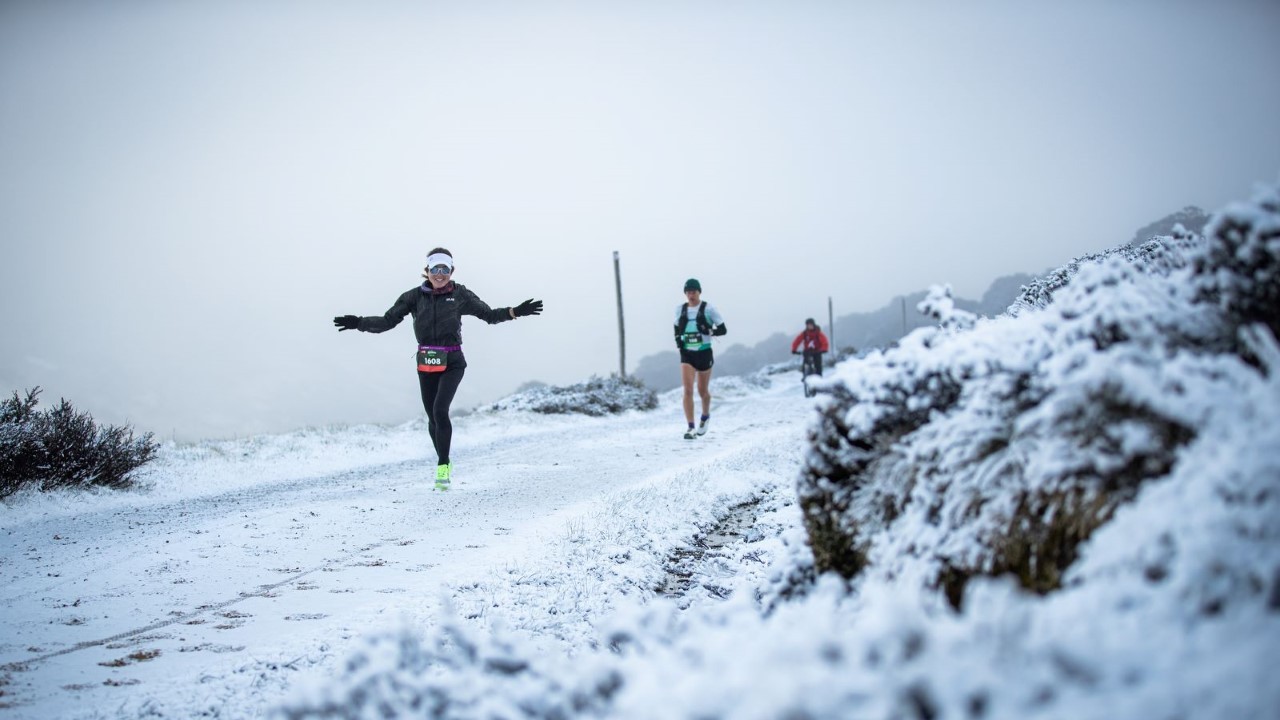 The cold might not have been the ideal condition for women's winner Auston, but she said it certainly made for a unique experience.
"It was an amazing course, just to run in snow in December in Australia is epic," she explained, "the course was lovely, it was magical, I had a really good time.
"I'm obviously tired but I feel good and the energy out there was awesome, when you're running down the road people are tooting in their cars, you feel supported the whole way.
"It's been over 30 degrees where I live, I wasn't prepared for the snow but it was such a cool thing to be a part of, if it never happens again you can say at least I did it, it might be good training for UTMB if it might be cold!
"I layered well, I had a wet weather jacket and my arm warmers, the wind was cold on your face but once you're moving it was ok, running through snow was like running through weird sand."
Finishing in a time of 9:44:42, it was a brilliant ending to the year for Auston, who will now have the chance to compete at the showpiece UTMB finals.
"I just wanted to get through the cold part as quickly as possible and then just try to hold a good pace," she said.
"I knew that the other girls wouldn't be too far away, just tried to keep it steady, I had some low bits but food always helps, sugar and Coke, then I felt strong the last bit, not that I'd want to go further!
"To be at the inaugural in such epic conditions and to have a good run, I couldn't finish the year any better."
Being from Finland, Mattas might have been more used to the cold than her competitors, and she ran 9:56:13 to claim second, fresh off her fourth at Ultra-Trail Australia's 100km.
"I'm feeling good, really happy with my performance I must say," Mattas said, "I thought we were all a bit crazy, running around here in this wind.
"I did what I could and did my best, I did UTA five weeks ago and came fourth there, I'm never sad over a performance, I'm always proud of myself because I know I did what I could on that day.
"Some days are better, some days are worse, but today I'm super stoked, coming second to Steph and being so close to her is great because she is fast."
And for third placed McKibbin, who ran a 10:12:09, the season's end brings with it a much anticipated holiday.
"I'm really happy, I'm exhausted but happy to finish third," she said, "I've had a really amazing season, this is a really nice way to finish off, I'm happy to have a rest now, I'm going to take a two-week holiday."
Kosci100 Results
Ultra-Trail Kosciuszko by UTMB – Kosci100 – Men's Results
Hayden Hawks – 7:48:55
Ronnie Sparke – 8:06:48
Blake Hose – 8:15:26
Michael Dimuantes – 8:56:28
Dion Finocchiaro – 8:56:32
Ultra-Trail Kosciuszko by UTMB – Kosci100 – Women's Results
Stephanie Auston – 9:44:42
Cecilia Mattas – 9:56:13
Patricia McKibbin – 10:12:09
Anna Pillinger – 10:58:34
Lucy Nell – 11:43:00