Ultra runner and coach Kim Cavill gives us her first-hand impression of the newly-designed UTS 50, 100 and 165 races, currently the UK's only UTMB World Series event. 
Crossing the finish line at this year's UTS50 was very different to last year. With a red carpet, a box gantry, lots of applause and a stage, this felt as close to central Chamonix as it could in Llanberis.
I loved the event last year – from being on a wild course for nearly 10 hours to being pointed towards a massive cheese sandwich on a trestle table at the end, it was a cathartic experience for me.
But the 2022 version really brought its 'A-game'. Many people have strong opinions about the UTMB machine, and I understand why, but having experienced the atmosphere of the week in Chamonix and now this new incarnation of the UTS, I think it is an amazing time for trail running.
Red-letter day
With this being the only way to gather up Running Stones in the UK, it was inevitable it would be a huge weekend for the small town in North Wales. Runners packed out campsites, B&Bs, hotels and filled up the few places to eat on Friday night.
Despite the rain, in the registration queue for the 50, the anticipation was tangible and with slick organisation, I was back in the van before I knew it. It really did feel like an occasion and I was excited to join runners from across the globe on this beautiful course.
New little touches such as the wristband and the sheer volume of encouraging volunteers all added to the atmosphere too. The added flourish on race day of a red carpet and red smoke really made you feel as if you were taking part in something huge.
'A runner's course'
With the events being splashed across social media for a while now, it has been easy to get a sense of what the draw of the races is, even without the chance to get into the UTMB.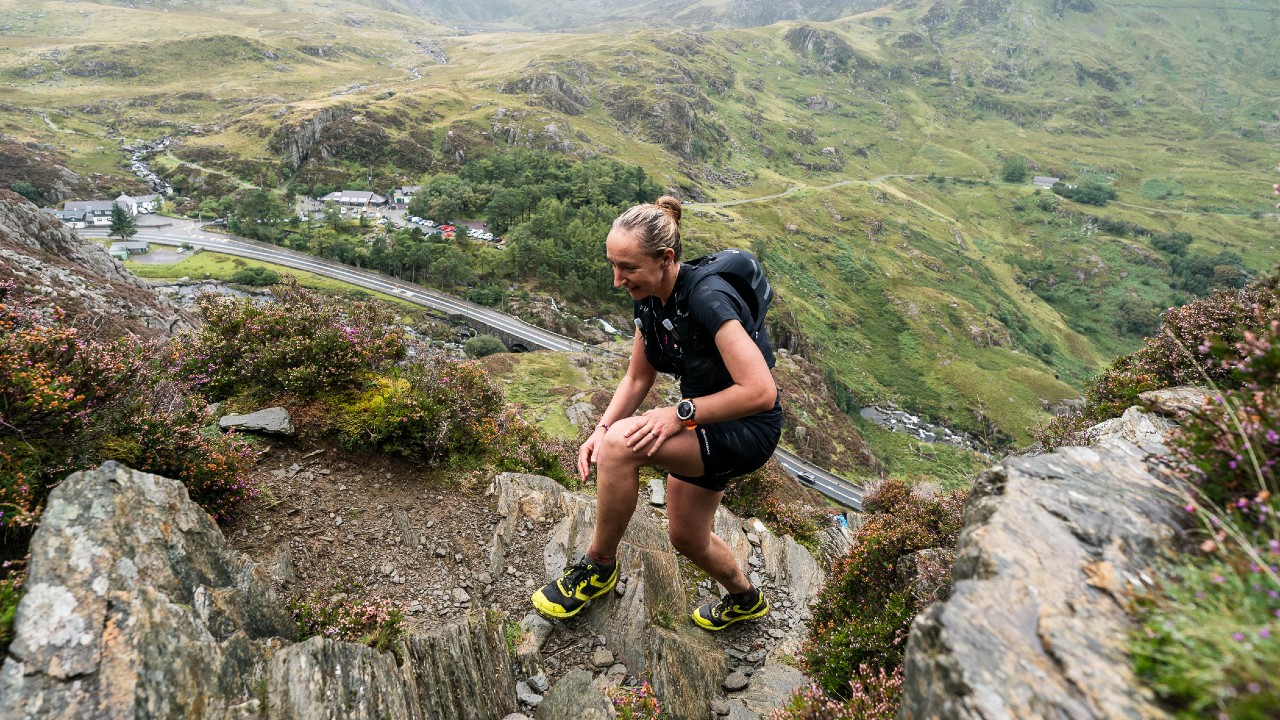 If you have seen any of the pictures or videos, you will know how amazing these routes are. The courses are very tough, not just because of the massive elevation but because the terrain is so varied and unforgiving in places that you have to be a confident all-rounder to do well here.
There was a mixture of road, rocky scrambling, grassy ascents and descents, very muddy singletrack through forestry and the bit that finished me off, long runnable descents.
It was much more of a runner's course than last year – I was around 90 minutes faster – but the technical elements were there to break your rhythm too.
Even so, the winners' times were unbelievable and show the calibre of competitor that the races attracted this year.
To finish too on that red carpet, to a cheering crowd was to get as close to the European vibe as possible. Even if you enjoy a low-key race, there is no denying that it feels good to be treated like a winner when you cross a finish line!
Stepping up
The question a lot of people are asking is, why would you do a UTMB qualifying race and keep feeding the machine?
I have wanted to run the UTMB since I went to Chamonix to run the OCC and saw what it was all about. Whatever your opinion, there is no denying that UTMB week is a mecca for trail ultra-running and Chamonix puts on quite a show.
There are not many places where it seems that the whole community wants runners to be there, where they encourage people to get out onto their local trails and look forward to seeing people achieve. There are also not many races where you can see so many elites battle it out as there is no single body or organisation in trail running that oversees this broad range of competition.
So why shouldn't UTMB step in and make themselves the premier event in the calendar? The UTS races, I think, are the start of something that could become even bigger in the UK. From a runner's perspective, I couldn't fault the 50: we were looked after just enough; the course was flagged really well; communication was clear and the star of the show, the course, was incredible.
It was a mammoth task to set up but now that Michael Jones has done it, I can see other races stepping up too and enabling more UK runners to get their chance to enter the UTMB.
As hard as it is now to get in, in the last few years, some of the races that were qualifiers didn't really prepare you to run through two nights in the Alps. The UTS races will certainly do that!
So when entries open on Tuesday 12th July for next May, I suggest you bag yourself a spot to experience those magical Welsh mountains with a sprinkling of Alpine stardust.