Lewis Cooper takes a trip down memory lane, looking at UTMB races gone by and asking some of the elites for their favourite UTMB memory.
It's that time of year and UTMB is upon us again. The festival always has a wonderful array of talented runners taking on a number of varied distances which include the 40km MCC, 56km OCC, 101km CCC, 145km TDS and the 300km PTL. But it's the centrepiece itself, 170km UTMB, that always throws up the most intriguing story lines, fascinating spectacles and race outcomes.
Now I've never raced UTMB, never finished in the top 5 after steadily climbing the standings consistently in the 3 years prior, I've never won the race after leading for most of the 170km, heck I'll come right out and say it … I've never even been to Chamonix outside of the ski season. Sob. Luckily though for you guys I happen to know a few people who have done precisely all those things and they were all kind enough to fill in the blanks for me and share some of their favourite memories of previous years, as well as a few thoughts about doing it all again in the future.
Damian Hall
Let's start with the underdog, which is also conveniently the name of the film about his unbelievable 5th place finish in last year's race. Damian Hall has raced every year from 2015 to 2018 and was able to improve his overall ranking year after year (after year after year) from a not-to-be-sniffed-at 31st place in his 2015 debut, an impressive 12 place leap up to 19th in 2016 and shaving 89 minutes off his time in the process, he somehow managed a 3 hour improvement in 2017 and a 12th place finish, and finally the aforementioned stick-a-fork-in-him-he's-done unreal 5th place last year.
Favourite year?
All four of my UTMBs have been special, but that is a bit of a boring answer and I think probably it's my fifth place in 2018 that will live longest in the UTMB memory. I remember the day after my first UTMB in 2016 seeing the top 10 men and women go up on the podium and thinking they were gods. I just couldn't imagine how what they had done was possible. But each year I got a little closer… That said, come to think of it, the first time my kids joined me for the finish, in 2017, was equally special. The thought of it still starts to make my eyes feel sweaty.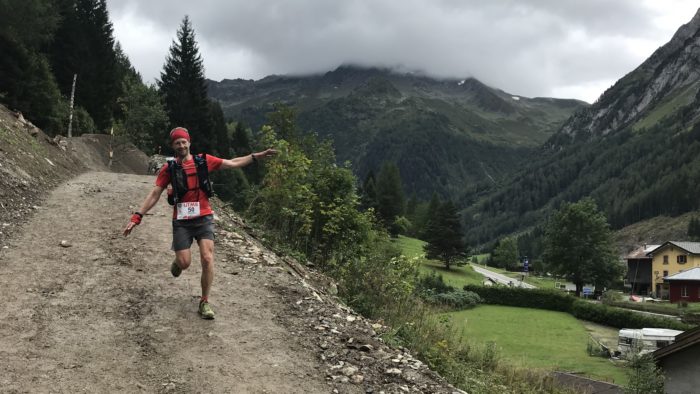 Standout UTMB memory?
Oh you know, ahem, that time I passed Jim Walmsley and Zach Miller. I doubt I'll ever get to say that again, so I've got to make the most of it. The finish line has always felt very special to me – the crowds are so generous. If I had to pick one, it'd finishing the race with my two kids (even if I couldn't keep up with them).
Future plans to return?
After four consecutive years it was time for a break. My current lifestyle won't allow me to train for UTMB any harder than I did last year, so it's unlikely I'll do any better than that (elites are getting to the Alps six weeks before the race to train now). I think I'll be back. When, depends on how much I miss not being a part of it this year. TDS is tempting too…
Beth Pascall
Now from one Brit to another and one in blistering form at that. Beth Pascall has raced the previous 2 years, finishing in 4th last year, and is indeed planning on returning to race again this year. She'll come into it hopefully fully recovered from her 4th placed female at Western States, which in turn was preceded by a 1st at North Downs Way and 1st at Highland Fling Ultra.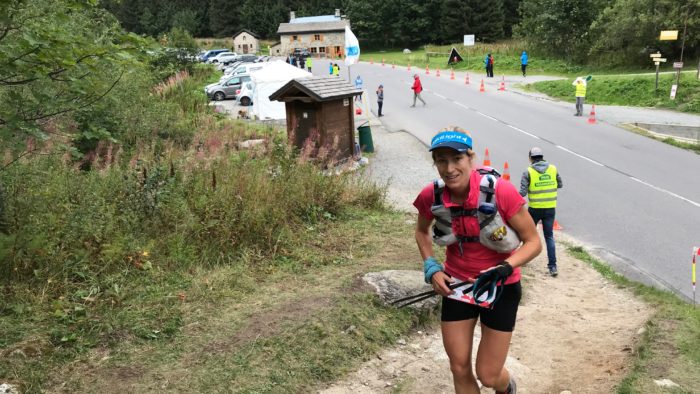 Favourite thing about the race?
I love racing through the night. It sends shivers down my spine just thinking about those momentous climbs, the course lit by chains of head torches and trail side fires visible for miles above me.
Thoughts heading into this year's race?
Last year I ran a safe race, I started conservatively and worked my way through the field in the later stages. This year I want to take some more risks. If I am going to make the podium I need to keep within reach of the lead runners from the start. I'm excited to see just how high I can place with a more competitive approach from the outset.
David Laney
Nike Trail athlete and moustache aficionado David Laney has ventured only a handful of times outside of home soil in the US to race, but when he has he's done pretty darn well. He's raced in the 3 previous years UTMB finishing 3rd, 4th, and 14th respectively.
Favourite year?
2015 was my first and favourite experience at UTMB, I had no idea what to expect going into the race and it blew away all my expectations. 2016 and 2017 were really great as well but I think the first time you do a race its always special. 2015 and 2016 were equally great because I had teammates running, and away from the race itself was fun exploring the Chamonix Valley with Zach [Miller] and Tim [Tollefson].
Standout UTMB memory?
My favourite thing about UTMB has to be the fans high up in the mountains. Spectators hike up there and sleep near the trail and cheer all day and night, the support on the course is really unparalleled. In 2015 there was a full moon for race weekend, it was awesome because we really didn't even need headlamps for much of the race.
Future plans to return?
Yes! Not this year but I will do UTMB again sometime!
Dean Karnazes
Now, I couldn't write about the most prestigious ultra-race without including the ultra-marathon man himself. Dean Karnazes has, by anyone's standard, had a pretty ropey relationship with UTMB but in true ultra-marathon machine like mentality he kept going back until he achieved the desired outcome. He first ran the race in 2004 which was only its second year in existence.
Favourite Year?
In three attempts I've only finished UTMB once, in 2007, so it has to be that year. The first year I went into it way underprepared and having way too many race miles on my legs leading up to the race. The second year I set off with poles, despite not knowing how to use them. Bonehead rookie mistake (from someone that's run hundreds of ultras, go figure). In 2007, the year I finished, I didn't have a good race but there was no way in hell I was going to DNF, so I got the job done. I had my family and kids with me and we had a great time, so that was the silver lining.
Standout Memory?
The first year I ran UTMB there weren't so many people in the race (not compared to nowadays). The course wasn't as well marked and I got horribly lost. I remember begging for bread from an old lady who gave me half her baguette. I'm not even sure which country I was in at the time, but she was really nice.
Future plans to return?
I'd like to return one day, more to show my support for the event and for ultra-running overall. My first book, Ultramarathon Man: Confessions of an All-Night Runner, is now in print in French translation and I've talked to my publisher about maybe doing a book signing. Of course, if I attended the event I'd want to run it. I'd go crazy just signing books and not being able to run.
Sophie Grant
Back to the women and one of the more experienced UTMB-ers on this list. New Zealand born Sophie Grant has run UTMB every year for the past 5 years. If that's not dedication (or addiction) I don't know what is. Between her first (2014) and second (2015) races she took a staggering 9 hours 40 off her time.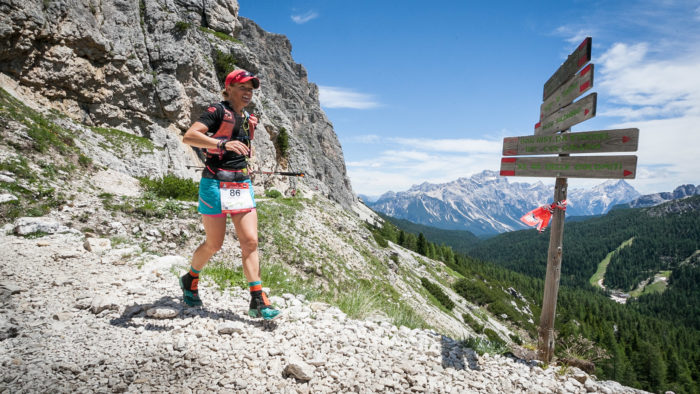 Favourite year?
It would have to be last year! The first time I raced the UTMB it was my first hundred miler and I had a bit of a shocker crawling over the line in 40hrs but I still knew then that if I could get everything to go right in that race I could get round in under 28 hrs. It took me five tries to finally get there but last year I ran 27:51!
Standout UTMB memory?
The first year I ran it there were these young girls, teenagers I guess, who had set up a table filled with cups of water for the runners. The girls were cheering their heads off in the middle of nowhere in the middle of the night. It's those random acts of kindness and support from the public that keep bringing me back to race over this weekend. Another memorable moment was last year, in 2018, I ran into Chamonix at about 1am past a restaurant which was packed with people only to look back and realise it was completely empty and I was hallucinating.
Future plans to return?
I will be back this year to race in the TDS which is actually a race I've wanted to do for years but I had to get the UTMB out of my system.
Jordi Gamito
Another quint-athlete now. Jordi Gamito has raced at the festival for the past 5 years in a row but he's mixed it up with 3 attempts in UTMB (2015, 2017, 2018) and 2 in the TDS (2014 and 2016). In all of those appearances Gamito has only finished outside the top 10 once and that was a 12th place finish in 2015 where he was a whopping 22 seconds behind 10th place (I know, miles off the pace right!)
Favourite year?
My favourite year would have to be last year. 2018. It was my highest finish, 3rd and a place on the podium was just incredible in this amazing race.
Standout UTMB memory?
Coming into the entry of the finish line area is for me probably one of the best experiences of my life
Future plans to return?
Yes, absolutely. I want to win UTMB once in my lifetime.
Gediminas Grinius
Lithuania is an almost pancake flat country. Its highest point is Aukstojas Hill with an elevation of 294m. UTMB has an elevation gain of just over 10,000m. That means a young Gediminas Grinius growing up in Lithuania would have to run up and down Aukstojas about 35 times to match the UTMB profile. I doubt he ever did that but judging by his results from racing in Chamonix for 5 consecutive years it doesn't look like Lithuania's topography has hindered his ability as a mountain runner. He's raced every year since 2014 during which time he's finished in the top 10 3 times and DNF'd twice.
Favourite year?
I would say 2014. My first year. I was a total newbie and the underdog, so I just really went for it and was so happy to finish in 5th place. I finished just behind Jason Schlarb, who I had spent a lot of the race with, and since that moment we've become very close friends. So for me that was a race where I proved to myself that I could run and compete with the best in the world. 2016 would also be one of the best years. I finished 2nd. To finish in the top 5, or even top 10, at UTMB is an incredible achievement so to finish top 2 was a dream come true.
Standout UTMB memory?
I think really, like I mentioned before, all the friendships and connections that I've made because of UTMB will be the ting that stays with me the most about the race.
Future plans to return?
I've no current plans to race there again. I achieved some great things there, some top 10s and raced 5 consecutive years there but that has taken its toll on me. I'm always looking for a fresh challenge to stay motivated and that's where I'm at right now. But you know maybe another 2 or 3 years and I'll return there again.
Francois D'haene and Kilian Jornet
Finally, I've left these two runners to last as it's not really a position they are that used to finding themselves in. Both Francois D'haene and Kilian Jornet have won UTMB 3 times each. 2012, 2014 and 2017 for Francois and 2008, 2009, and 2011 for Kilian. In 2017 Kilian finished 2nd to Francois in an unbelievable field that included Tim Tollefson, Xavier Thevenard, Jim Walmsley, Pau Capell, Dylan Bowman, Gediminas Grinius, Zach Miller and Jordi Gamito rounding out the top 10.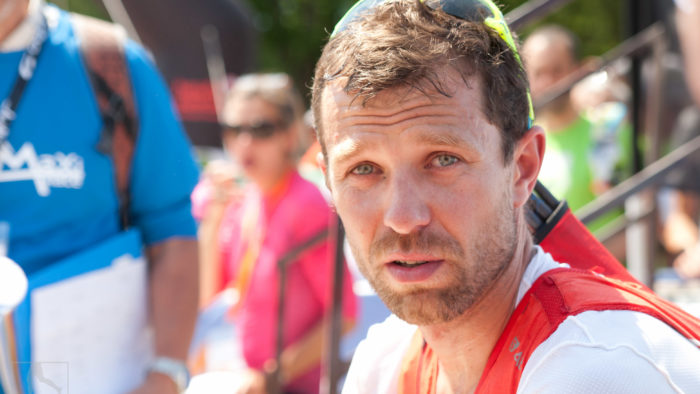 Francois D'haene: Favourite Year and why?
I think 2014 was probably my best year in UTMB.
I was able to share the main part of the race with my 2 teammates Tofol and Iker and it was a very nice and enjoyable experience.
I had very good feeling all throughout the race and I was so happy about the finish in front of all my family and friends.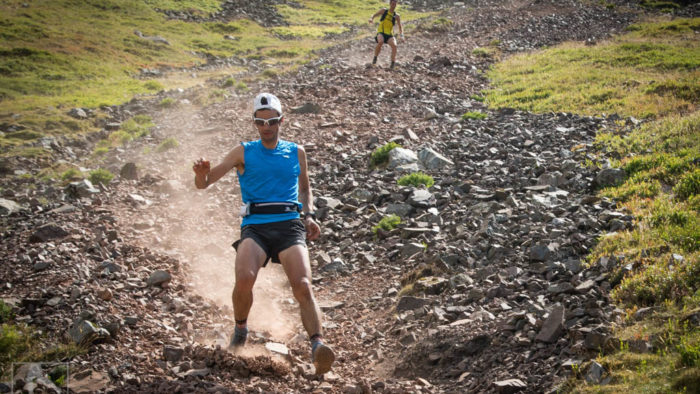 Kilian Jornet: Favourite year and why?
For me it was probably 2011. It was a nice race shared with 3 friends almost for the entire time, with Miguel Heras, Iker Karrera and Seb Chaigneau, we ran mostly together until Martigny. It was also snowing during the night and the start was delayed so we had this magnificent sunrise going down from Col de la Seigne with the south face of Mont Blanc covered with a thin layer of snow.
If you've ever run UTMB, what's your favourite UTMB memory?