Virtual races for all : Leading multisport events company launches virtual races for all so we can stay connected, keep fit, and raise vital funds for Macmillan.
In these unprecedented times when we all need to stay at home to protect ourselves and society at large, The Castle Series are launching their inaugural virtual race series for all ages and abilities.
Following the success of their Easter Virtual Challenge (10 – 12th April 2020), the Castle Virtual Series will run three events, across three weekends in April and May, with three country themes to mirror their summer programme of European events. All to keep as many people as possible connected, fit and sane in this period of unprecedented lockdown, and to raise as much money as possible for Macmillan Cancer Support.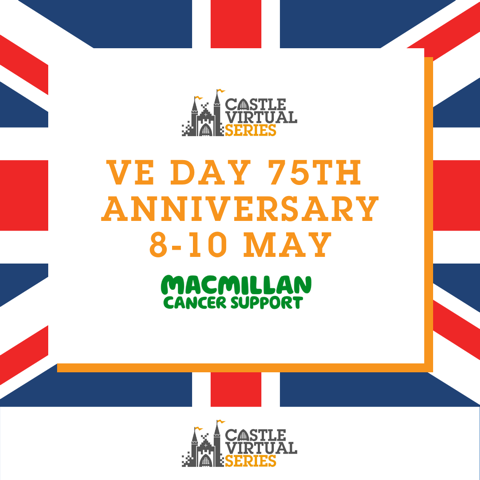 With seven duathlon distances three running races and three cycling races, there is sure to be a race for everyone, whether you're 8 or 88 there is a race for you. All competitors welcome to race virtually with The Castle Series community from within the boundaries of your home and immediate surroundings.
The Series will celebrate the host countries of our Castle Triathlon Series events, France, UK and Ireland. You can sign up to one, two or all three events.
Event 1 : 24th – 26th April Vive La France
Event 2 : 8th – 10th May VE Day 75th Anniversary
Event 3 : 22nd – 24th May Luck of the Irish
Prizes will be awarded for gender winners in each age and distance category and we will be giving special awards for the most creative course design and best dressed.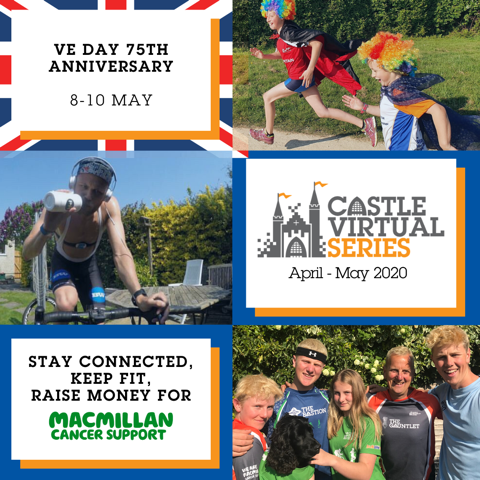 The Castle Virtual Series will donate 20% of each Race Entry Fee to their long-term charity partner, Macmillan Cancer Support, (Duathlon £3, Run £2, Junior £1). This will help Macmillan Cancer Support continue to deliver their physical, emotional and financialsupport to help people with cancer and their families, that is needed now more than ever.
Brian Adcock, Race Director, Castle Virtual Series: "Now more than ever we need to stick together. We have a very active and enthusiastic community of athletes whom we have been building with in the 12 years we have run The Castle Series, who are ready to get stuck into this challenge and raise some much needed funds for Macmillan Cancer Support!"
Sarah-Jayne Grahame, Challenge Events Programme Manager, Macmillan Cancer Support: "Macmillan are really excited to be involved in the new Castle Virtual Series! There's never been a more important time to help people living with cancer and we are so grateful to them and their dedicated participants."
Read more about Castle Virtual Series : https://www.castletriathlonseries.co.uk/the-series/castle-virtual-series/
Sign up to their next event : https://endurancecui.active.com/event-reg/select-race?e=68841254