We've always absolutely loved the Wings for Life World Run. It's for a fantastic cause, it's brilliantly innovative and inclusive and it's just a really fun day out. We're really pleased to hear that in 2020 the 'catcher car' is back! Read more about this great event…
The 'catcher car' returns to the United Kingdom in 2020, as Wings for Life World Run will be hosted in Cambridge on Sunday 3rd of May at 12pm, with 5,000 entries on offer. The unique race where the finish line catches the event's participants, is held at the same time across the globe as over 100,000 walkers, runners, and those in wheelchairs help find a cure for spinal cord injury.
The race format enables everyone from beginners to international athletes to take part, as 30 minutes after the race starts, the moving finish line that is the catcher car slowly chases runners along the course, gradually getting faster until each runner is caught. Whether participants are looking to spend a fun day with friends or aiming to achieve a personal best, the thrill of staying ahead of the catcher car motivates them to achieve more.
Runners will experience a brand new fast and flat course in 2020, with only two minor inclines leading to a total elevation of 45 metres. The course will start at Lammas Land and head South West out of the city towards Grantchester, before joining a 23km loop around the Cambridgeshire countryside. It is guaranteed to be one of the more picturesque flagship runs with 13 others catcher car supported events to be held in Australia, Austria, Croatia, France, Germany, Japan, Peru, Poland, South Africa, Switzerland and USA.
Wings for Life World Run is an inspirational and inclusive global charity event that sees participants run for those who can't, as 100% of entry fees and donations go towards life-changing spinal cord research projects and clinical trials. In 2019, Wings for Life World Run raised €3.5 million after 1,103,276 kilometres were covered by over 120,000 participants in 323 locations worldwide (this was even more than in 2018). As a result, there are 63 ongoing research projects that have the ability to change the lives of those affected by spinal cord injuries.
Thanks to participation in a clinical trial funded by Wings for Life, Switzerland's David Mzee was able to take his first steps after being paralyzed for years. He subsequently joined the 2019 Wings for Life World Run, walking for 390 meters.
"I was so happy to step across the start line as part of the huge World Run community. There's so much hope, and people love taking part."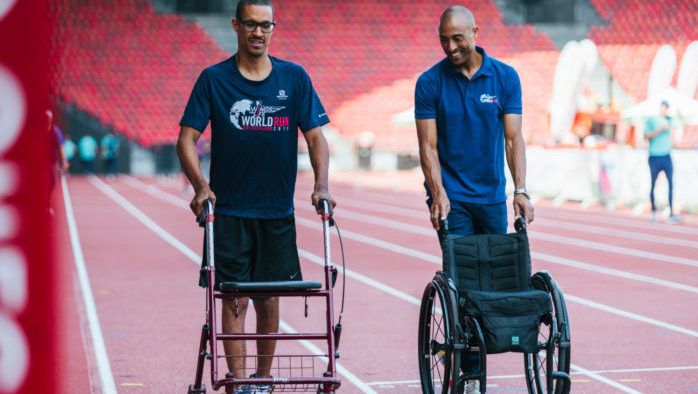 Olympian and Wings for Life International Sports Director Colin Jackson, met David Mzee in Switzerland last year, where he listened to his empowering story. Jackson says that it's stories like Mzee's that have him excited to see the race return to Cambridge, with the catcher car in tow.
"I can't wait to see a huge crowd of people once again taking part in Wings for Life World Run in Cambridge. To be one of thousands of people running at the same time across the globe, for a common purpose – to fundraise and spread awareness of spinal cord injuries – is a truly inspiring cause to be a part of."
Early bird race places are £25 per person, increasing to £35 on 1st January 2020.
For those who are unable to race in Cambridge, the Wings for Life World Run App allows others to run their own course at exactly the same time as everyone else worldwide.
To sign up to the Wings for Life World Run and to watch the race's livestream on the 3rd of May, visit: www.wingsforlifeworldrun.com