This is a slight departure for us in that it isn't a running shoe, but we were intrigued when we heard that On were diversifying into the hiking market and creating a lightweight hiking boot, the Cloudrock.
We know that On are renowned for producing high quality, innovative footwear and in this respect the Cloudrock isn't a departure at all. Immediately you can see that they've taken great care with every detail and every element just oozes quality. And the boots feature the On 'Clouds' on the soles that they're known for.
Key features of the shoe:
Waterproof membrane
445g weight
Missiongrip sole
Speedboard for stability
Flexlock lace system
Mudguard
Tongue straps
Out of the box
My first impression of the boot was that it's a combination of lots of tech in a package that's reminiscent of a classic hiking boot. If it was leather it wouldn't look out of place hanging on the wall of a Swiss mountain hut. However, on closer inspection it looks very different from a classic boot, with the 'Clouds' on the sole and the tongue which wraps neatly round the top of your ankle leaving no bits to rub.
These aren't hiking boots as I know them. They're designed for 'fast-hiking', which seems to be a growing segment of the outdoor market. The key differences to a standard hiking boot for me were that they don't have that rigid feel, your foot has much more flexibility, and they're much lighter and more cushioned. Like a hybrid of trainers and boots.
When you first put them on the heavily padded ankle support takes a bit of getting used to, but once you get walking in them it allows for free movement. And when you first walk in them they do feel very different to a standard walking boot. Firstly they feel very light and secondly the 'Clouds' on the sole propel you forwards.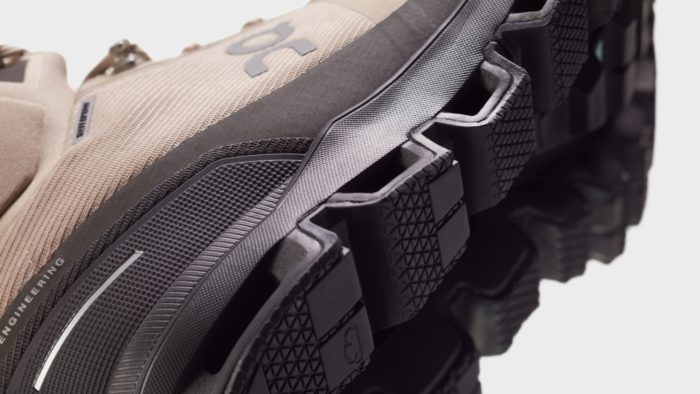 The test
I've worn the Cloudrocks pretty much every day for a month and tried them out in a number of different situations, such as longer days out in the fells, everyday dog walking, muddy rambles, rocky walks and I even had quite a specific test for their waterproofness
Dog walking. I've got a very active dog (a German short-haired pointer) who needs a lot of exercise and gets himself into the odd scrape. So while dog walking might not sound like a great test for a walking boot, it actually consists of about 90 mins per day on a variety of terrain so it gave me a good indicator of the comfort and grip of the boots. It also necessitates a bit of running. For example, if he's off the lead and spots a small child with an ice cream, or if he decides to approach somebody on crutches with a view to 'saying hello' I sometimes have to put a bit of a sprint in to get there first and snag him back on the lead.
Initially I found the boots a bit stiff and they rubbed a little on my heel, but after about 3 wears they became really comfortable, so they just needed a little breaking in. The grip was surprisingly good on mud, wet grass, slopes etc and if you break into a run in them they're comfortable and flexible enough not to impede you, unlike a standard hiking boot.
Longer hikes. I put them to a slightly tougher test on longer hikes on some hilly terrain. They are exceptionally comfortable on longer days out. You've got a good amount of cushioning underfoot, the tongue is engineered so that there's no pressure against the top of your foot (and it can't move around) and the padded ankle, once you get used to it, gives you support but allows your ankle to move freely. The waterproofing doesn't make your foot sweaty, like some do. The only criticism I'd have would be the grip on wet rock, although this is true of a lot of shoes/boots. They haven't nailed this element yet, even with the Missiongrip soles.
Waterproof test. I found the waterproofness really good in general – in wet fields, puddles and in heavy rain they kept the water out well. But I put them through a quite specific waterproofing test which tested them to their limit: rescuing a yoghurt pot from a stream. I was walking with my mother-in-law in some very beautiful woods near where we live when we spotted an empty yoghurt pot which some littering b*stard had carelessly disposed of, in a stream of all places. FFS. This angered us so much it became a mission to remove it from the water. When long sticks failed, I had no choice but to go in. I fully expected to get my feet wet because waterproof boots can only keep out a certain amount of water but despite a few slips taking me in up to the level of the top of the laces, my feet remained entirely dry. And the yoghurt pot found its way to a recycling bin at a nearby café. Win-win.
Verdict
If you're looking for a lightweight, flexible, comfortable hiking boot, then the Cloudrock is a good contender. It's made with quality in mind, it's waterproof, it's perfect for 'fast-hiking' in hilly terrain. It's a versatile boot which will cope with most things. If you're a runner looking to incorporate more hiking into your training then it's a great option.  It's not cheap – at £180 – so slightly more expensive than something comparable like the inov-8 ROCLITE G370. As ever with On though, it's the details that make all the difference – the metal hooks that keep the laces securely in place, the breathable waterproof membrane, the tongue which doesn't create pressure or rub. All the little things add up to give excellent comfort and cushioning.
Find out more about the On Cloudrock on the On website.
Read our review of the On Cloudventure.