On shoes continue to go from strength to strength and, with the news this week that Roger Federer is joining On, that doesn't look likely to change. They recently released a major new shoe, the Cloudstratus, which is their most cushioned shoe to date. We tried it out.
First impressions
On are known for their love of innovation. They don't follow the trends of other footwear brands. They like to go their own way. The innovation they are most known for are the 'clouds' on the soles of the shoes, designed to deliver cushioning, then help with the push-off.
The first thing you notice about the Cloudstratus is that the clouds are doubled! There are two layers of their Cloudtech clouds and the idea is obviously that they absorb even more impact and give back even more propulsion. The second thing I noticed is that the lacing system is different to other On shoes. More on this shortly.
Fit
The Cloudstratus are one of the wider fit On shoes, much like the Cloudace. If you've got wide feet, or you like to let your toes spread, this could be a suitable shoe for you. They also feel extremely comfortable right from the off. You instantly notice that this is a very cushioned shoe, feeling both plushy inside and nice and soft to walk around in. The heel is nice and cushioned and secure and has an external TPU heel counter for support.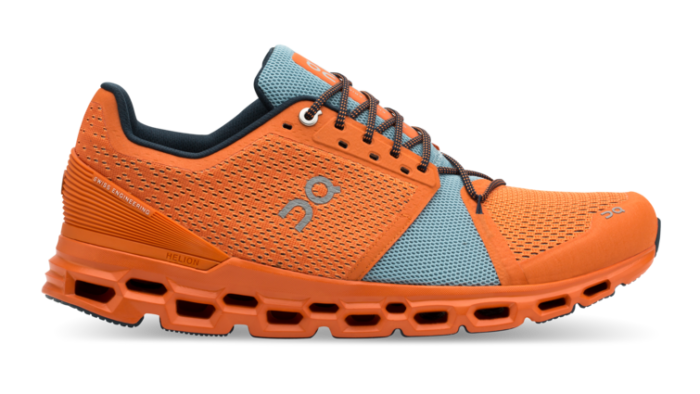 The new lacing system is described as 'star-shaped' but essentially I think this means that there are a couple of loops wide at the bottom of the lacing. This is to allow for greater control on your forefoot if you want it. In addition there are alternative eyelets dotted along the top of the shoe, so that you can customise your lacing. If you're somebody who gets niggles on the top of your foot/lower shin if your lacing isn't just right, then this could be good news.
On the run
The Cloudstratus does feel like a fairly rigid shoe initially, which rubbed slightly on my ankle bone, and it took me a couple of runs to break them in. However, the additional cushioning is really noticeable straight away. I have to say that I wasn't a fan of the new 'Helion superfoam' in the Cloudswift as iI just found it too firm, but this double layer of clouds feels much more giving. The move to Helion was to make the clouds more robust and to keep their 'bounce' for longer, while remaining lightweight, and I think the balance of 'robustness and bounciness' is much better in the Cloudstratus.
These shoes are built for long training runs or races, when your priority is cushioning and comfort. I've tried them on runs of up to around two hours and found them supremely cushioned. And they don't feel too squashy, like many very cushioned shoes, they maintain some firmness while minimising impact. I've worn them to do hill sessions on road and you really notice the cushioning and lack of impact on those downhills.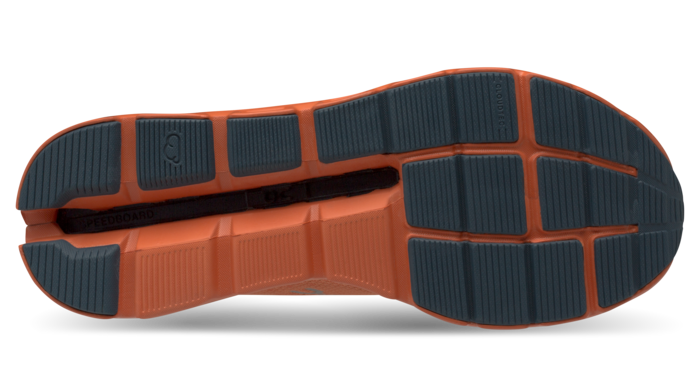 Tech
Weight: 305g (men's) and 270g (women's)
Drop: 8mm
Speedboard encourages natural rollng motion
External TPU heel counter for support
Verdict
If you're looking for a really cushioned, comfortable shoe with a roomy toe box, then the On Cloudstratus is worth trying on. If you've liked their previous cushioned shoes like the Cloudace or Cloudflyer, then I think you'll like this shoe.