More and more runners are making conscious choices to limit their environmental impact. Buying poor quality kit which only lasts a few months can be a big culprit, soon joining the unworn race t-shirts in the bin (hopefully the recycling one). We take a look at what some brands are doing to try to help runners in their quest to be environmentally friendly.
The 100% recycled range
Sustainable sportswear brand, Presca now has a new running range made from 100% recycled materials. The range is made using state-of-the-art technology, with six recycled plastic bottles going into the making of each garment. But this doesn't compromise quality or performance – it's soft to the touch, breathable and wicking.
Pete Lillie, co-founder of Presca, said: "We are always trying to push boundaries by creating sustainable sportswear that people across the country will want to wear. We pride ourselves in making quality products that focus on function and performance while still remaining stylish, and with minimum impact on the environment."
Their range includes a men's running vest, men's technical t-shirt and a women's running technical t-shirt and the tops are available in two colourful designs. These products are made in the UK, shortening supply chains and negating the environmental impact of transport from production facilities overseas.
The new running range is available from: www.prescateamwear.com. Each product comes in sizes S, M, L, XL and costs £30-32.
The question of stink
Now, this is an unpleasant subject but most of our kit is consigned to the recycling bin because it starts to stink. Then after a while, no amount of washing can shift it. There are good reasons for this, but how do we avoid it?
Different companies use different methods to avoid this stinky issue. And as well as kit lasting longer, it also means that it can go longer between washes, thus saving water and power. Wear it again and again without stink, saving energy, money and time. It's a win – win – win.
Odlo has long had a commitment to producing kit which limits environmental impact. It's obviously good quality kit, so it tends to last a long while, but they also have a system to stop the stink.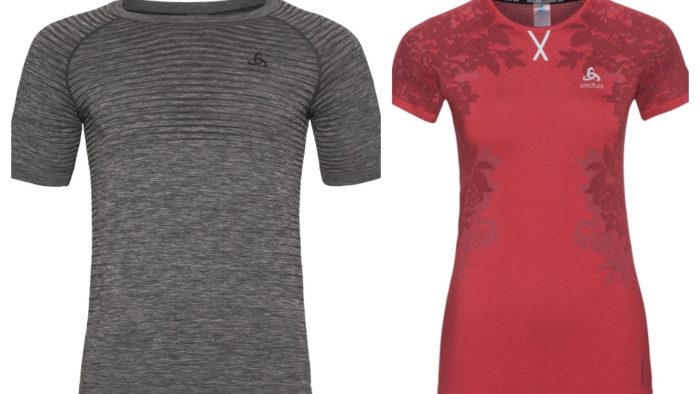 Many of Odlo's products include what they call the 'Odlo Effect'. Odlo® Effect™ is a Silver Ion fabric treatment that acts as a barrier preventing the build up of bacteria within fabrics that can lead to unpleasant odours materialising. As the process is carried out when the yarn is created, the effects of the process never wash out. The Effect™ system keeps working through wash after wash and wear after wear. Silver has long been recognised as an exceptional defence against bacterial infestation in fabrics and Odlo® apply the principals across their product range.
On a similar theme Patagonia uses Polygiene treatment on their kit to reduce stink. An example is the Patagonia's Airchaser Shirt – it's extremely light, you barely know you're wearing it, so it's great to wear in the heat. And because it's treated with polygiene you can wear it and wear it without it stinking.
Microplastics
Patagonia also sell the GUPPYFRIEND bag, which you wash your kit which has synthetic fibres in. It catches the microplastic bits, to prevent them making their way into the water system and you can just tip them in the bin.
Icebreaker has their own system to beat the stink (because their kit is merino it tends to hang on to less odour anyway) and to avoid microplastics. Icebreaker don't use petrochemical-based synthetics in their apparel. They look for natural solutions which are sustainable. And natural materials means no plastic microfibres ending up in the oceans.
Their t-shirts for good initiative explains the impact of your simple t-shirt and urges you to try wearing without washing for 7 days.
And if you do find you've got an item of running kit that's starting to stink, you can use Nikwax Basefresh to revitalise it. Basefresh is a fabric conditioner which has a deoderising effect (unlike most fabric conditioners that just add a perfumed smell to your clothes). It inhibits the build-up of body odours and it also makes items dry quicker. So you could get a bit more life out of your favourite top.
There are many other great brands who are focussing more on the environmental impact of their clothing ranges and we will keep bringing you news about them. And of course, if you really want to minimise your environmental impact, don't buy something new, try Rerun. Rerun's goal is to extend the life of running clothing and prevent so much of it from going to landfill. Read some very sobering stats on their website about waste and then support their community interest project by buying some of their 'pre-loved' running clothing.
Header image copyright Bill Smith (CC BY 2.0)