Diet and fuelling occupies the thoughts of most endurance athletes. The importance of maintaining a healthy diet that supports a rigorous training and running schedule is recognised as an essential part of the process. But it can be challenging. Here we look at one potential solution to simplifying and improving your daily diet.
Huel – nutritionally complete food
Huel is billed as 'nutritionally complete food' with each meal of Huel containing a balance of nutrients such as carbohydrates, essential fats, protein, fibre, plus 26 essential vitamins and minerals.
Most Huel products are vegan, GMO-free, lactose-free and gluten-free. The standard Powder v3.0 isn't gluten-free but Huel do offer a gluten-free version.
I've been plant-based for getting on for four years now. The benefits of being meat free from a general health and recovery point of view are well documented and so I don't feel it necessary to go into that here.
The biggest challenge I find in maintaining my diet is a logistical one. I love trail running and focus most of my race efforts on ultra-marathons. For me, to do this as well as I want to, requires a serious amount of training which translates into a combination of running or strength work (or both) six days a week.
Time management key
Combine that with the normal demands of home life alongside a busy work schedule and time management becomes quite important. All too often it's meal-times that take the hit with me grabbing a quick veggie wrap from a local shop to try to stave off hunger. I have struggled to find quick snacks that give me everything my body needs and don't have the time (or the discipline) to prepare meals at home to bring into the office. If I am on the road it gets even more difficult.
There have been too many times when I have simply not eaten enough before or after training sessions and runs and I am in no doubt that this has impacted on performance and recovery.
Although I'd tried various protein shakes after some of my longer training runs in recent years I'd not really paid enough attention to know whether or not they were actually doing me any good. I was just ticking a box really.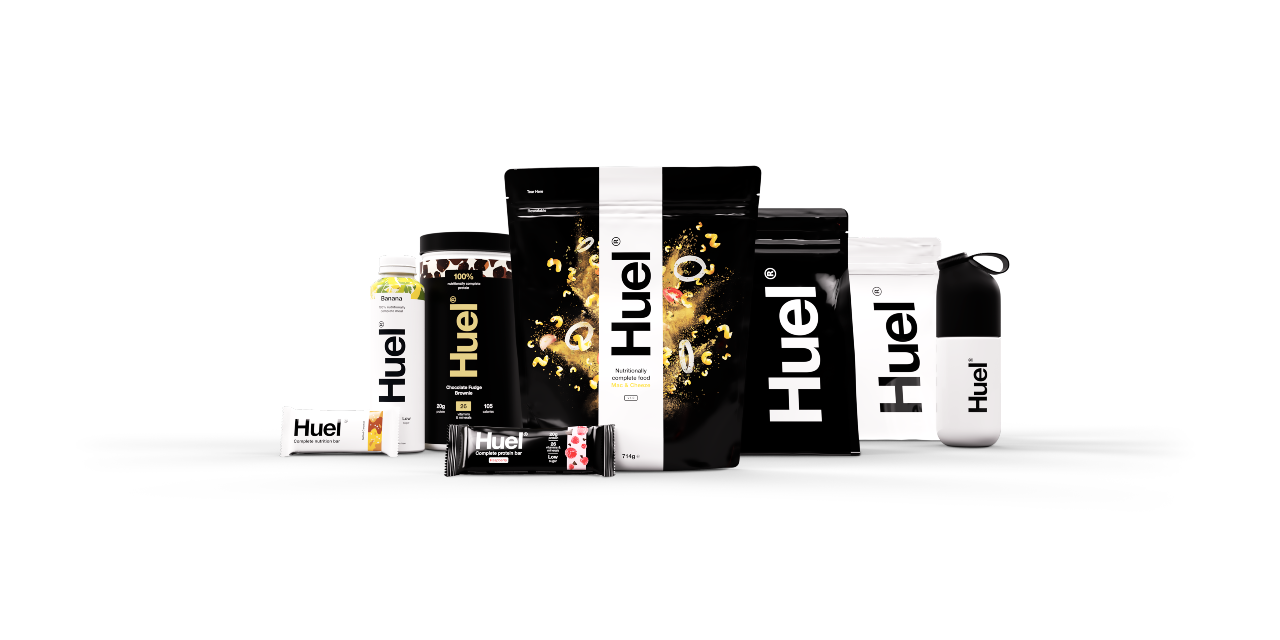 Huel as part of race prep
The opportunity to try out the Huel range came at the right time for me. I was just coming to the end of a recovery period following a summer ultra and was starting to think ahead to my final planned race of the year. The Hardmoors 60 which is a 63+ mile challenge down the coastal section of the Cleveland Way, incorporating some beautiful seaside towns and villages such as Whitby and Robin Hood's Bay before finishing in Filey. It also incorporates a leg-destroying number of steps and climbs along its way and is a real energy sapper.
So preparation was important and in-race fuelling the key to performance.
The Huel range
Huel offer quite a wide range of products and flavours ranging from ready to mix powders through to ready-mixed drinks and energy bars.
I was looking for a number of things from the Huel range. I wanted easy to fix meals that would help me get the right balance in my diet at lunchtime, healthy top-ups for the high energy training days and something to help with recovery.
I hadn't originally thought of using Huel to fuel the race itself but as race-day approached it made sense to build it into my plans.
I started the process with the following Huel products:
Positives
All of the Huel products are really easy to add into your diet – you need the minimum of forward planning.
The hot and savoury options have become a lunchtime favourite for me- easy to eat and nutritious.
I felt a noticeable improvement in both energy levels and recovery when using Huel products
Using a hot and savoury meal and Huel drink to my in race fuelling was a real bonus. Easy to consume and gentle on my stomach.
Negatives
Price – If you just want to try the powdered products you are going to have to commit to a reasonable spend for a multi-portion bag. Huel don't provide 'tester' sizes.
The protein bars were not an 'easy' eat. I have no doubt that that they deliver the protein boost they claim – it's just an effort to eat them at times.
A number of people told me they had suffered some stomach issues when first trying Huel. That worried me as I have had issues with lots of foods in the past. But no problems at all for me but you should be aware there may be a risk.
Core Huel Products Reviewed
Huel Hot & Savoury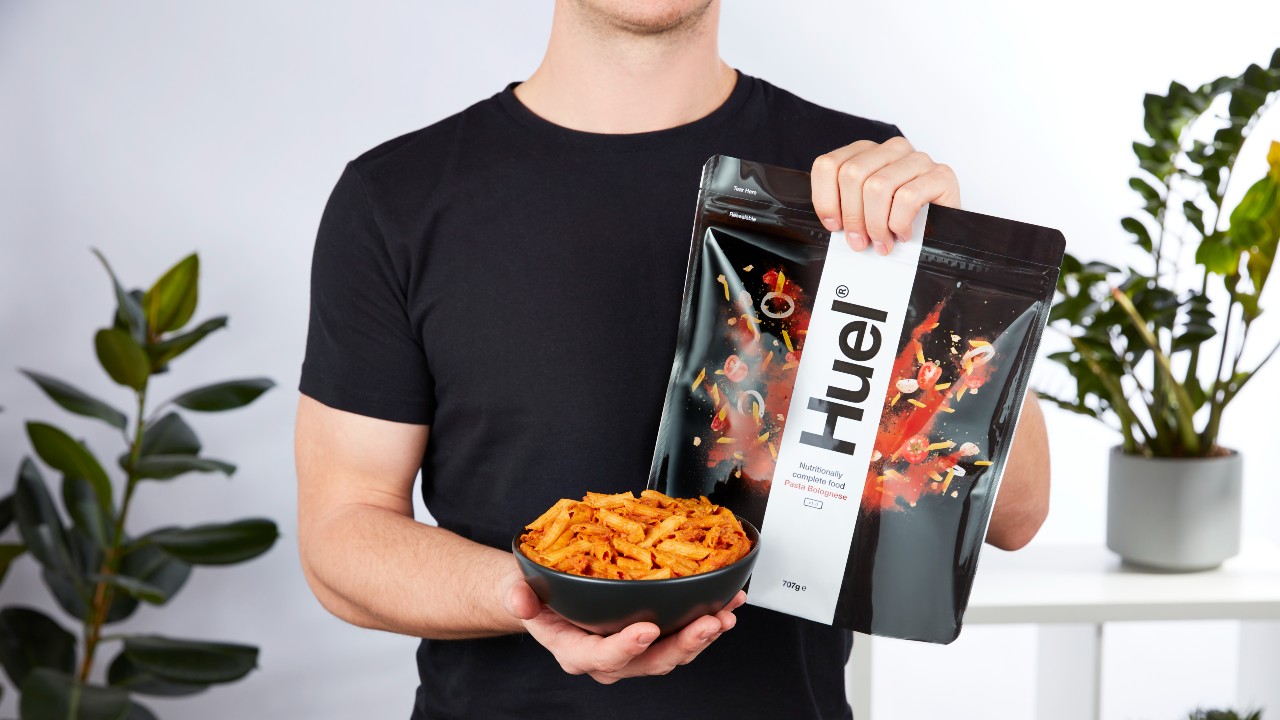 They say
A quick and nutritionally complete hot and tasty meal, Huel Hot & Savoury is packed with ingredients such as rice and quinoa, perfect for lunch. Simply add hot water and it's ready in under five minutes. It's great for helping you stick to your nutrition goals, even when in a rush. Flavours include Pasta Bolognese, Cajun Pasta, Chick'n & Mushroom, Tomato & Herb, Thai Green Curry, Mexican Chili, Korma, Madras, Sweet & Sour and Mac & Cheeze. Priced from £2.66 per meal, each pouch contains 7 x 400 calorie servings, but these can be tailored to whatever portion size you like.
We say
Loved this. Really easy to make, just add hot water. I used it as a lunch-time meal on its own and as a calorie boost when I needed a top-up. Of the four flavours I have tried, Pasta Bolognese, Mexican chili and Thai Green Curry were a hit. I can take or leave the Mac and Cheeze but that's just personal preference.
I added a serving of the Pasta Bolognese to my race-day food on the Hardmoors 60, eating it at the half-way point. It was easy for my support to have ready for me, and surprisingly easy for me to eat. I have no doubt it helped me through the next stage of the race and it is something I will include in my plans for all races going forward.
Rating: 9/10
---
Huel Ready-to-drink
They say
A perfectly balanced meal that's ready when you are. Huel's Ready-to-drink formula is a quick and convenient meal that doesn't compromise on nutrition or goals. From £3.04 per bottle, flavours include Salted Caramel, Iced Coffee Caramel, Strawberries and Cream, Cinnamon Swirl, Vanilla, Chocolate, Berry and Banana.
We say
A really easy and refreshing drink. Perfect for breakfast if you are looking to save time or alternatively use at any time if you want to increase your calorie intake.
I added a bottle of the Salted Caramel to my race-day drop bag and it was really easy to consume at a point where eating was becoming a little more challenging.
Rating: 9/10
---
Huel Powder v3.0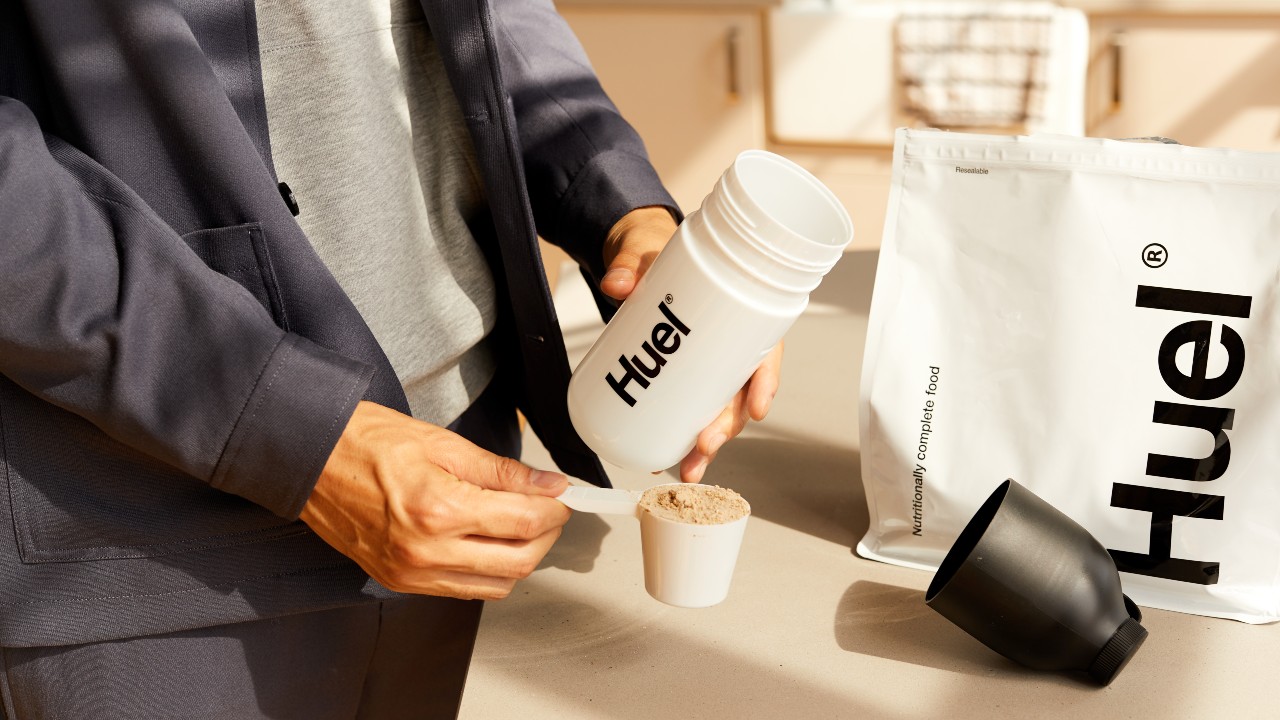 They say: Huel Powder v3.0 is a nutritionally complete meal in powdered form. Just mix with water in your Huel shaker provided and you're good to go. It's nutritious food ready in under a minute with flavours that include Vanilla, Banana, Chocolate, Cinnamon Swirl, Salted Caramel, Berry, Mint Chocolate & Coffee. From £1.51 per meal, each pouch contains 17 meals, and customers can scale portions up or down to whatever size they'd like.
We say: Possibly my least favourite of all the products I tried. Always felt a little gritty, no-matter how much effort and time I put into the shaking. Not terrible, just not as easy to consume as the other products. I used it to supplement meals – mid-afternoon on heavier training days and it was effective.
Rating: 7/10
---
Huel Protein Powder
They say
As the world's first 100% nutritionally complete plant-based protein, Huel Complete Protein contains more essential amino acids (EAAs) per gram than whey protein and is a great snackable option. It's made from sustainably sourced, high quality, animal-free ingredients – hemp, faba, and pea protein – and contains 20g of protein per serving. Flavours include Banana Milkshake, Chocolate Fudge Brownie, Salted Caramel, Strawberries & Cream & Vanilla Fudge. Priced from £0.87 per serving, each tub contains 26 servings, but these can be tailored to whatever portion size you like.
We say
I found this really effective after long training runs. Tasted great, was really easy to consume and I felt it helped me with recovery. In the past I often felt lethargic after my long training runs. But I noticed a marked difference after I started using Huel Complete Protein
Rating: 9/10
---
Huel Complete Protein Bar
They say
Huel's indulgent, vegan cocoa-coated, high protein, low sugar snack bar. Complementing their already popular Huel Bar v3.1 (below), the new plant-based Huel Complete Protein Bar boasts up to 20g of protein per bar at just 200 calories, and provides all 26 essential vitamins and minerals your body needs. It's low in sugar and naturally flavoured. Available in four delicious varieties; Raspberry, Salted Caramel, Banoffee & Peanut Butter. From £2.08 a bar.
We say
I've no doubt the Huel Complete Protein bar delivers on its claims – I just found it hard work. Definitely not something I would eat during a run, it would be just too difficult to chew and swallow. As a post-training snack it was fine but would always come second to the Huel Complete Protein for me.
Rating: 6/10
Verdict
I really like the Huel range. It's helped me improve the discipline around my diet – I no-longer skip meals due to lack of time – and provided me with an improved level of nutrition.
The benefits I have felt from a recovery point-of-view are a real plus and the addition to my race-day fuelling was an unexpected but welcome bonus.
Although the 'bulk-buy' bags may make Huel appear slightly expensive, it's not the case when you look at the per-meal cost.
So overall, an affordable, plant-based and nutritious addition to my diet. I've already re-ordered.
OVERALL RATING 8/10