The Eastern States 100 is an American trail running race set around the Pine Creek waterway in the Allegheny Plateau in Pennsylvania.
Following a 103-mile looped route, the Eastern States 100 has over 6,000m of elevation gain across the course of the race. 
The race acts as one of a number of qualifying races for the coveted Western States Endurance Runs.
Date, start time & live tracking
The 2023 Eastern States 100 starts on August 12 at 5:00am local time (EDT)/ 10:00am BST/ 11:00am CET.
It has a cut-off time of 36 hours, meaning runners must reach the finish by 5:00pm on August 13.
Live tracking for the Eastern States 100 is available HERE.
Eastern States 100 Route
The Eastern States 100 is a 103-mile looped race, 98% of which is on single or double tracks.
The race takes in part of the Pine Creek Gorge, often referred to as "The Grand Canyon of Pennsylvania."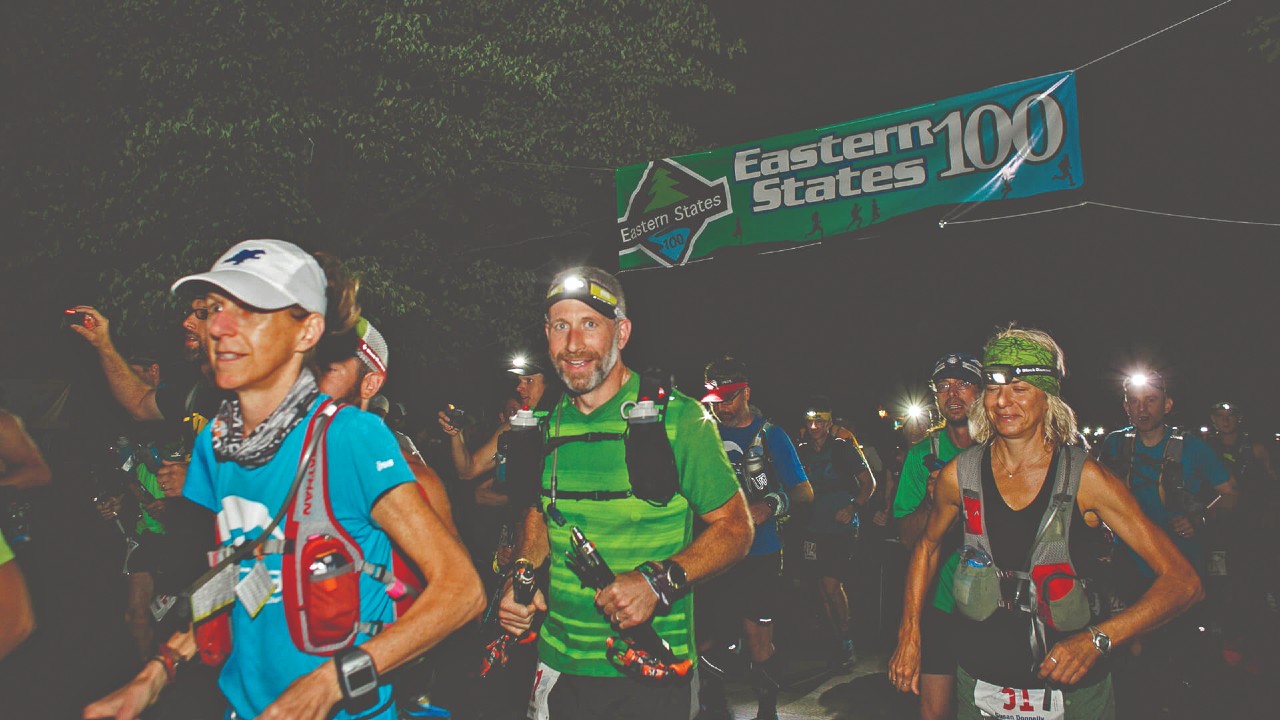 Runners starts and finishes near the entrance to the Little Pine State Park before heading southwards, then to the north west, north east and then southwards again to meet the finish line.
The race features a number of tough climbs, including and early climb around four miles in to Ramsey Road from Dam Run, the climb up to the Happy Dutchman which is around 30miles in, to Dry Run at around the 50miles point and Algerines around 70miles in.
The race has 15 aid stations, most of which have cut-offs (all local times) . Some are available as drop bag stations, and others offer a starting spot for pacers. These aid stations/checkpoints are:
Ramsey Road, 11.3miles
Ramsey, 11.3miles
Lower Pine Bottom, 17.8miles, Cutoff 11:30am
Browns Run, 25.8miles
Happy Dutchman, 21.6miles, Cutoff 4:30pm
Ritchie Road, 38.5miles
Hyner Run, 43.2miles, Cutoff 8:15pm

Drop bag available
Pacer start
Dry Run, 51.2miles
Big Trail, 56.6miles, Cutoff 00:45am
Tomb Flats, 62.9miles, Cutoff 3:00am

Drop bag available
Pacer Start
Cedar Run, 72.7miles, Cutoff 6:30am
Blackwell, 80.5miles, Cutoff 9:15am

Drop bag available
Pacer start

Sky Top, 80.5miles, Cutoff 10:45am
Barrens, 93.1miles, Cutoff 1:30pm

Drop bag available
Pacer start

Hackett, 99.3miles, Cutoff 3:45pm
Facts, tips & FAQ
The Eastern States 100 forms part of the "Pennsylvania Triple Crown of Mountain Running." Alongside Eastern States, the Hyner 50k and Worlds End 100k are also included in the challenge, which offers a trophy to all those who complete the races within the cutoff times and in the same year.
A King and Queen of the Mountain is also given to the person who ran the quickest cumulative time.
In 2023, a new division was introduced to Eastern States 100 for Solo runners who run without support- known as 'Timberbeasts'.
How to enter Eastern States 100
The Eastern States 100 makes clear it is not an entry-level race, and has qualification requirements. These are:
A completed 50-mile trail race within 16 hours, or a completed trail race longer than 50 miles within that race's official cut-off time.
You must complete this qualifying race in either 2021, 2022 or 2023, and you must have already completed it to register.
Qualifying races are reviewed when you register, so please be sure it's an official race with results published on a publicly available website.
Eastern States 100 records and results
The current overall course and men's record holder is Wesley Atkinson, who ran a 18:23:47 in 2019. The women's record holder is Nicole Yokum, with a 24:34:14 in 2021.
Men's Eastern States 100 results
2022 – Ryan Clifford: 20:13:26
2021 – Ben Quatromoni: 22:31:28
2019 – Wesley Atkinson: 18:23:47
2017 – Jayson Kolb: 21:13:16
2016 – Devon Olson: 20:30:36
2015 – Michael Wardian: 21:21:27
2014 – Ryan Welts: 21:29:59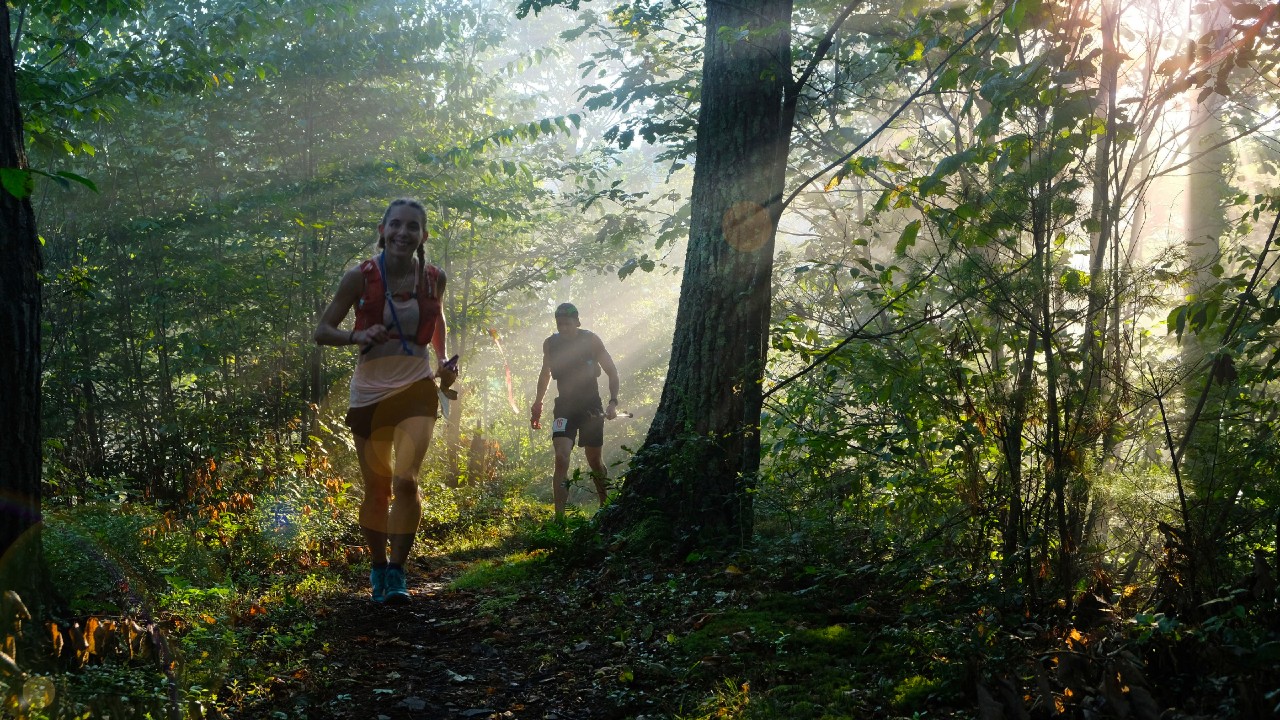 Women's Eastern States 100 Results
2022 – Justyna Wilson: 26:04:37
2021 – Nicole Yokum: 24:34;14
2019 – Megan Burke: 25:59:16
2017 – Kathleen Cusick: 27:51:19
2016 – Michelle Leduc: 29:26:34
2015 – Kathleen Cusick: 24:57:03
2014 – Kathleen Cusick: 24:48:57
Eastern States 100 kit list
There is a short list of mandatory equipment for Eastern States 100 runners:
A headlamp or similar lighting is mandatory when running before daybreak and after dark.

This can be put in a drop bag or with crew for before you think you'll need it

Emergency blanket
Optional race equipment includes
Hiking poles
Headphones
Any kind of speaker that broadcasts music loud enough to be heard by the person next to you will lead to runners disqualified.
GPS devices
Heart rate monitors and similar devices are allowed