The Summer Spine Race is the seasonal variation of the Montane Spine Race, a British ultramarathon along the Pennine Way.
It follows the same route as the original Spine Race, with participants starting the 431km (268 miles) course with 10,732m of total ascent in Edale in the Peak District, before finishing in Kirk Yetholm on the English-Scottish border.
There are four events at the Summer Spine Race; the Spine itself, the Sprint, the Challenger North and the Challenger South.
Date, start time and live tracking
The 2023 Summer Spine starts at 08:00 (local time) on June 18, with a final cutoff of 20:00 on June 24 at the finish.
The 2023 Summer Spint Race Sprint starts at 12:00 on June 17 and has a final cut off of 6:00 on June 18. There are no checkpoints.
The Challenger North has a time limit of 96 hours, while the Challenger South has a 60 hour limit. The South starts 08:00 on June 17, while the North starts at 18:00 on June 18.
Each competitor carries a GPS tracking device which allows race organisers to monitor their progress and to ensure every competitor stays safe. The GPS device also allows fans to follow the race online. More information on Summer Spine Race live tracking is available HERE.
Summer Spine Race Route
Starting at the Edale Village Hall, the 268-mile journey along the Pennine Way takes competitors to Kirk Yetholm on the Scottish border.
There is a total ascent of 10,732m and a total time limit of 156 hours- less time than the original winter Spint Race.
There are five mandatory checkpoints along the route, where runners can stay for a maximum of six hours.
In order, these are Heden Hey Scout Centre, Hardraw, Middleton in Teesdale, Alston YHA and Bellingham. Additionally there are monitoring points and Malham Tarn (in between checkpoints one and two) and Byrness (in between 5 and the finish).
These checkpoints also have cut-off times. In corresponding order, those are 24 hours, 60 hours, 84 hours, 110 hours and 130 hours.
Starting in Edale, the Summer Spine Race Sprint is 46 miles long and takes runners to Hebden Bridge. It has a total ascent of 2017m and a cut-off time of 18 hours.
The Summer Spine Race Challenger North is a 160-mile race along the Pennine Way with 5,290m of ascent, joining the Spine Race route at Hardraw to the finish at Kirk Yetholm. By contrast, the 108 mile Challenger South starts at Edale and finishes at Hardraw and has 5451m of total ascent.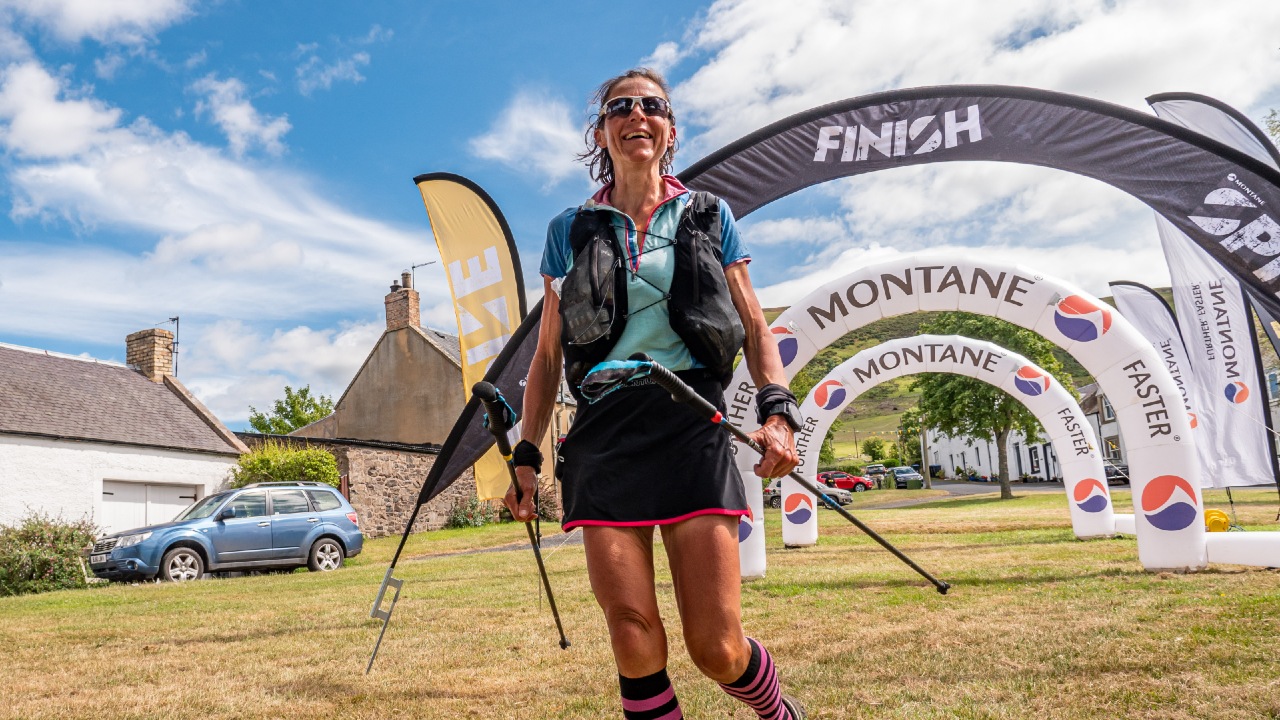 Summer Spine Race Facts, tips & FAQs
While the original Spine Race is one of Britain's toughest ultrarunning offers due to its extreme cold weather, by contrast the Summer Spine Race forces runners to contend with the heat of Summer.
Temperatures will fluctuate from potentially over 25°C during the day to potentially 0°C at night, making hydration tactics of huge importance for Summer Spine Race runners.
Artic explorers Philip Hayday-Brown and Scott Gilmour founded the Spine race. The inaugural event was held in 2012 with 11 people starting the race, but only three finished.
The first Summer Spine Race was in 2017, where 13 people finished.
How to qualify and enter
In 2023, there was a cap of 150 people for the Summer Spine Race.
Runners automatically meet the criteria for the race if they have run an ultra of over 80 miles, and/or have previously completed The Montane Spine Challenger (North or South).
Experience can be drawn from other events. Summer Spine Race organisers say: "Mountain marathons, orienteering events, or fell races are looked on favourably. The more a challenge features mountainous terrain and elements of navigation the better."
Other skills or experience should also be included in your entry form.
Entry for the 2023 races is now closed.
Summer Spine Race records and past winners
The Summer Spine Race overall course record is 70:46:50, held by South African runner Tiaan Erwee. The women's record is 78:57:49, held by Brit Anna Troup. Both were set in 2022- when Troup finished overall runner-up for the second year in a row.
In 2017, the first edition of the Summer Spine, Stephanie Le Men was the only woman to finish.
In 2019, Sabrina Verjee finished first overall.
2022: Men, Tiaan Erwee (RSA) 70:46:50; Women, Anna Troup (GBR) 78:57:49.
2021: Men, Eoin Keith (IRL) 77:34:52; Women, Anna Troup (GBR) 80:28:35.
2019: Women, Sabrina Verjee (GBR) 81:19:07; Men, Esteban Diaz (ESP) 89:57:48.
2018: Men, Mark Denby (GBR) 78:04:14; Women, Brigitte Daxelhoffer (SUI) 131:07:13.
2017: Men, Mark Kromeich (NED), Oliver Lidec (FRA) 128:54:24; Women, Stephanie Le Men (FRA) 143:59:22.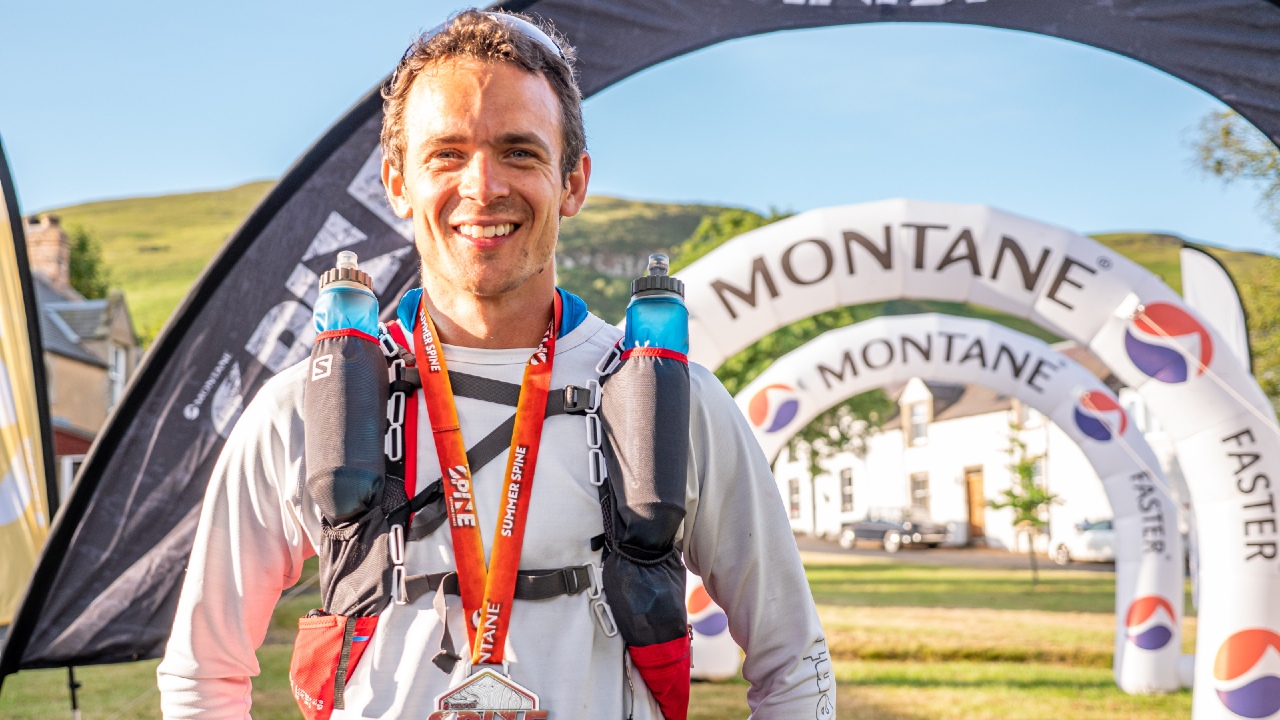 Summer Spine Race kit list
Summer Spine Race Compulsory Kit
Backpack
Compass
Course Maps
Knife
Goggles or Safety Glasses
Head Torch
Waterproof Jacket
Waterproof Trousers
Hat
Gloves
Spare Socks
Neck Gaiter
Spare Base Layer Top
Spare Base Layer Bottoms
Spare Cold Weather Mid Layer
Appropriate Footwear
Bivvy Bag
3L Water Carrying Capacity
Food – 1500 kcal leaving start/each CP
Mobile Phone
Mug – 400ml Capacity
Rear Red Pack Light
Toilet Kit
Compulsory Medical Kit
Full Size Emergency Blanket
Plasters/Dressings
Antihistamine
Imodium
Antiseptic Spray or Wipes
Blister Care Kit
Personal Medication
For the Summer Spine Race, there is also some additional recommended kit.
Recommended Kit
GPS Device
Sleeping Bag
Sleeping Mat
Spare Batteries
Additional Food
CP Towel and Footwear
Charging Plugs and Battery Blocks for Devices