The Western States 100, or Western States Endurance Run, is an iconic ultramarathon that takes place in California, USA, covering 100.2 miles through the Sierra Nevada mountain range.
Now also part of the UTMB World Series, the race is held annually on the last weekend of June and is one of the oldest and most challenging 100-mile events in the world. 
The Western States 100 has a rich history that dates back to 1974, when it was first held as the Western States Trail Ride. It was inspired by the 19th-century Pony Express, and the course follows the historic Western States Trail.
Over the years, it has attracted some of the world's best ultrarunners and finishing the race is considered a major accomplishment in the ultra-running community.
Here is our full guide to learning about the event, following it live or even taking part.
Date, start time & live tracking
The Western States 100 2023 begins at 5am (all local time) on Saturday June 24, with runners required to reach the finish line before 11am on Sunday 25 June. 
We will update this section with a link for live tracking once it is available.
Western States 100 Route
The races starts in Olympic Valley, California and passes through remote and rugged territory in the Sierra Nevada mountain range to the finish at Placer High School in the small town of Auburn.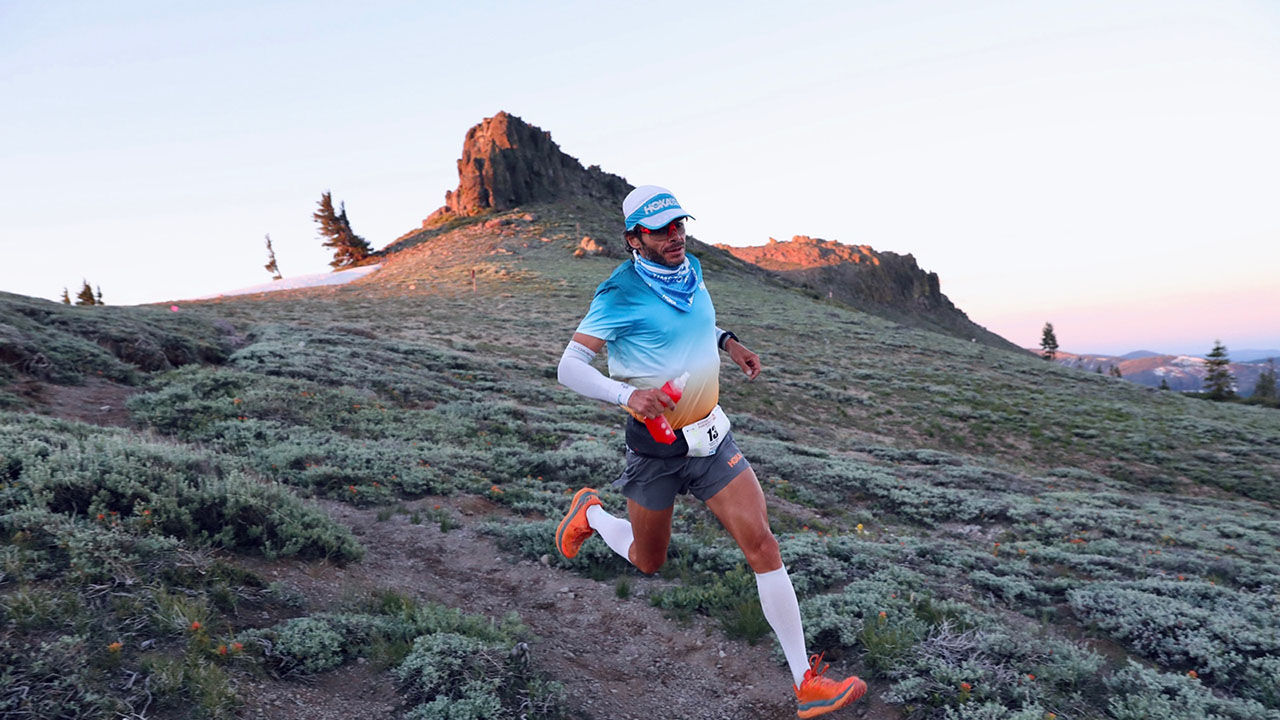 The trail features more than 18,000ft of ascent and descends nearly 23,000ft as runners climb from the valley floor and travel west, following original trails used by gold and silver miners in the 1800s. 
There are 20 checkpoints between the start and the finish, all of which have cut-offs and ten of which have major medical assistance. The tenth checkpoint comes in just over half-way into the race at Michigan Bluff and has a cut-off time of 9:55pm.
The Devil's Thumb section one of the most challenging as runners take on a steep ascent from the river valley to the top of a ridge, while Michigan Bluff features another steep climb and stunning views.
The route has been largely unchanged since 1986 and will only be altered due to weather conditions – which can be volatile. 
At around 78 miles, runners must cross the American River. This can be dangerous and during the race a guide rope is stretched across the river, with rafts used in high-water years.
Western States UTMB Running Stones
In 2022, the Western States 100 agreed to become part of the UTMB World Series, meaning it offers Running Stones to participants which allow entry for the lottery for the UTMB World Finals at the legendary Ultra-Trail du Mont Blanc.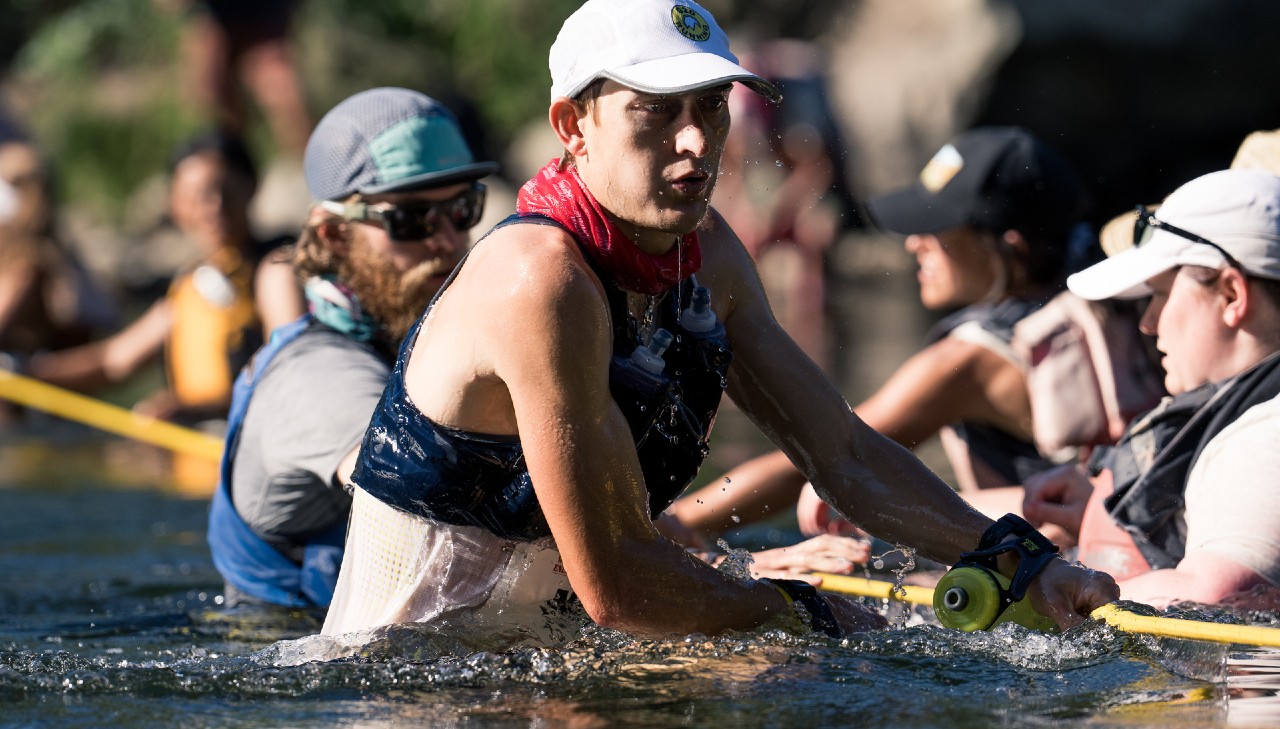 As a 100M race, the Western States 100 offers four Running Stones to those who complete it. 
Facts, Tips & FAQ
The race's origins date back to 1955 when Wendell Robie and five horsemen rode the Western States Trail from the post office in Tahoe City to Auburn to prove that horses could cover 100 miles in one day.
Those who finish the race in under 24 hours receive the prestigious silver belt buckle, with a bronze equivalent on offer for a sub-30-hour effort.
Support crews are only permitted at specific aid stations and must stay within 200 yards of those areas.
Runners can be accompanied by one pacer at a time, starting from the Foresthill aid station to the finish. Those leaving Michigan Bluff after 8pm can use a pacer.
How to qualify and enter Western States
You will need to apply to the Western States 100 lottery unless you are an automatic entrant. To enter the lottery, you must be at least 18 years old and have run one of the Qualfiying Races.
Lottery applications closed on November 21, 2022, and winners were selected on December 3, 2022.
Automatic entrants include top 10 finishers from the prior year, winners of 'Golden Ticket' races, aid station volunteers and sponsors.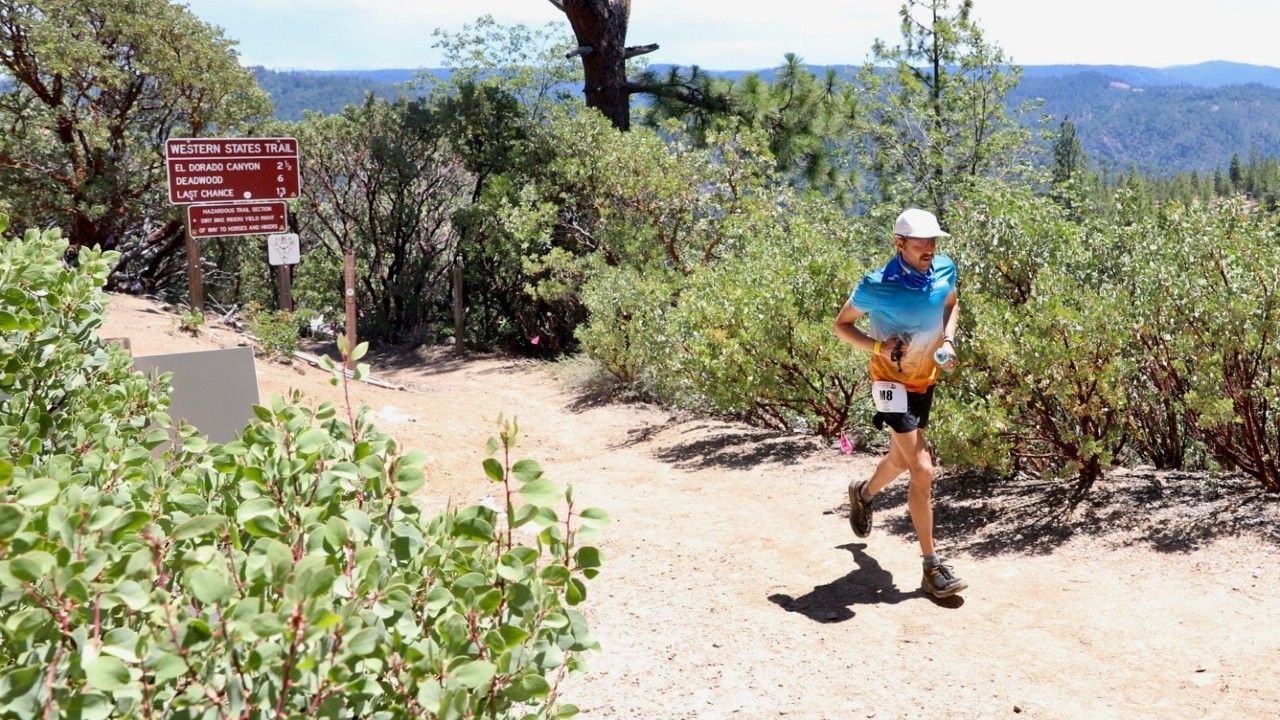 If you are selected via the lottery, you are sent an invitation to complete your registration. Entry costs $410 plus an online booking fee. 
A wait list is also drawn at the lottery and those on that list will offered places should successful applicants withdraw.
A full list of the 214 qualifying races can be found HERE. They include a number of UTMB World Series races.
For 2024, the qualifying period is November 7 2022 through to November 5 2023.
The 'Hoka Golden Ticket races' are:
CCC by UTMB 100K France, Italy, Switzerland, September 1, 2023
Grindstone by UTMB 100K Virginia, September 23, 2023
Nice Côte d'Azur by UTMB 115K France, September 30, 2023
Javelina Jundred Presented by HOKA 100M Arizona, October 28, 2023
Doi Inthanon Thailand by UTMB 100M Thailand, December 8, 2023
Black Canyon Presented by HOKA 100K, Arizona, February 10, 2024 (top 3 M/F)
The Canyons by UTMB Presented by HOKA 100K, California, April 27, 2024
Western States records and past winners
The current men's Western States 100 record is held by US ultrarunning favourite Jim Walmsley who ran the 2019 race in a time of 14:09:28.
The current women's Western States 100 record is held by British runner Ellie Greenwood, who ran a 16:47:19 in 2012.
The Western States 100 Results from 2010 are:
*Course record
2022 – Men: Adam Peterman, USA, 15:13:48/ Women: 2022, Ruth Croft, New Zealand, 17:21:30
2021 – Men: Jim Walmsley, USA, 14:46:00/ Women: 2021, Beth Pascall, United Kingdom, 17:10:42
2019 – Men: Jim Walmsley, USA, 14:09:28*/ Women: 2019, Clare Gallagher, USA, 17:23:24
2018 – Men: Jim Walmsley, USA, 14:30:04/ Women: 2018, Courtney Dauwalter, USA, 17:27:00
2017 – Men: Ryan Sandes, South Africa, 16:19:38/ Women: 2017, Cat Bradley, USA, 19:31:31
2016 – Men: Andrew Miller, USA, 15:39:36/ Women: 2016, Kaci Lickteig, USA, 17:57:59
2015 – Men: Rob Krar, Canada, 14:48:59/ Women: 2015, Magdalena Boulet, USA, 19:05:21
2014 – Men: Rob Krar, Canada, 14:53:22/ Women: 2014, Stephanie Howe, USA, 18:01:42
2013 – Men: Timothy Olson, USA, 15:17:27/ Women: 2013, Pam Smith, USA, 18:37:21
2012 – Men: Timothy Olson, USA, 14:46:44/ Women: 2012, Ellie Greenwood, United Kingdom, 16:47:19*
2011 – Men: Kilian Jornet, Spain, 15:34:24/ Women: 2011, Ellie Greenwood, United Kingdom, 17:55:29
2010 – Men: Geoff Roes, USA, 15:07:04/ Women: 2010, Tracy Garneau, Canada, 19:01:55
Scott Jurek won seven consecutive men's races between 1999 and 2005, while Ann Trason triumphed in the women's event 14 times between 1989 and 2003.
Who is taking part at Western States 2023?
In the men's 2023 race, notable participant news is that three-time winner Jim Walmsley will not be in attendance, as he is focusing on the Ultra-Trail du Mont-Blanc. 2022 winner Adam Peterman is also not participating. 
American Courtney Dauwalter will be one of the favourites in the women's race, having won it back in 2018. Another big name in the women's field is Camille Herron, who will be desperate to add the Western States to her plethora of titles.  
Wenfei Xie will also be one to watch – she claimed a win at the recent Amazean Jungle Thailand by UTMB.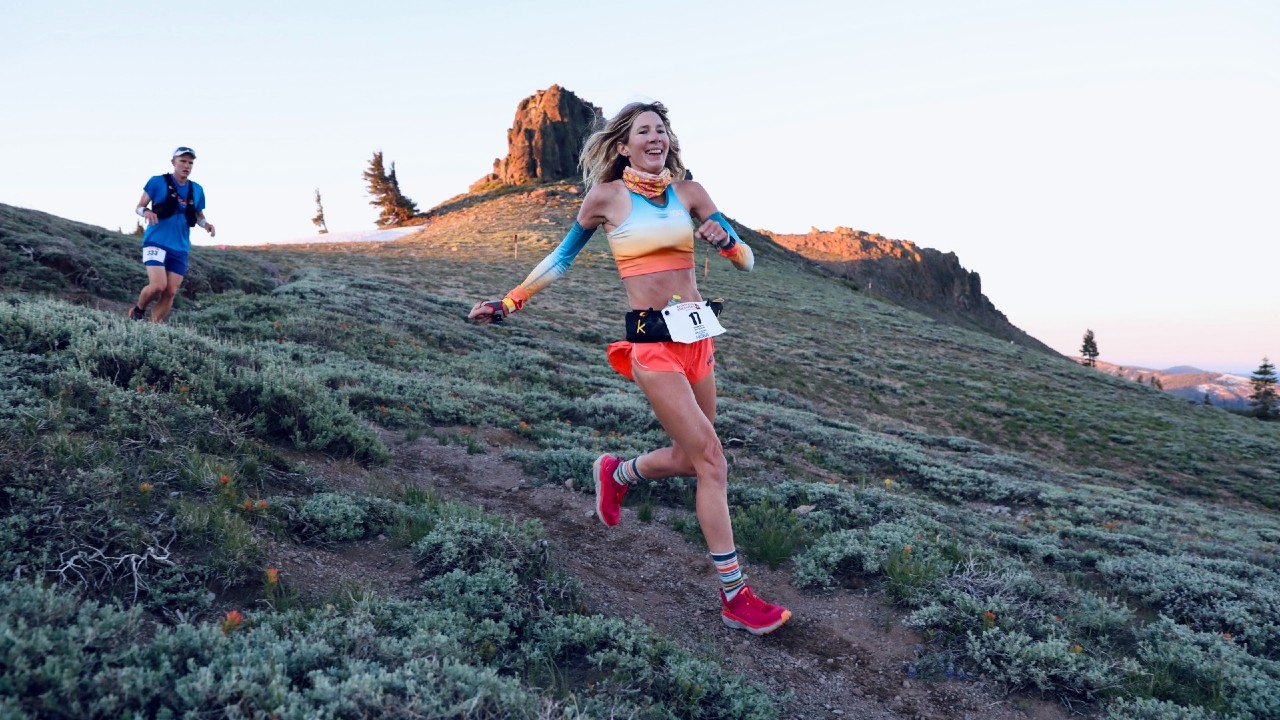 Tom Evans is a big name competing in the men's race – the British runner finished third at the UTMB 2022 and cruised to victory at Ultra-Trail Snowdonia in May.
Dakota Jones, who recently won his second Transculvania by UTMB title ten years on from his first, is also competing.  
Hayden Hawks will be considered one of the favourites, having finished runner-up here last year. After a stunning performance at the Tarawera Ultramarathon by UTMB 102km event, Kiwi Daniel Jones is also set to compete. 
For a full list of participants, click HERE.
Western States 100 kit list
Runners must carry TWO LED flashlights, as almost half the race may take place at night.
Participants should be 'fully prepared' for both extreme heat and cold weather
Drop bags are available at set checkpoints
They must be securely tied, labelled clearly with the runner's name and entry number, and deposited at the appropriate collection station established for each checkpoint on the Friday preceding the Run.
Drop bags must fit through a 6″ X 8″ opening and can be no longer than 16″
You are limited to one drop bag per aid station
Do not use paper bags, shoe boxes, or anything made of paper-like products.
It is imperative that runners do not leave perishable items in their drop bags.
It is strongly recommended that warm clothing and an extra flashlight be placed in the drop bags that will be delivered to each of the night aid stations.
Do NOT place glass bottles in your drop bags.
Trekking poles, hiking sticks, or removable crampons are NOT allowed.
Shoes must be worn as manufactured, without material external modifications.