Ben Abdelnoor, fresh from setting a fastest time in the Frog Graham Round, travelled to Jersey to take on the Breca swimrun event. He found an island oasis for running, swimming and pretty much everything else. 
Jersey knows how to 'do airports'. I've landed, disembarked, grabbed my bag from the conveyor, walked out into the sunshine and caught a bus for town of St Helier in all of about seven minutes. I just know that this trip is going to be perfect. The other omen that this was going to be a fun weekend was picking up a free map of the island and opening it to see that Jersey also knows how to 'do maps'; it's clear, very detailed, drawn to a decent scale, includes cycle and bus routes, and plenty of information on what to do and see on the island.
The bus ride into St Helier – very straight-forward, all journeys are two pounds – gives a good introduction to the island: plenty of narrow leafy lanes and a main road that runs along most of the southern coastline, stunning beaches and sandy bays and inviting turquoise waters. Many of the road names are in French, and the island seems to be a wild hybrid of Cornish villages, rural 19th century southern England, the french countryside and a peaceful Mediterranean coastline.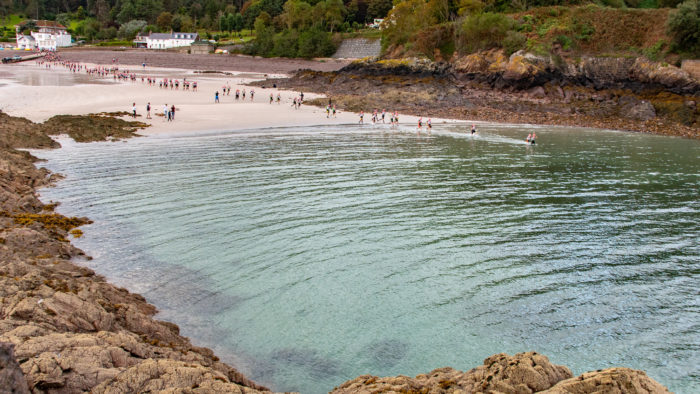 I'm told that the speed limit in Jersey is 40mph which probably goes towards explaining the laid-back style of the islanders (except angry 'Essex woman', who screams at me from her car window to get on the cycle path) but not why there are so many high-performance vehicles on the roads. Heading out of the towns you soon come across green lanes: narrow country lanes where the speed limit drops to 15mph and traffic is almost nil. It's a cyclist's paradise; I hire a 'shopper' bicycle the day after the race and have more fun than you could imagine.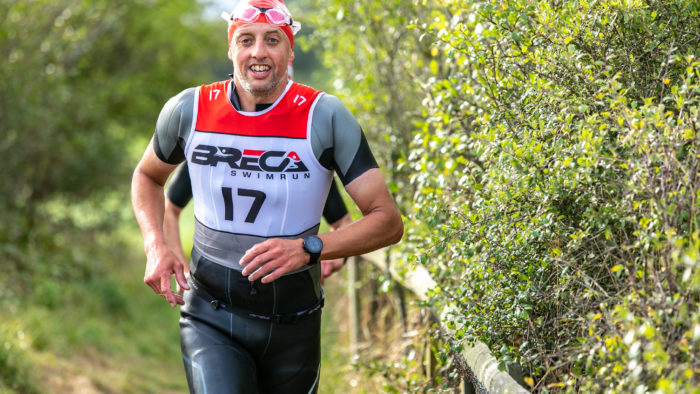 I only meet Paul, my race partner, the day before the race. We've been introduced via a mutual friend, a 'swim-run blind date' as we described it to BBC Jersey in a radio interview we've been invited to give, just two hours after having met. The radio presenter thinks the whole thing is both hilarious and impressive. "You've even come into the studio wearing sports clothes; I don't even own any sports clothes!" she laughs. We've been lent a swim-run tether – a length of bungy rope with a clip on each end to go around our waists and keep us close together in the swims – and attempt to explain its use. I don't mention that my back-up tether is an elasticated dog-lead borrowed off one of my girlfriend's border collies.
Two things I have to mention about Jersey that should make you want to come here, not just for the weekend but a whole week, are its fascinating history and its stunning coastline. I didn't know much about the former before I came, and I saw a lot of the latter on race day.
There are eight swims on the long course at Breca Jersey, totalling 6.5km and varying from short 400m splashes in beautifully tranquil and crystal clear turquoise waters through to 1500m of rather unnerving swells and a distinct feeling that your swimming effort is not getting you in the direction you want to travel. As they say, though, 'it builds character' and I never feel unsafe as there is plenty of safety crew on the water in the form of boats and kayaks from the local Jersey Canoe Club. Generally the swims were an opportunity to rest the running legs and enjoy some meditative front crawl in balmy 18°C water, whilst still swimming your heart out. The support from locals, as well as a strong contingent of friends and families of the competitors is impressive, particularly at the exit of each swim where there'll be a gathering of people – some very relieved I imagine – encouraging you onto the run. The same goes with each feed station; a big round of applause, words of encouragement and support in getting you the right fuel to take onto the next section: jelly babies, gels, bananas and orange segments, energy bars and biscuits. There's plenty of fresh water, rather than the salty kind, and electrolyte too.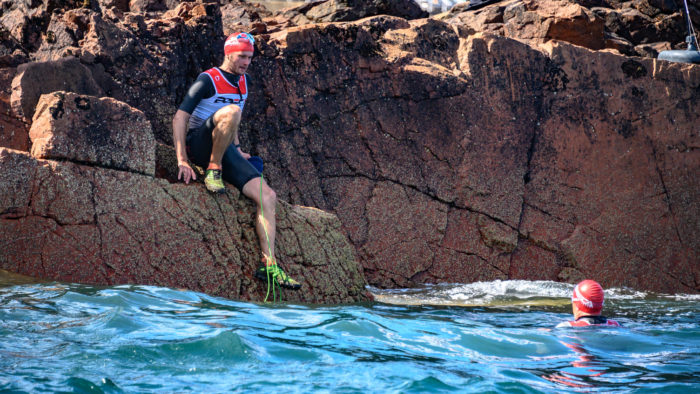 The running totalled around 47km, varying from 15 minutes of coastal path running between swims, right through to an epic couple of hours including a tough 7km across the sands at Le Braye. There was an oasis of happiness mid-way along this section as a checkpoint came into sight, one that I hadn't noticed on the map! I should also mention that the weather was perfect, around the low 20s, which is perfect for sitting on the sand with an ice-cream, but rather more challenging in 4mm of rubber. Suffice to say the prospect of a swim was always appealing, and mid-run discussions obsessed over the thought of cold beer, icy cold coke, chilled milk…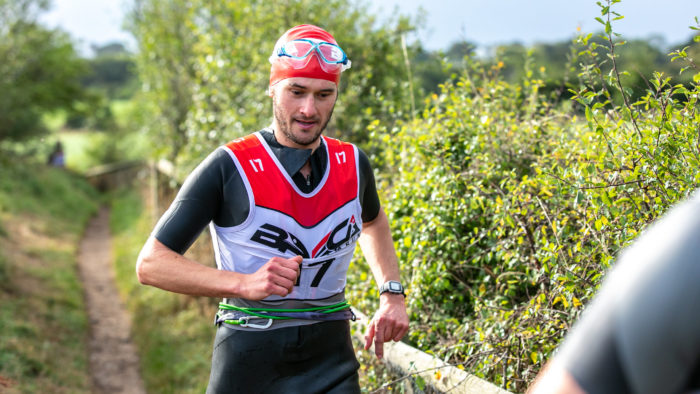 Our eight hours and forty minutes of swimming and running finished in one of the most beautiful settings for a race. We entered the water for the final swim leg from a rocky inlet at Portelet Bay, clambering gently down into refreshingly cool, blue waters. We get a quick explanation of where we're swimming to, basically just around the corner, and we're off. It's only a short swim – some 400m – but I can't help but take up breaststroke in order to look around at my surroundings. I know this is a place I'm going to come back to, and I just want to take it in. There's an arc of sandy beach and a cliff across to my right, ahead of us are a set of steps and we arrive at the finish, the pub gardens of the Portelet Inn. We receive our obligatory medal and finisher's t-shirt before heading into the pub to enjoy a well-earned drink, some of the post-race food on offer – roast chicken, veggie lasagne, salad, chips – and a chance to soak up the friendly atmosphere and conversations with fellow finishers. Breca Jersey was only the second course that the team put together, and it's now been going for a number of years with great success. Whilst Paul and I completed the long course, which was won in seven hours, there is also the option of a shorter course, which is usually won in around four hours. For anyone looking for a challenge, who's reasonably confident in open water and looking to get into swim-run, then I think the short couse would be an ideal starter. And if Jersey know how to 'do airports', then Breca know how to 'do swim-run events' – a professionally organised and smoothly executed event.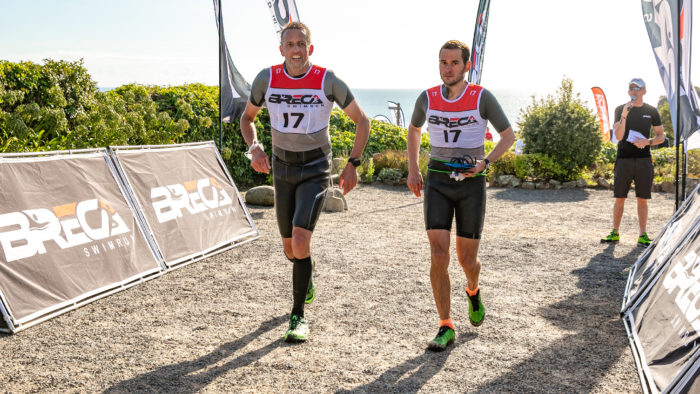 The next day I hire a bike and take in Jersey Zoo and the Jersey War Tunnels. There were a lot – and I mean a lot – of children at the zoo and without exception all were enjoying themselves immensely. Strangely there was less fun and games, and no children at the War Tunnels. I think I know why, but I can honestly say I think it is the most interesting museum I've visited. A partially-built underground hospital complex, built during the German forces occupation of Jersey from 1940 until 1945, using forced labour as well as voluntary and paid skilled workers. The museum tells the story of life on Jersey under the occupation and makes for a thoroughly educational couple of hours. A very different experience was had at Jersey Zoo. Built in 1959 under the guidance of Gerald Durrell, a conservationist and naturalist who became disillusioned with those zoos he was providing animals to. He realised that the conservation of endangered species and the reintroduction of these animals into the wild was a more pressing issue and so set up Jersey Zoo. There's an interesting and detailed explanation of Durrell's life, in one of the display rooms, from his upbringing on the island of Corfu and his early expeditions through to his extensive literary career and appearances on TV and radio.
So what's not to like about Jersey? There's an abundance of everything good: beaches, cafes and eateries, shops, places to get a beer or a good coffee – Dandy in St Helier does a great coffee, The Sinful Vegan does an awesome breakfast – and loads of historical and educational places to explore. Finally, as if to back me up in my opinion, Paul, my swim-run buddy, before he's even left Jersey, has arranged to come back the next weekend with his wife and children! A ringing endorsement indeed.
Find out more about Breca Jersey and their other swimrun events HERE.