We spoke to Saucony UK athlete Ieuan Thomas about how he combines a full-time job with training for the steeplechase, and his ambitions for the future. 
Q: I understand you're working a full-time job as well as being a top level athlete. Who do you work for and what do you do?
A: I work for SPORTTAPE as their Performance Director. We're (as you may guess) a sports taping company based in South Wales, however we're lucky enough to ship our products worldwide. We have an incredible reputation for quality. My role is incredibly varied as we're only a small business, so any day can vary from sales and meeting potential new customers, digital marketing and social media, order fulfillment and logistics or education.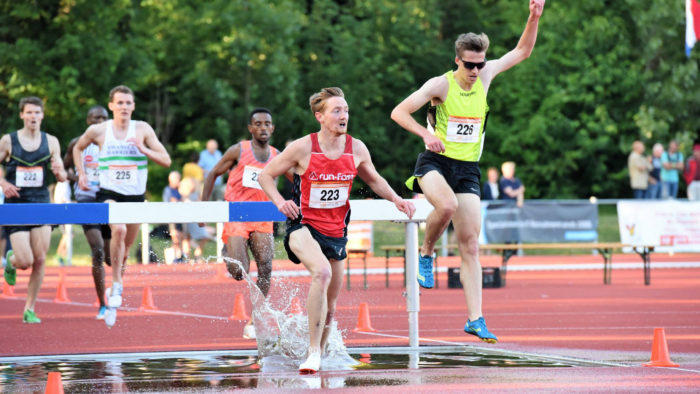 Q: How do you balance work and training and what are the key challenges you face?
The balance is relatively easy as it gives you a great structure to your day. You have the early morning to get run #1 in, and then the evening for run or session #2. Recovery is really the hardest part, when you have a full-time job there's really no let up. You always have to be switched on, which can be mentally tiring. It also means that I can't attend the training camps that many full-time athletes enjoy as part of their major championships build-up.
Q: What's the key session that you nail that lets you know you're in peak condition?
There's a couple of sessions that we'll run throughout the season that as I start to hit faster times I know that I'm ready to roll. One session that we always run about a week out from a race is 3 x 1km with 400m flat and 600m over hurdles. If I can roll those out a few seconds under target race pace and feel good I know I'm ready to roll. The other is 8 x 400 over hurdles with decreasing recovery. It starts at 2 mins and then goes down 15 seconds per rep until you only have 30 seconds recovery between reps 7 and 8. It's a killer but when I nail it I know it's time!
Q: Looking beyond the recent European Championships, what are your key targets for 2019 and 2020?
Both years bring about major championship opportunities so my main focus in on making the Worlds team in 2019 and then using that as a platform to make the Olympic team in 2020. That's the ultimate goal. To do so I know I'll need to run a little quicker, so will take every opportunity I can to run as fast as possible.
Follow Saucony athlete Ieuan on Twitter to track his progress and training.