It was competitive at the sharp end for both the women and the men at this year's Berghaus Dragon's Back Race. In the women's race Sabrina Verjee was back, having come 2nd at the 2017 race. There was also American Alyssa Clark, who got off to a great start before having to retire through illness on day 4. Little separated the top 3 women for most of the race (1 minute separated the top 2 on the last day) but it was Lisa Watson who seemed to get stronger as the week went on and she emerged victorious. We spoke to Lisa to find out a bit about her training, the race and her love of Disney songs!
Run247:  Can you tell us a little bit about your running background?
Lisa: I've always been into hill walking since I was a child and when I was a teenager discovered climbing so I joined the University Mountaineering Club when I came to Sheffield. This club organises a race called the High Peak Marathon so every year I would sit out all night with buddies marshalling for these lunatics who thought that running was fun. Before this I hadn't even really considered running as something to do and a few years later a friend suggested we try out a half marathon. I didn't love road running but it was enjoyable to run and train with friends. A few months after the half I discovered fell running and just loved it. Unfortunately, I started doing too much too soon and ended up injured for a long while. A couple of years and a steroid injection later I was desperate to get back to it, so when I could finally run again I knew I really wanted to work up to completing the High Peak Marathon. I'm lucky to have met so many amazing people who share the same passion and we generally just have a blast together! Our training runs definitely feel more like social outings. We finally completed the High Peak Marathon in 2017 with a fab group of friends. Our team name was "Beauties and the Bog" and we made a little film about our journey and have kept up a website with blogs etc. detailing our many adventures ever since. Running has just kept growing for me and I have had loads of adventures such as running the GR20, Hadrian's wall, many mountain marathons and local fell races as well as just getting out and enjoying the mountainous areas of the UK.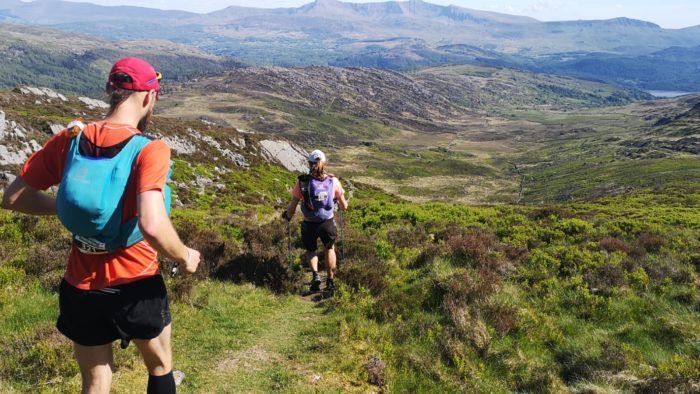 Run247: I heard that you had a slightly unorthodox method of training for this race, involving a lot of Munros! Can you tell us a bit about that and how you think that helped you to prepare?
Lisa: Yes, so this wasn't intended to be training for the Dragon's Back as I hadn't decided about this race then, but looking back it was the best prep I could have done. In 2017 fellow Bog Beauty Libby and I decided we needed a big adventure and some great talks at Hope Valley Adventure Film Festival, we decided to go for a continuous, self-propelled Munro round (3000ft mountain in Scotland). We set off in July 2017 and it took us 77 days to summit and travel between all 282 Munros. We didn't run on this trip but I think that getting out every day on rough ground, self navigating and clocking up a hell a lot of ascent (we worked out we covered 150,000m of ascent, 17 Everests, over that summer). Another real skill we learnt was organisation on such a long event, we were out for 10-14 hours a day and sleeping up to 4 of us in a converted Ford Transit. There wasn't much space, it was often midgy and wet and we had to learn to get clean, dry, fed, organised and ready to go again the next day. The trip was too long to build up a calorie deficit so we also learnt a lot about food, what and how much you need to eat to keep your body going for so long. The other side of it was mental training. It was tough but we quickly learnt not to worry about the mountains we would be climbing tomorrow and just focus on the next hill, or the next 100m! All in all, perfect Dragon's Back training!
You can read more about the Beauties and the Bog Munro Round and see their film HERE.
Run247: What were your favourite parts of the Dragon's Back route and why?
Lisa: My favourite parts were Crib Goch (surprisingly!), Day 3 and the Black Mountain on Day 5. Crib Goch just because I was so nervous about it, despite my climbing background I am a real wimp and I had a horrible recce of it in cold, wet conditions with strong winds where I got vertigo and had to bum shuffle or crawl along it. I thought I was going to embarrass myself but in dry still conditions it was a breeze and the views of the rest of the Snowdon Horseshoe were stunning.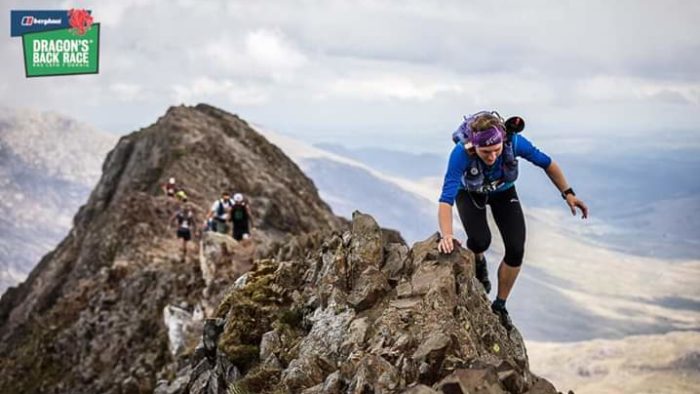 I loved nearly all of Day 3 apart from a little blip in Machynlleth where I felt a bit sick. Again I was a bit apprehensive about how long it was, a few kms longer than I had done in one go before, but it was much more runnable terrain and I felt like I was moving really well. There was a lot of more soft heathery ground which is more similar to the Peak District where I mostly train. I also stopped holding back so much on the downhills which I enjoy so much. On day 2 I had got a bit lonely in the afternoon but on day 3 I had plenty of company and great chats throughout the day. I spent most of the afternoon of day 3 with Andrew Jones, he is a bit quicker than me, particularly on the uphills, and we pushed each other to run much more and much faster than I think I would have done otherwise. The Black Mountain is just stunning, it is somewhere I had never visited before my recce and during the race it is quite symbolic as it the final mountainous section. There is a tough climb up to it then an awesome grassy runnable section with a steep sided drop off to one side. It felt amazing to be up high again and to know that the end was in sight.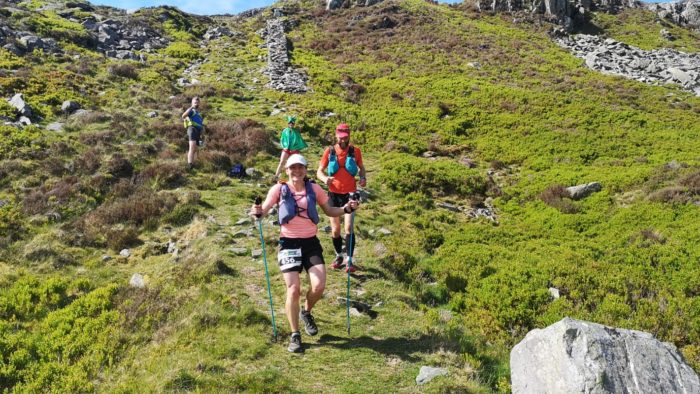 Run247: Did you have any bad patches? How did you get yourself out of them?
Lisa: Yeah I found the second half of day 2 really hard. I love the Rhinogydd but they are tough! I had been running with friends all morning which was really fun but I left them at the support point (I really liked to be quick though them and not stop too much so my legs stayed awake!). In the afternoon the climbs felt hard and food didn't seem to be helping much. The views were still stunning I was hoping to catch someone up to chat away the miles but I couldn't see anyone ahead and only people passing me were speed demons who I couldn't hope to keep up with, so I spent a big portion of this section on my own. In these situations I firstly work through things that might be making me feel bad, have I eaten/drunk enough (generally when I'm grumpy, I'm just hungry), does anything hurt? Next, I try and distract myself by focussing on enjoying my current setting as much as possible, not that difficult in the Rhinogydd as it is so beautiful. That helps me relax and remember why I am there in the first place. Then it's down to focussing on one small section at a time and then singing Disney songs – out loud. Eventually Dan Murdoch caught me and we ran off Dwiffys together, it was so nice to chat away the miles for the descent. Seeing friends Libby and Hetty (dressed as dragons) once more lifted me up too. I couldn't keep up with Dan for the torturous 8km road section at the end though. The soles of my feet were really sore so it took a lot of will power to push it though that as the views were no longer distracting, at this point it was just a case of gritting my teeth. The thought of a shower at the campsite spurred me on!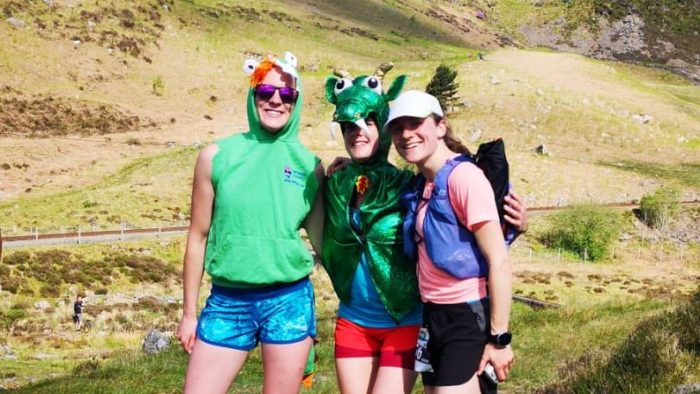 Run247: I know that you had a group of mates doing the race too (some from Dark Peak Fell Runners). Do you think it helped to have a group of you supporting each other?
Lisa: Oh this helped massively, during the race as well as in the preparation stages. Fellow Bog Beauty Bo Oudshoorn had also signed up and we spend loads of weekends together in Wales recceing sections of the route. I think without each other's company we wouldn't have recced the route so much, especially when the weather was poor. It was also great to have friends who are doing the same kind of training so understand when you are out every weekend and don't get so bored by all the chat. We also had a few other friends we know from running in Sheffield: James (the youngest competitor this year), Natalya and also Martyn and Michael who Bo and I coincidentally bumped into on a recce in Feb. There were also other members of my club, Dark Peak Fell Runners. I've not been a member long so I don't many people well but it was great to cheer each other along. We didn't run much together as we are all quite different paces but we would always stop for a chat when we passed each other. In the evenings we helped each other out with getting our kit sorted, exchanging food if we fancied a change and general encouragement.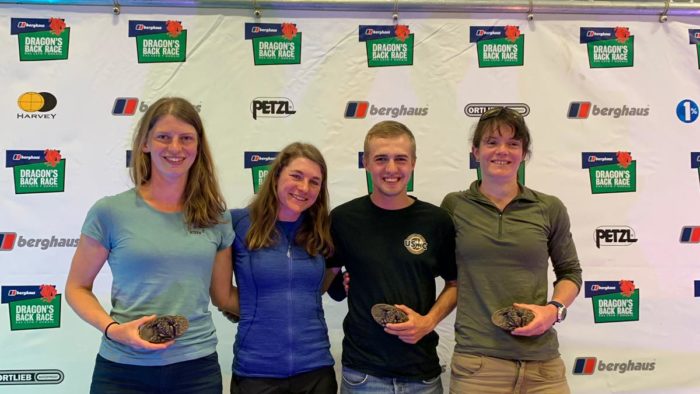 I also volunteered on the Cape Wrath Ultra last May, this was loads of fun and a great experience in itself but was also great to have met so many people who had done the course before, were running this year or were working on the event team. Seeing their smiling faces each day and their hugs, kind words and support made a huge difference to morale. I also knew exactly how camp would work and saw the kind of kit competitors carried on the Cape Wrath Ultra which really helped with preparation for the race. I would really recommend the volunteering experience.
Run247:  Now that you've done the race, could you give us a few top tips for anybody else thinking of doing it?
Lisa: There are so many challenging elements to this race but I think the thing that people underestimate the most is the terrain, so I really think that getting out in the mountains on similar terrain is the key to this race. It doesn't matter so much if you have built your distance up to much longer than an individual Dragon's Back day if this is all on easy flat ground, as moving over rough ground is very different if you aren't used to it. Also getting really familiar with the kit you will be using is important, you don't want to discover on race day that your shoes rub or that you just trip over poles because you can't use them. I did a lot of my mountainous training at a much slower social pace, taking in the equivalent of half a DB day at a time. I also made sure I did several stints of getting out for 2-3 days in a row getting used to getting myself sorted and refueled in the evenings and ready to go again the next day. I built my speed separately with interval sessions and other single day races.
Run247: What's next for you? Any other races/adventures planned?
Lisa: I couldn't really imagine life post Dragon's Back and I had no idea how I d going to feel so I have very little in the calendar. I suppose the first thing is to try and get my head around this crazy experience and enjoy it for a little while while my legs recover. I definitely feel like I want to enter some more events and I feel like stage races really suit me as I'm able to recover really well overnight. I dedicated a year to training for the dragon's back so I think I will need to find something that inspires me on the same level to have the same amazing experience I just had. So I need to do some searching. I'm also keen to do some other ultras, day 3 dragons back is the furthest I've ever run but I'm sure I can start pushing up that distance now. I'm also interested to see how I fare at a non-stop race but so far the idea of tactical sleeping/not-sleeping terrifies me. I'm also starting to dream up some personal challenges to have a go at, but I'm not going to commit to anything just yet!
Lisa is supported by Alpkit.