Two weeks ago Paul Tierney completed his epic challenge of summiting all 214 Wainwrights, setting a new record of 6 days and 6 hours. This involved an incredible 318 miles of running, with 36,000m of ascent and descent. Throw in lots of technical terrain, some pretty testing weather, not very much sleep and the pressure of all eyes on him and he had a huge challenge on his hands. We spoke to Paul to find out more about how and why he did it. We've removed all the swearing…
Taking the Wainwrights plunge
Paul had followed Steve Birkinshaw's Wainwrights record in 2014, though at the time he thought of it as 'something I'd never be able to do but I was really inspired by it'. What made him start to think that it could be something he could potentially achieve was doing Tor des Geants in 2017 (a 330km non-stop race with 24,000 metres of ascent). He says that 'it gave me confidence to know that I could keep going for that length of time'. Paul met Steve at the start of 2018 and got lots of advice from him, but then he got a place in Tor des Geants again for 2018, so he decided not to pursue the Wainwrights attempt then, but to do the race again. This second Tor des Geants really galvanised his idea that 'I actually really do have a chance of doing the Wainwrights because I finished strongly'. So in January 2019 he made the decision to go for it, and planning began.
Training
I asked Paul how you can train for something as big as the Wainwrights. Interestingly, despite being a coach (Missing Link coaching) he didn't write himself a schedule with specific sessions or recces. Instead he tried to be adaptable, 'listening to my own body and how tired I was. I wasn't worried about doing anything mega long in training because I knew that I had a decent amount of mileage in me on hilly terrain from the last two years'. His longest training run was 8 hours (a recce of part of the route) and everything else was between 3 and 6 hours (though it did involve some back-to-back days and sometimes 3 or 4 long runs during a week).
This might come as a surprise to people who imagine that you'd be doing huge mileage to train for something like this, but Paul is a firm believer that you build up resistance and robustness over the years when you spend many hours in the hills (more on this later), so you don't need to break yourself training. He also didn't want to risk overdoing it and backed off in the 6 weeks before the challenge because he had a few niggles and was struggling with hayfever.
Mental preparation
Having had a few DNFs in his running career, Paul was keen to get better at managing those thoughts of stopping before attempting a challenge as big as the Wainwrights. He had a lot riding on this record attempt – he knew he realistically had just one chance to do this – and there were a lot of people involved in supporting him. 'Locally, there were a lot of people I really look up to supporting me and I was feeling the pressure because of that'.  He did a lot of reading about how to deal with your mind trying to stop your race and it really helped him.
He planned for the mental side of things as well. For example, even a simple thing such as setting off one hour before Steve did on his record gave him a mental boost. Paul says 'the longer the challenge, the more it becomes mental' and he knew he had to prepare for this side of things. 'If it's 6 days you've got to manage that mental aspect for 6 days. Everything becomes magnified. The less it becomes about the physical aspect, the more it becomes about the mental'.
Tor des Geants had helped a lot with the mental preparation side of things too. Paul said 'I knew how bad I would feel after 4 days. After last year I knew that I could feel terrible early on but I could finish strongly and still run well down the hill at the end. That was such a positive experience to have'.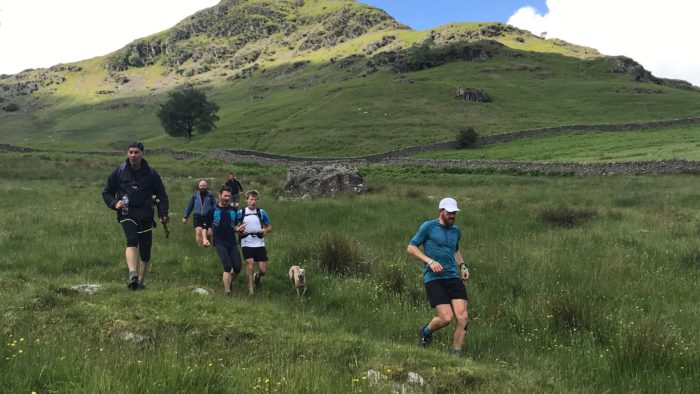 Day one
The week before the attempt Paul wasn't even sure about starting it, let alone finishing it. 'Hayfever, combined with stress meant that I wasn't even sure I could get round the first day. The day before I had a banging headache, congestion in my head, I only slept for one hour that night. I felt terrible. Getting up that morning I just felt awful, I was really worried but I was trying to convince myself it would be ok. And when I started everything just disappeared.'
Paul's super crew
While having so many people and inov-8, who he's an ambassador for, supporting him was pretty nerve-wracking, in case he let them down, Paul says 'it meant that I never considered quitting.'
His partner, Sarah McCormack, was a tower of strength in the planning stages and during the attempt. Way before it started she was sending detailed instructions out to all the key people involved, leaving nothing to chance. She supported Paul at road crossings, ran with him when the schedule allowed and generally made sure everything ran smoothly and Paul was happy. Above and beyond for any partner, but particularly selfless when you consider that Sarah was only 2 weeks away from a huge race herself, the European Mountain Running Championships, which takes place this weekend in Zermatt. Good luck Sarah!
As Paul says 'you know how it is with good runners [Sarah is an Irish international, two time winner of the International Snowdon Race and finished 3rd in the 2018 Mountain Running World Cup], you have to prioritise your training, you have to be a little bit selfish. You need to make sure you're ready for your race and if something gets in the way you need to put it to one side. Sarah did the exact opposite of that. She was getting hardly any sleep, she was smiley and happy all the time and was constantly just about me. She's a much better runner than me, and she's ambitious and wants to do well at the Europeans, and she deserves a massive amount of credit for what she's done for me'.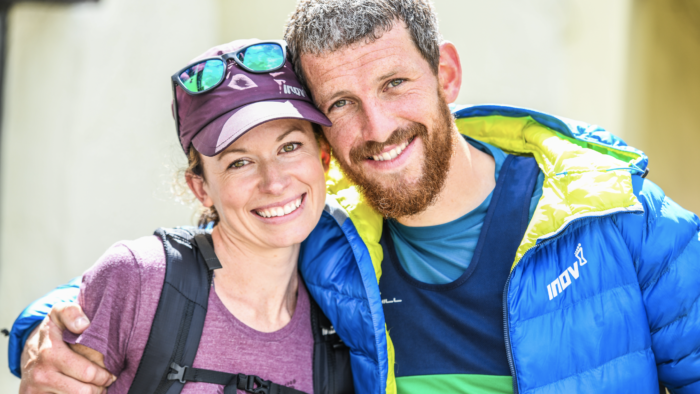 Paul described his core crew of Charmian Heaton (who's also crew extraordinaire for Nicky Spinks), Tori Miller (from inov-8), Tom Sutton (of Freedom Racing), Joe Mann (who did 65 Wainwrights with Paul in addition to providing road support) as 'amazing'.
Paul also singled out Neil McKenzie for a special mention because he was amazing in all the planning stages but his job meant that he missed 'the fun bit' of the actual attempt. He did half of the recceing with Paul and constantly came up with suggestions for route choices and helped a huge amount with the logistics side of things.
Highs and lows
Paul found the people who came out to support and run with him a big help. It was a mix of friends, people he got to know over the course of the 6 days and people who he really looks up to and admires, who came out to help. 'That was one aspect that was easier than Tor des Geants because it kept your mind stimulated from the conversation. Even if I didn't want to talk I could still listen and it was nice to have a fresh face every so often'. It also meant that he didn't have to 'sing or slap myself across the face' to stay awake, like he did at Tor des Geants.
But obviously there were lows as well. He singled out the second to last day as a particularly difficult one. 'I was in a really bad mood anyway and I was really tired. Everybody seemed to think I should have been delighted because I was ahead of the record and nearly there, but in my mind I still had a day to do, I'm knackered, my knee is killing me on the downhills, I can barely run. Everybody else was positive and thinking I was going to break the record and everybody was really chirpy and I just thought 'I'm too tired to deal with this'. But then I felt bad for being annoyed!'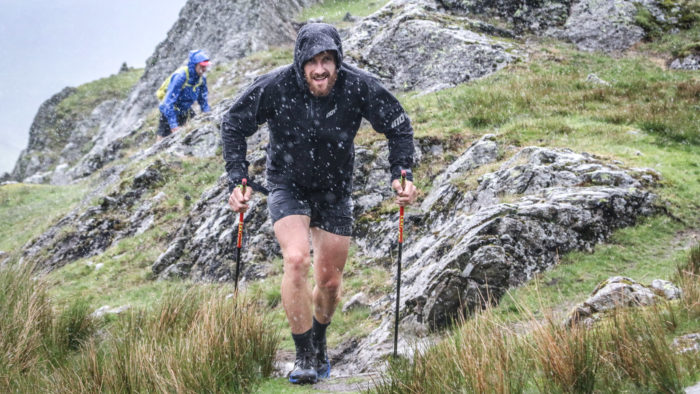 A time that gave Paul a big boost was when he started to make up time on Steve's record on the second night. 'Steve stopped at Duddon and did the Coniston fells the next morning, whereas I got to Duddon at about 9.30pm and carried on and did the Coniston leg, finishing in Tilberthwaite. This meant that I was a leg ahead of him and still started at the same time he did on Sunday. The same thing happened the following night, with the Rydal to Kirkstone leg in the bad weather. It was a big mental boost'.
Keeping the body together through 6 days of running
'Resistance to breakdown becomes important and I'm relatively good at not breaking down. I've developed resistance to injury just from doing these type of things. Not from 'do these 5 exercises in the gym' type of magic bullets, it's mileage that's key. That's the best thing to build resistance – gradually building robustness through mileage – the only way to do it is to actually do those hours in the hills. That's why I hate those articles about 'do these 5 exercises to be a strong trail runner'. They lull people into a false sense of security. Those things help but they're not the main thing that stops you getting injured. It's loading.'
'The amount of load your body can take will get greater every year. Your body will build more resistance to the mechanical stress of mileage and load. You can get the loading wrong – if you do too much relative to what your body can take – that's when you get the issues.'
One thing that impressed spectators throughout Paul's record attempt was that he was still running at the end and his form remained pretty good for somebody who'd been running for 6 days! I asked him about this and whether it's something he worked on because I know he has a big interest in running technique and form through his work with Missing Link Coaching. His belief is that 'there are only a few major things you can be doing wrong, and if you're not doing them then your own unique way of moving is probably the way you should move. You shouldn't try to engineer a change'.
We took the example of heel striking, which many people try to stop themselves from doing. But Paul explained that you can heel strike very effectively. 'The greatest ultra runner of all time – Yiannis Kouros –  is a heel striker. It was the most efficient way for him to move. You have to pick the most energy efficient way of doing things, with the least risk of breaking down. Heel striking only becomes an issue when you're excessively heel striking with a very straight extended leg'. Paul explained that there's no one movement strategy that will work for everybody, you need to find the most energy efficient method for you.
Dealing with new-found fame
When we were chatting in the café a couple came up and said 'we just wanted to say congratulations on your Wainwrights record'. I asked if that has happened a lot and he said that it's happened a few times. At the barber's, at fell races (he said that the night before at Reston Scar fell race 'I was chatting to Rob Jebb, who I really look up to, and he said he was genuinely impressed by the Wainwrights record'), and he's even had a card from Billy Bland and his wife.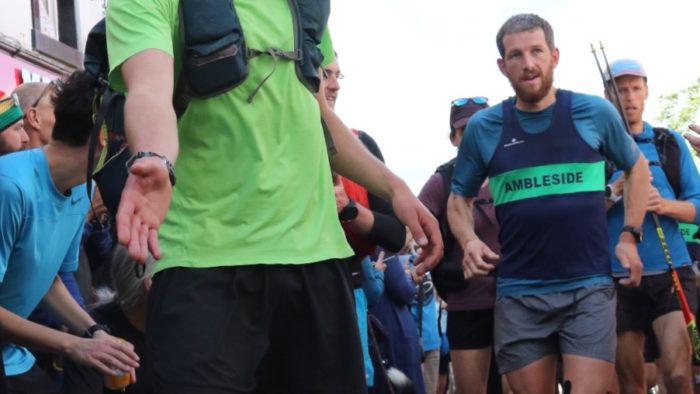 Raising money for charity
Paul has raised an incredible £30,544 for the charity Mind so far. He wanted to support the charity in memory of his friend, Chris Stirling, who sadly died earlier this year. Chris was a huge inspiration to Paul and he finished the Wainwrights record wearing Chris's Ambleside AC vest, in tribute to his friend. Mind give support to those experiencing a mental health problem. You can support Paul by donating to his fundraising page here: www.justgiving.com/fundraising/paul-tierneywainwrights214