Alzheimer's Research UK and parkrun UK are celebrating their partnership passing the milestone of £1.5million raised for pioneering dementia research.
Thousands of parkrunners are being thanked this week for their efforts in supporting the partnership, which was launched in 2015 when the UK's leading dementia research charity became the official charity partner of parkrun UK.
The staggering £1.5m has been raised by parkrunners taking on a range of activities including tackling dedicated virtual running challenges, being inspired to take on gruelling challenges like the Virgin Money London Marathon for the charity and giving personal donations towards the cause.
The seven-figure sum raised so far would be enough to keep the entire Alzheimer's Research UK Research Network running for two years, a vital network that brings 2,000 dementia researchers across 46 universities together to share ideas and resources to speed up progress and make breakthroughs faster.
Ian Wilson, Chief Executive of Alzheimer's Research UK, said: "We are incredibly grateful that so many parkrunners have got behind our cause, many of whom are motivated to support us because they have seen loved ones affected by dementia.
"More than half of UK adults know someone with dementia and it is the country's leading cause of death. Today, there are no effective treatments to slow, stop or prevent diseases that cause dementia, such as Alzheimer's. But thanks to our amazing supporters, there are now more researchers than ever working to change that and Alzheimer's Research UK is spearheading efforts to translate promising discoveries in the laboratory into life-changing treatments for the future.
"The support of parkrunners is helping us in our mission to make breakthroughs possible for people with dementia that will keep them connected to their families, their worlds and themselves for longer.
"Last year we were delighted to extend our partnership with parkrun to 2023. We are excited about the future for the partnership, both in terms of parkrunners' further support for research and in their continued efforts to raise awareness of dementia, particularly spreading the message that people can reduce their risk of dementia by being physically active."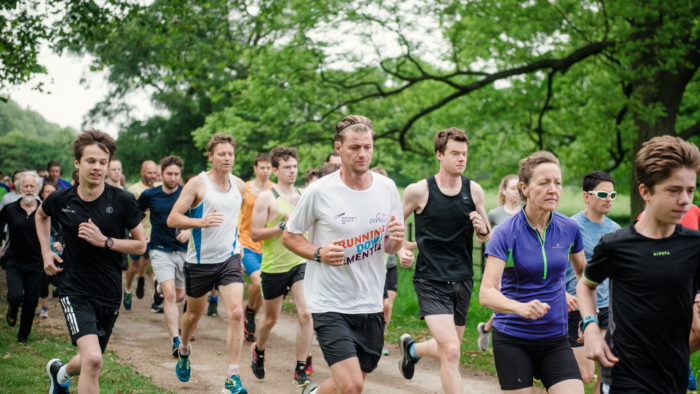 The partnership's biggest campaign to date is Running Down Dementia – the charity's award-winning virtual running event, which was launched in 2016 and challenges participants to run 100km or more over the summer. In four years the campaign has raised over £1million.
Andy Morris, Poolsbrook parkrun event director and an Alzheimer's Research UK Champion, has taken on Running Down Dementia three times and raised over £6,500 for research in honour of his mum.
He said: "I'm so proud of my fellow parkrunners for their support of this amazing charity.
"My mum died with vascular dementia in 2017. I had to witness her slowly drift away from me as she lost her memories and personality.
"It was running that helped me cope with what was happening to my family, so it's been great to be able to combine that with supporting Alzheimer's Research UK.
"It's so good to feel I'm making a difference and providing hope that future generations won't have to go through what my family went through."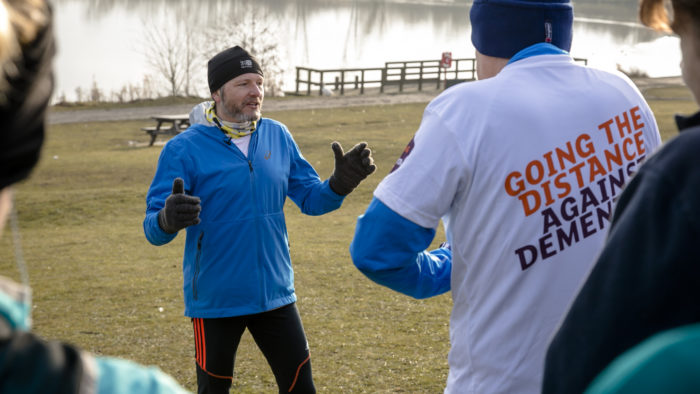 The success of the Donate Your Time and Give It Your Best campaigns, where parkrunners are asked to convert their finish times in minutes and seconds into pounds and pence and donate it, has also contributed to the £1.5m milestone. In four years these campaigns have raised around £150,000.
Dedicated parkrunners have also taken on hundreds of personal fundraising challenges to raise money for Alzheimer's Research UK, including parkrun founder Paul Sinton-Hewitt CBE who ran the Virgin Money London Marathon in 2016 and raised over £21,000.
parkrun Global CEO Nick Pearson said, 'We are incredibly proud of our partnership with Alzheimer's Research UK and are thrilled to celebrate this milestone. I'd also like to thank our parkrunners for getting behind this worthy cause, and raising such a significant amount. Every penny of this £1.5million is contributing to fighting for a world without dementia, by supporting the pioneering research led by Alzheimer's Research UK."
By visiting www.alzheimersresearchuk.org/parkrun people can learn more about the partnership, join parkrun, apply for charity places in events and discover lots of fundraising and volunteering opportunities.
For further information about Alzheimer's Research UK, or to find out more about fundraising for the charity, call 0300 111 5555 or visit www.alzheimersresearchuk.org