If you like your events 'challenging' then we've got one for you – the Artemis Great Kindrochit Quadrathlon! 'What does a quadrathlon involve?' you ask. It's swim, run, kayak and bike! One step up from an adventure race!
Just over a week ago nearly 400 eager participants took part in this, which is surely one of the most challenging races in the UK events calendar. Teams from as far afield as Hong Kong, the US and the Netherlands converged on Loch Tay in the Highlands of Scotland to challenge themselves like never before while taking in the epic scenery of this stunning part of Scotland.
'Unique' is a word which is often overused however in the case of the Artemis Great Kindrochit Quadrathlon, it is perfectly apt. On a day blessed with fair weather, the quadrathletes were serenaded on their 0.8 mile swim across Loch Tay by a lone bagpiper, before tackling the 15-mile, self-navigated run over seven Munros.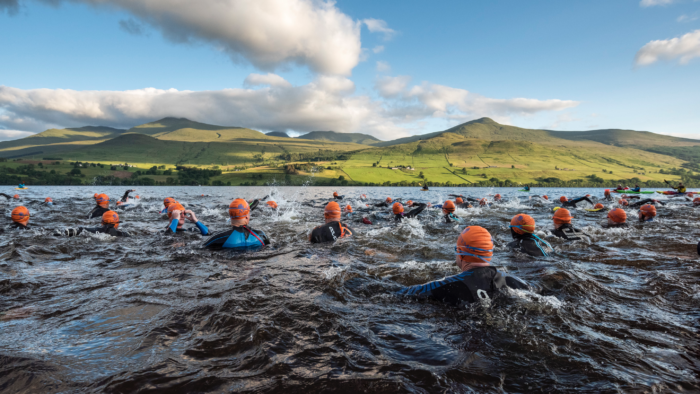 Next up was the seven-mile kayak leg with a stop at "bikini beach" to enjoy a piña colada before crossing the loch to embark on the final 34-mile cycle around Loch Tay, stopping at the final aid station which served local fish and chips. Finally, participants then crossed the finish line and sliced a watermelon in half with a Claymore sword.
The quirky aid stations and local volunteers help make this one of the most fun one-day events there is. One spectator dressed as a traffic cone to support her five children and their friends who were participating. She always supports them but they never see her in the crowd so this year she made sure to stand out in an orange and white traffic cone outfit. There was also a Mini Challenge for five to 12-year-old kids, which took place while the adults were on the course and for which the kids were encouraged to join in the fundraising too.
Jane Hansom, event ambassador, ladies team winner and former Ironman age group world champion, said of the event: "This race is epic. Tougher than an Ironman and with better scenery! Being piped across the loch by a lone piper is a spine-tingling experience. By far the toughest and most memorable challenge I have ever accomplished and a bucket list event for anyone wishing to push their limits."
David Fox-Pitt MBE, the driving force behind WildFox Events, commented: "We are so proud that the event has already raised over £100,000 for charities Mercy Corps and Mary's Meals, and with donations still flooding in, that number is only set to rise. It is an honour to be able to contribute to these charities and support the vital work they do in helping vulnerable communities around the world."
Everyone then joined in for a post-event ceilidh, before enjoying a spectacular firework display over Loch Tay. Festivities continued into the wee small hours and the following day, which started with home-cooked breakfast rolls and an array of activities for the campers such as face-painting, donutting and archery, bringing a truly phenomenal weekend for the whole family to a close.
If you like the sound of the Great Kindrochit Quadrathlon and want to enter next year's race you can find out more HERE. 
Photo credits: Ed Smith (@edsmithphoto).