Lost Dogs and Englishmen is a film by Dave MacFarlane about two British ultra runners taking on the Jordan Trail. It sounded pretty straightforward: follow a marked trail from the north of Jordan to the south. The main challenge seemed to be the 650km they would have to run, but Dan Lawson and Robbie Britton are two of the UK's top ultra runners. This was totally within their capabilities. Then we see Dan and Robbie climbing up out of a Wadi at night, seeming relieved, almost to the point of tears, to see another human being…
It was never going to be simple, but who wants to see running through a perfect Instagram lens? The really interesting stuff is the falling over, the getting lost, the feeling sick and there is plenty of that!
The Jordan Trail stretches from from Umm Qais in northern Jordan to the coastal city of Aqaba in its south, passing through 52 villages and towns along the way. The trail is promoted by the Jordan tourist board as an epic walk to do in 40 days. Robbie and Dan aimed to complete it in 10.
They'd done their research on the trail and prepared meticulous maps and logistics, but nothing was ever quite what it seemed. Very early on in the film they lose the trail and this is a common theme. You might envisage a marked trail which the tourist board promotes as a trek as something like the Tour du Mont Blanc or the South Downs Way – a well-trodden path with nice waymarks. Well there were waymarks, but in between them there could be inpenetrable vegetation, multiple dusty paths, or the dreaded Wadi.
I was only dimly aware of what a Wadi was before I saw the film. But as you see Dan and Robbie clambering down into or up out of them, you begin to realise that 650km is a very long way indeed, when it involves many Wadi!
Despite the often difficult conditions underfoot, along the way we get to see some incredible sights, which are captured brilliantly by Dave MacFarlane (and photographer James Vincent). It's a stunningly diverse landscape too, with everything from desert to huge red rock gorges to ancient cities. Most notably they pass through Petra, a UNESCO World Heritage Site with rock cut architecture. It's worth seeing the film just to see this.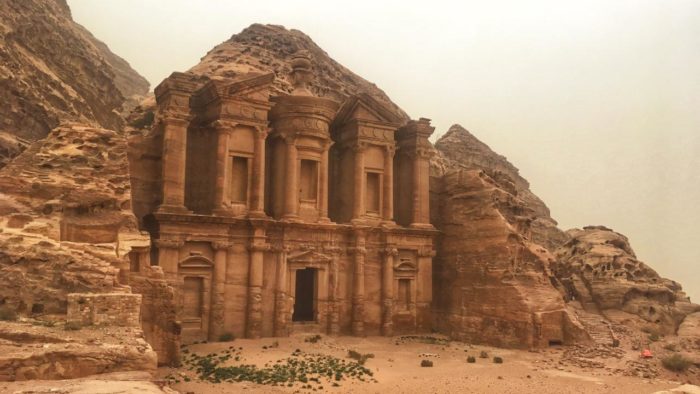 And along the way they also meet lots of locals, both human and canine. One dog takes a particular liking to them (or possibly the way they smell) and decides to run a few ultras with them over the last few days. They welcome her as part of their team and she and what happens to her at the end of the journey form part of the film.
Dan and Robbie are very funny and likable subjects. Despite the setbacks they experience on their route they stay very upbeat and wide-eyed at the opportunity they have in doing an adventure like this. I really enjoyed the human (and canine) element of the film.
If you're looking for a feel-good running film, which will give you an insight into what it's like to run extremely long distances while delivering breathtaking scenery, I highly recommend that you have a look at this film. You can watch it now for free.
Lost Dogs & Englishmen from Dave MacFarlane on Vimeo.
Header image copyright Natalie White.