This year's Salomon Skyline Scotland event promised much, and delivered even more! The stellar line-up of runners included Kilian Jornet, Luis Alberto Hernando, Vic Wilkinson, Jonathan Albon, Tom Owens, Holly Page, Sage Canaday and Mira Rai, so we knew that it was going to be an exciting series of races. But, like so many races this year, it was definitely weather affected.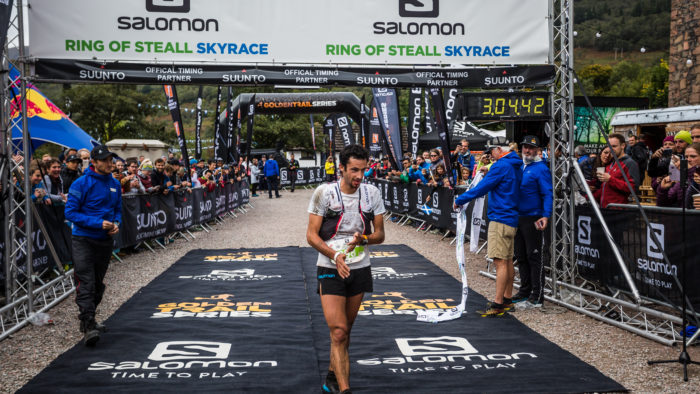 Salomon Mamores Vertical Kilometre
The weekend kicked off with the VK on Thursday, in wind and rain. 350 runners took part and despite the horrible conditions both the men's and women's records fell. Swiss athlete Remi Bonnet won the men's VK in 39.23, to become the Vertical Skyrunning World Champion 2018. Remi said:
"It was really cold out there and in the first part of the race I fell into a bog up to my waist. But I enjoyed the course and I love running in the mountains so I was very happy to race in Scotland."
I think we all know how that feels.
Spanish runner Laura Orgué beat her own course record, set last year, to run 51.34 and become the VERTICAL Skyrunning World Champion 2018. She said:
"I am from southern Europe where it is much warmer so I found the race very cold. It was a hard course as well but I am happy to finish and I am very happy to be the winner."
The men's podium was completed by Thorbjørn Ludvigsen, of Norway, who finished in second, and Stian Angermund-Vik, also Norwegian, in third.
In the women's race runner-up was Lina El Kott Helander, of Sweden, and American Hillary Gerardi was in third.
Salomon Ben Nevis Ultra
On the Friday it was the ultra. This couldn't have been more different from last year's ultra, except for one thing: the weather. The course should have been 52k with 4000m of ascent but the conditions forced the organisers to switch to the bad weather route, which was 47.5k with 1650m. This race was classed as a Skyrunning World Championships ULTRA race. There were some big names in the race, including Luis Alberto Hernando, Mira Rai and Donnie Campbell but it was Jon Albon and Ragna Dabats who came out on top. Jon said of his win:
"The course was not what we had come to compete on, but it was still a hard race for different reasons. After the first section of wet and slippery fells-like running, the route turned into a trail marathon. It was very runnable and that made it very fast but also very hard when you have trained for the mountains. I would have liked to have won on a classic ULTRA course but the weather is what the weather is and it's still a win. It's great to be the ULTRA World Champion."
Jon's winning margin was an incredible 12 minutes. André Jonsson, of Sweden, was second and Luis Alberto Hernando of Spain, third.
Ragna Dabats won by a big margin in the women's race too – 14 minutes. She said of her win:
"It was a very fast course. The first part was very muddy and wet and I fell over completely in a big puddle, with my head right in. It was very steep up and down. The second part on tracks was very fast so I was just hoping my legs would be strong enough to get me to the finish."
The battle for second and third was a lot closer with a sprint finish deciding it. Gema Arenas Alcazar, of Spain, beat Maria Mercedes Pila Viracocha, of Ecuador, by just four seconds.
Salomon Ring of Steall Skyrace
This was billed as the big race of the weekend. It was the final race in the Skyrunning World Championships and decided the winners and it was also part of the Salomon Golden Trails series. This course wasn't changed because of the weather, so it was the classic 29k route with 2500m of ascent. Kilian Jornet smashed his own course record by 20 minutes to win the men's race and Tove Alexandersson of Sweden won the women's race, again in a new record by almost 19 minutes. In silver position overall and only 91 seconds behind Kilian, was Italian runner Nadir Maguet. He was followed by Stian Angermund-Vik, of Norway. The women's race saw Brits taking silver and bronze as Victoria Wilkinson and Holly Page capped off fantastic seasons.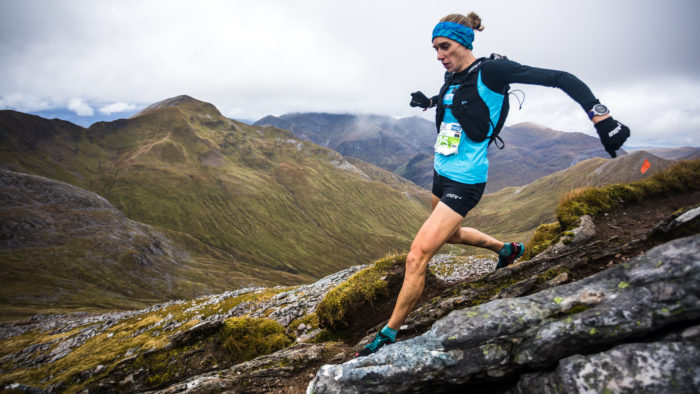 Salomon Glen Coe Skyline
This race also had to follow the bad weather route (because of winds of up to 60mph) which was 32k and 2700m of ascent (instead of 52k and 4750m). Kilian went again and, unsurprisingly, won again! André Jonsson, of Sweden, came second and Daniel Jung of Italy was third.
The women's race had a thrilling sprint finish again, with Hillary Gerardi of the US coming out on top, just ahead of Brit Jasmin Paris. Brittany Peterson of the US was in third.
All in all it was a hugely exciting weekend of racing, in typically testing 'Scottish' conditions. For full information and results go to the event website.
All images copyright No Limits Photography