This weekend sees some of the biggest names in mountain running come to Scotland to compete in the Salomon Skyline Scotland events. It's amazing to think that this is only the fourth Glen Coe Skyline race, as it's become such a key event on the Skyrunning calendar. And of course other races have been added to this event over the last three years.
This event now consists of:
Glen Coe Skyline – 52km and 4,750m of ascent
Ring of Steall Skyrace – 39km and 2,500m of ascent
Ben Nevis Ultra – a different course to last year's event with 52km and 4,000m of ascent
Vertical Kilometre – 5km and, unsurprisingly, 1000m of ascent
It plays host to the biennial International Skyrunning Federation World Championships and the Ring of Steall Skyrace also forms part of the Salomon Golden Trails series.
The starting line-ups for these events read like a who's who of mountain running, with Kilian Jornet, Luis Alberto Hernando, Stian Angermund-Vik, Jonathan Albon, Tom Owens, Holly Page, Hillary Gerardi, Sage Canaday, Ragna Debats from the Netherlands and Mira Rai, to name but a few.
In total around 2000 runners from almost 60 countries will descend on Kinlochleven for the four days of running. Let's hope the co-op has stocked up.
Let's take a look at each race.
Salomon Mamores Vertical Kilometre
This race takes place on Thursday 13th and it's the only VK in the UK! Some sections are very rough and steep so this is by no means the easy option of the weekend. Runners taking part include last year's winners Norwegian Stian Angermund-Vik and Spain's Laura Orgué, and Switzerland's Rémi Bonnet.
Salomon Ben Nevis Ultra
After mixed reviews last year – the area had a month of rain before the event and turned the course into one giant bog – this event returns with a new, shorter (52k) and more mountainous course (4000m) for the ULTRA world championships. The course still includes the summit of Ben Nevis but sounds like it makes more of the mountains than last year's course, without being as technical as the other races. Defending champions Mira Rai and Donnie Campbell are back, but they'll face serious competition from husband and wife team Jon and Henriette Albon.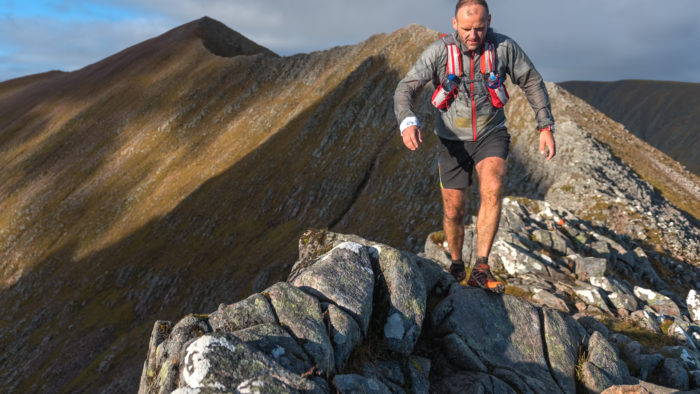 Salomon Ring of Steall Skyrace
Saturday sees the Ring of Steall race. Everybody I know who's taken part in this 29k race raves about it! It takes in some spectacular ridges, steep ascents (2500m) involving scrambling and some very technical descending. This year it's got the extra excitement of counting towards the Golden Trail Series and being the final decider in who goes to the series final in South Africa in October. Runners taking part include Kilian Jornet and Tom Owens but it's the women's race which looks really exciting here with defending champion Laura Orgué taking on the seemingly unstoppable Vic Wilkinson, Holly Page, who's had another incredible year, and previous winner of the world long distance mountain running championships Annie Conway.
Salomon Glen Coe Skyline
Finishing up the weekend is the flagship Glen Coe Skyline race. This race is only for the brave and experienced, with lots of scrambling, very technical terrain and 4750m of ascent packed into its 52km. Runners this year include Kilian (yep, he's doing this one too), Katie Kaars Sijpesteijn, Jasmin Paris, Andy Symonds, and it looks like Holly Page is on the start list for this one too.
The four races of the Skyline Scotland event are organised by Ourea Events, which is behind the legendary Berghaus Dragon's Back Race® and the Cape Wrath Ultra®. Race director Shane Ohly said:
"We are very excited to welcome so many athletes from across the world to a fantastic weekend of Skyrunning races.There are many great names among the mountain runners and it will be thrilling to watch the races unfold."

"We are delighted to be to hosting the Skyrunning World Championships for the first time, with the Vertical, Ultra and Sky discipline races attracting more than 1800 runners, as well as the fourth outing of the iconic Salomon Glen Coe Skyline®. Scotland's mountains will see some great action this weekend from some of the world's very best runners."
Find out more about all of the races that make up the Salomon Skyline Scotland weekend here.
Header image (c) Guillemcasanova.com