On a Sunday in July, mid World Cup and Wimbledon, the biggest spectator sport seemed to be watching one man take on a fell running challenge that was, before that point, fairly low key. As everybody knows by now, on Sunday 9th July Kilian Jornet smashed the long-standing Bob Graham Round record as people from all around the world followed on social media, or in person. Many people travelled to Keswick from far and wide to see Kilian finish and it was a fairly amazing sight to see.
What was supposed to be an 'under the radar' attempt – Kilian assembled his team of pacers and navigators and swore them to secrecy – actually seemed to be pretty much common knowledge. Mostly because Kilian posted a photo of himself in the Lakes on Instagram. Staying under the radar is pretty tricky if you're all about the 'gram. But a couple of factors seemed to make his attempt unlikely: the fact that he had just recovered from breaking his leg in March and the other small matter of having run, and emphatically won, the Mont Blanc Marathon just a week before.
Rumours were rife that Kilian would go for it on Saturday. Then when he didn't the rumours became rife that it would be Sunday. Those in the know kept quiet but the rumour mill kept speculating. It was a social media field day, with everybody trying to be the one to break the news.
Kilian and Carl starting long climb up Skiddaw! I hung on for 4km before it got too fast for me! Reckon they reached summit in 50 mins. Go Kilian! @Fellrunninbrief pic.twitter.com/RcncZ2u5P8

— Alex Hinchcliffe (@alexvgnrunner) July 8, 2018
Then an image emerged of Kilian with Carl Bell on his way out of Keswick towards Skiddaw at 6am on Sunday. It was on! From then on social media went crazy and, now that the cat was out of the bag, people flocked to the changeover points and the summits, to catch a glimpse of Kilian and his team. He had the cream of British fell running helping him out, but it has to be said that at times even they struggled to keep up! They seemed to work out a system whereby one of the pacers would have a bit of a head start, or start at the top of a summit, to try to avoid getting dropped by Kilian! Despite the fact that Kilian had anything up to 50 more miles and 8000m more ascent in his legs than the pacer!
Billy Bland, the current record holder, turned out to watch, as did Joss Naylor. We watched Kilian descend Scafell and then drop into Wasdale Head. He then headed up Yewbarrow, with one pacer delivering him to the next pacer who was towards the summit. Joss Naylor looked on as Kilian dropped the first pacer and it seemed that he couldn't find his way to the second, with Joss speculating about whether he was losing time.
Huge crowds turned out to watch Kilian come back into Keswick, setting the new record of 12 hours and 52 minutes. Here's some footage of him running in (20 mins into video):
With thanks to Wild Ginger Films for this video
To put this record into context, it has stood for 36 years but there has been no shortage of top runners who have attempted to beat it, and failed. There's also a Billy Bland Challenge where teams of runners taken on the Bob Graham Round route as a relay. For each team five pairs of runners take on one of the five legs. It took until 2016 for a team of runners to beat Billy Bland's time for a solo round!
But is it a good thing that Kilian has broken this record? It certainly provided a day of huge interest in fell running, a sport not normally popularised. But then fell running is a sport which doesn't try to put itself out there, for very good reasons, one of which is that it's very easy for runners to get themselves into trouble on the fells if they don't have the right kit or the ability to read a map and keep themselves safe. When it's nice and sunny and you can see the route ahead of you clearly, the fells can seem benign, but when the weather turns and the visibility is low it's a whole other place. Will we see ill-equipped runners deciding to take on the Bob Graham Round route, now more people know about it?
The Bob Graham Round is also all about the community. People help each other do their round by pacing them or helping navigate, and then return the favour. It's a team effort and at the very least you need to have one person witness you reaching each summit, but ideally have a couple of people with you on each leg or at road crossings with food/drink. Then you'll provide this courtesy for other people. It's also a huge challenge, not to be taken lightly. You need to recce each leg, work out the best lines, plan a schedule, get all the helpers in place. Is somebody coming to the Lakes for a few days, having other people work out all the logistics for them, and giving it a go in keeping with that community and the traditions? Does that really matter?
Kilian is also a professional athlete. Is it a fair contest for him to compete (in time terms) with the amateur fell runners who take on this round? Historically many of whom have had occupations such as sheep farming, so they've had fairly arduous day jobs and probably not much access to top level sports physios and oxygen tents.
But isn't it just a great thing that he's recognised this route as one of the key challenges he wanted to take on (alongside things like Everest)? Doesn't it feel good that out of all the races, FKTs, mountain ascents and anything else he could have done he chose a little corner of England and this (previously) low-key challenge?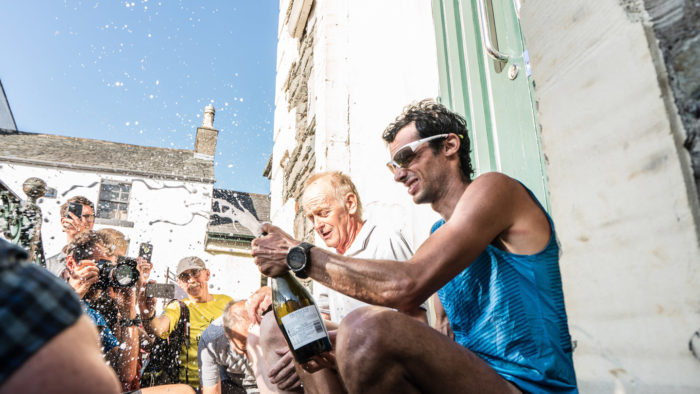 Whatever your feelings about Kilian's Bob Graham Round record, it's clear that it was a historic run. Will it be another 36 years until it's broken again? A few top American runners have expressed an interest in doing it this year so will we see some other record attempts? Will you bump into Hayden Hawks in a Keswick tea shop when you're on your summer holiday? Will Kilian's Bob Graham Round record of 12 hours and 52 minutes ever be broken?