It was the Mont Blanc Marathon yesterday and we expected it to be exciting, but we couldn't possibly have predicted just how exciting! The big question of the day was whether Kilian Jornet could possibly pull off a victory, so soon after recovering from a major injury. Surely it was too soon, wasn't it?
Runners set off at 7am and the weather quickly became pretty hot. The pace was also blistering, as expected. As well as the recognisable men's favourites for races like this – Kilian, Sage Canaday, Xavier Thevenard, Thibaut Baronian – there were also some runners who are known more for their success on the road. The men's field included Patrick Smyth, who's run a 62 minute half marathon, and Ryan Bak, whose 10k PB is an incredible 29.14. It was going to be really interesting to see if they could translate their speed to the mountain environment.
The women's race was similarly competitive. It had Ida Nilsson, who won Zegama this year, Megan Kimmel, the defending champion for this race, and there were so many runners who could have taken the win that it was impossible to call. There was Ruth Croft, who's been having a great year, Laura Orgue, Magdalena Boulet, Amandine Ferrato, Silvia Rampazzo and Yiou Wang. For Britain there was Jo Meek and Emma Clayton, both of whom could be up there.
Read out full preview of the Mont Blanc Marathon here.
So, it's fair to say that this was probably the deepest field this race had ever had and it's no wonder the pace was so fast. It was going to be tough to make a break for it with so many top runners on your tail. The first 20k of the race is reasonably (in Alpine terms) flat, and the top 10 men were pretty much running together up to this point. In the women's race the top 3 also had little between them here, with Megan Kimmel leading. At the 20k point there's an 800m climb up to Posettes and it was here that things started to shake out.
At this point our correspondent on the ground, Natalie White, who lives in the area and knows these trails well, sent me a message saying 'the descent from Posettes is super technical, Kilian will make his move here and he'll win'. I remained glued to Livetrail to see if this prediction would come true.
And lo and behold, around the 30k point turned out to be the point at which this hugely exciting race really kicked off! Kilian did make his move on the downhill and Ruth Croft moved up into the lead in the women's race. Ida Nilsson and Eli Gordon also moved past Megan Kimmel and it remained fairly close between these three. Kilian continued to stretch out a lead in the men's race between Tre Le Champ and Flegere and then up to the finish at Plan Praz.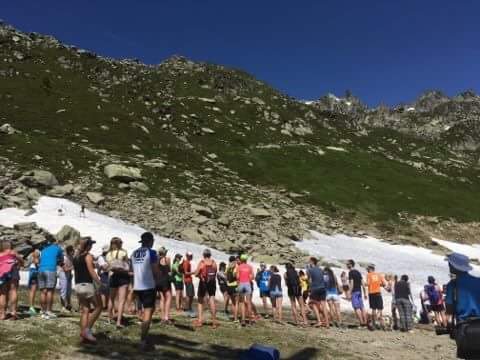 So, a mere 3 months after breaking his fibula in a skiing accident, Kilian Jornet won probably the most competitive Mont Blanc Marathon in history by a 3 minute margin. As comebacks go, this was pretty big. Marc Lauenstein was second and Stian Angermund-Vik was third. Ruth Croft hung on for the win in the women's race, Ida Nilsson was second and Eli Gordon third.
Throughout the race Jo Meek and Emma Clayton were hovering just outside the top 10. They both had great races in hugely competitive fields and deserve a lot of credit for their performances. Jo finished in 11th (and first vet) and Emma in 14th.
You can see the full results at: mbm.livetrail.net
With thanks to @natsmountain for the images (and race predictions)