The 2018 Trail World Championships promised a lot, and it delivered even more. The venue was the historic route of Penyagolosa Trails, but with some extra mileage and elevation thrown in. 83km with 4900m of ascent.

Epic, beautiful and tough trails and climbs are a given, and it certainly didn't disappoint there. The historic route from Castellon to Penyagolosa, an ancient pilgrims' trail, couldn't have provided a better backdrop to the battle that ensued.
Watch out France and Spain, Britain is coming!
We are used to the Trail World Championships being dominated by France and Spain. The runners that we see winning huge ultra trails throughout the year go head-to-head and the same runners come out on top. Could things be different this time? GB were fielding a strong team (see our preview article here). Could we dream of beating France and Spain? Would the US be right up there too?
It was a fast and furious start round a track, followed by a stretch of tarmac. Zach Miller of the US, a man not known for holding back, set the pace and others followed. And in that small group was a certain Brit, Tom Evans, rising star of the world ultra scene. It was early days; let's not get carried away just yet.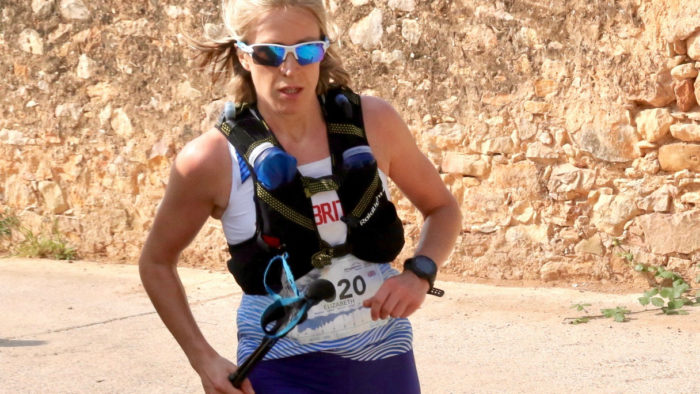 The women's race was also off to a fast start, with the seemingly unbeatable Ragna Debats of the Netherlands setting the pace. But the British women were also up there right from the start. Holly Page, another young rising star with some great results to her name, was in the top 10 for most of the day, and Beth Pascall, who's had a top 10 finish at the Trail World Championships before, wasn't far behind her. Katie Kaars-Sijpesteijn was also up there in the top 15.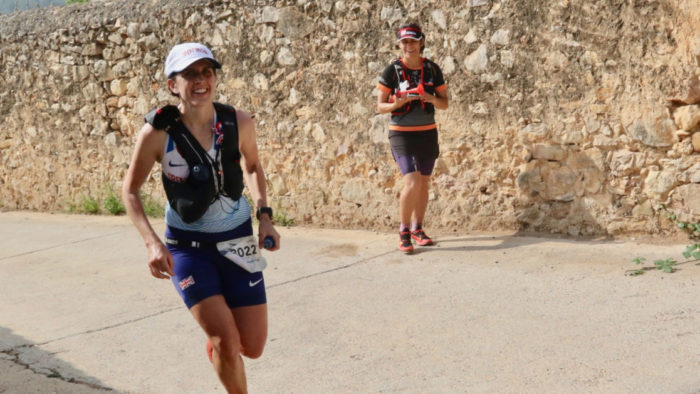 We followed the race in a car all day, trying to get to as many checkpoints as possible. Early on we heard that one of the Nepalese runners, Tirtha Tamang, was off to a flyer and in fact by the 31k checkpoint at Useres, he was still in fifth. Now this could be the story of the world championships! At Useres, Miller was still leading the men's race, Tom Evans was a few minutes behind him, but right on his heels were two French runners, Sebastian Spehler and Sylvain Court. At this point Luis Alberto was in seventh, but he was looking ominously comfortable.
Not far behind Luis Alberto it was fantastic to see GB's Jon Albon and Tom Owens coming through. There were three British men in the top 10! In the past we might have had one runner in the top 10, but this championships was showing that we had much more depth.
In the women's race Ragna Debats still led, with Amandine Ferrato in second and Azara Garcia third. It was kind of going as expected. But Holly, Beth and Katie were fighting to derail the plan! We saw them at the next checkpoint, Atzeneta (40k) and they looked so strong.
As the race heated up, so did the weather
It's got to be said that the heat was really difficult for some of the athletes. It wasn't crazy hot but the British team weren't going to be as well acclimatised, coming off a snowy April, as Spaniards who need to put a jumper on when it gets below 20 degrees. Some members of the British team found it really tough. Sarah Morwood mentioned that she'd thrown up, Sally Fawcett and Tom Owens felt the effects and Rachael Campbell couldn't even keep water down and had to retire. Jon Albon, who lives in Norway and was probably less used to the heat than most, fashioned a 'cool hat' (in the temperature sense of the word, definitely not the fashionable sense) made of a wet sponge and a buff. It seemed to do the trick because by Atzeneta he had started to move up the field.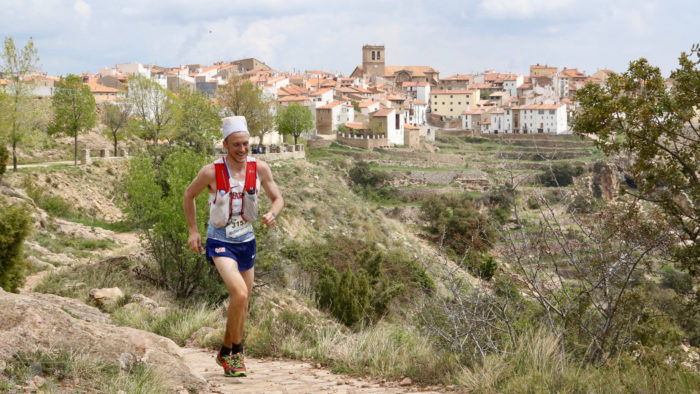 We next saw the athletes at Vistabella, which, as you would expect from the name, boasted some incredible views. These were probably lost on the athletes by this point though (62k), as it was really starting to bite. The course from Castellon to Penyagolosa climbs from sea level to 1275m, accumulating 4900m of ascent all the way. And a lot of that (3000m of it) is in the second half of the race. At Vistabella Luis Alberto had, as expected, coolly moved into the lead, and Zach Miller was beginning to detonate but hang in there just behind him. Tom Evans was about ten minutes behind them, but looking very strong, and Jon Albon had moved into fourth, just a couple of minutes behind Tom. This was all getting very exciting indeed!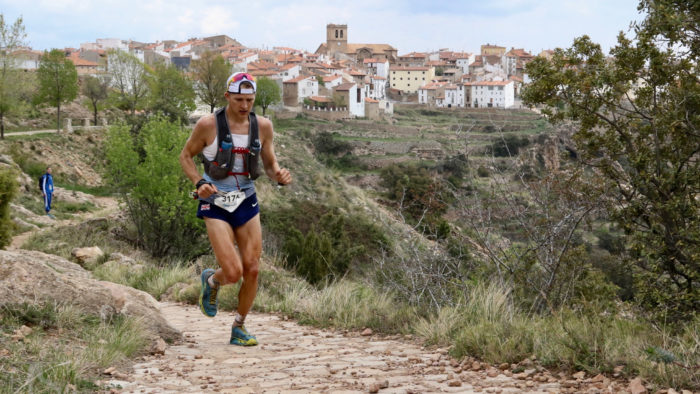 In the women's race at Vistabella Ragna Debats was starting to stretch her lead out, with Ferrato, Arenas, Canes, Mougel and Mayora all going strong in the top 10. Holly and Beth were still also up there in the top 10, with Katie not far behind them in about 15th at this point. Sarah was a little way further back around 30th and Sally a little way behind her. Both the men's and women's teams were putting in really strong performances.
The thrilling conclusion
We went from Vistabella to the finish, which is quite remote and there was no mobile reception so we waited nervously for news of what was happening out on the course. Fortunately, one of the announcers was Irish so he got really excited about the GB and Irish runners, to the apathy of the Spanish members of the crowd! This was Spain, this was trail running, they could cope with French rivalry because they're used to it, but the British? Oh yes, the British were coming for you.
Well ok, they weren't coming for Luis Alberto. Much as Tom Evans tried to catch him, Luis stretched his lead even further in the final section and he emerged world champion for the third time in a row. But over the tannoy the announcer was talking about a duel going on between Tom Evans and Cristofer Clemente of Spain, who had steadily climbed the rankings all day. We waited at the finish, the GB supporters (approx 0.02% of the crowd) and support team nervously eyed the finishing strait to see who would come down the red carpet first. It was Clemente but Tom claimed the bronze with a very gutsy effort. And Jon Albon, despite in his words 'dying and coming back to life again several times', claimed fourth! The GB men looked good for a team bronze, or even a team silver! We waited some more. Then Ryan Smith came down the red carpet in 16th place, having moved up during the last section. We'd got the silver!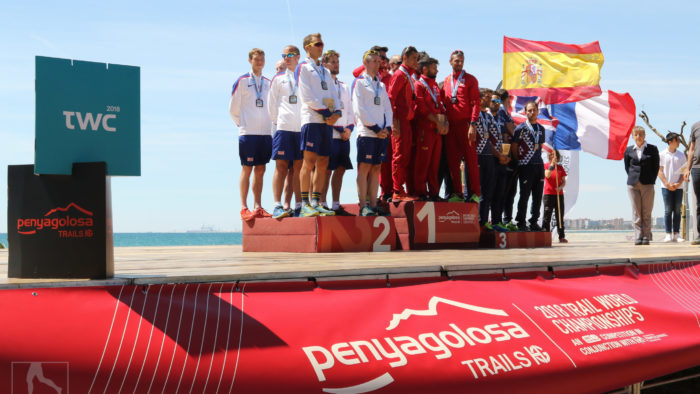 Tom Owens finished in 25th, Rob Sinclair in 38th and Casey Morgan in 55th. Despite detonating Zach Miller hung onto 8th place, which was definitely one of the performances of the day. He really made the men's competition an exciting one.
As expected in the women's race Ragna Debats continued to dominate and won by 15 minutes in the end. The women's top 10 changed constantly in the last sections, but Spaniard Laia Canes emerged as silver medallist and Claire Mougel from France took the bronze. We didn't have long to wait for our first British woman though, as Holly Page finished in a fantastic 9th place, closely followed by Beth Pascall in 11th. Katie Kaars-Sijpestiejn then finished in 21st, Sarah Morwood in 34th and Sally Fawcett in 53rd.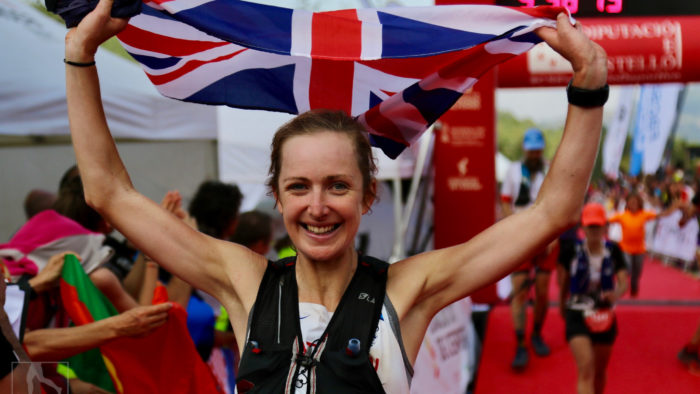 A historic championships for GB
It was an amazing day to be a Brit at the Trail World Championships. You certainly felt like something had shifted. Even though the championships gets more competitive every year, both the men's and women's teams showed even more strength and depth this year. The men's team in particular beat France, a team that's dominated the competition, along with Spain, for years, showing that we can compete with the best in the world. Even when it's held on hot, dry trails where there's no mud. Roll on Portugal 2019!
Full results can be found here.
All photos by Runphoto.co.uk