'Beautiful beyond belief, savage beyond reason'. Never has a race tagline been more fitting than the 2023 Ultra-Trail Snowdonia by UTMB events.
Having taken part in the previous two iterations of the 50k, this was the year that Snowdonia really shone, both in terms of the course and the weather on the day!
I loved being part of the more low-key event in 2021 and the faster course in 2022, so was looking forward to heading to the Welsh hills again and pitting myself against a new, slightly longer route.
Only British UTMB race
For the second year running – and now starting to come into its own – Ultra-Trail Snowdonia by UTMB has been part of the UTMB World Series fold, the only races in the UK that can earn participants the infamous UTMB Running Stones.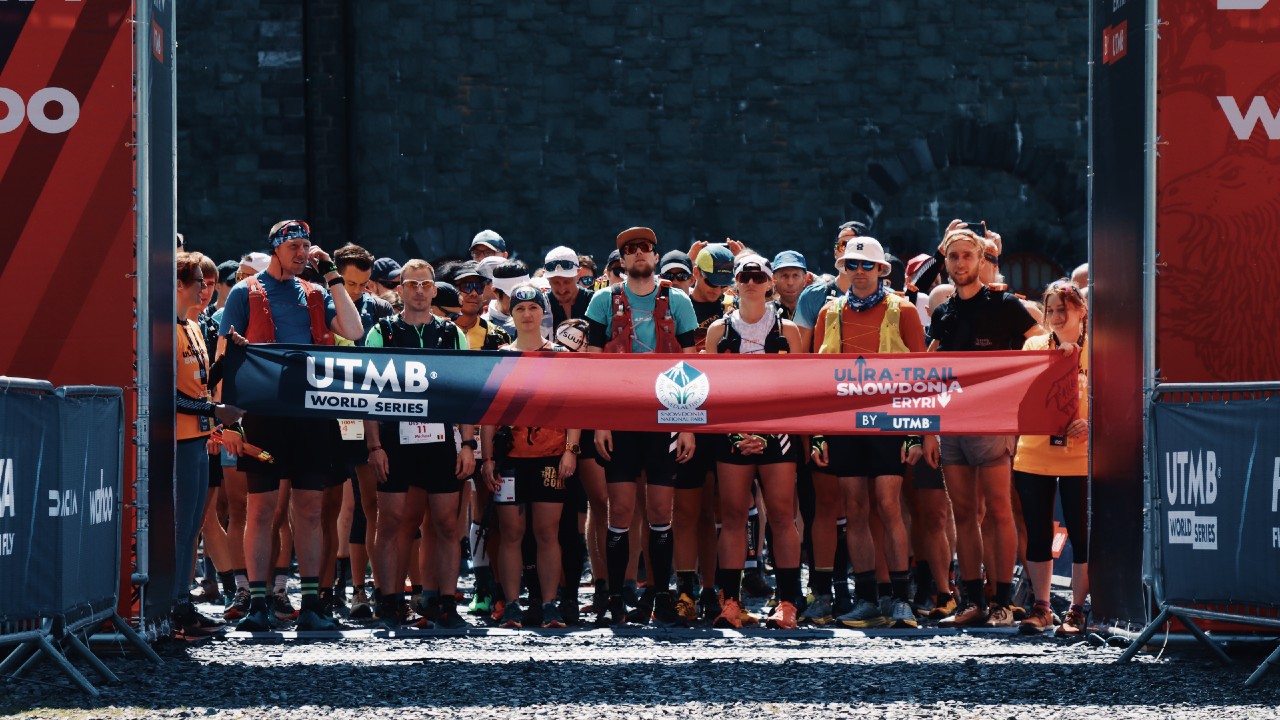 The routes have to be on a par therefore with their European counterparts, not just in terms of distance and elevation gain but also in terms of challenge and the wow factor. Whilst there have been varying opinions of this year's races (as with any event of this scale), the overwhelming response has been just that: a resounding wow.
Spending the week leading up to the race in the area was great for me and something I would highly recommend if you are able. There is no substitute for scoping the route out beforehand, especially if this is to be your first foray into mountain running.
Make no mistake, these hills are beasts with long, steep climbs, long steep descents, rocks of every variety you can think of and plenty of bog. I knew what I was getting into having run in this area several times before and even then, it was a tough day out!
Llanberis is a lovely town with a beautiful lake if water sports are your thing (I braved a couple of 10 minutes swims!) and plenty of trails to explore. The campsite I used was also amazing, very chilled out and basic with amazing pizza on a weekend, the perfect pre and postrace meal.
Seeing the Ultra-Trail Snowdonia by UTMB 100-mile runners set off on Friday lunchtime was a sight: I couldn't comprehend what they were about to do. There was also an outstanding performance from a local all-female drumming group which really set the epic tone.
I managed to see a couple of friends before they started and spoke briefly to eventual race winner Josh Wade, who looked like he was chomping at the bit. The time he did on that course beggars belief!
At 2pm, the registration queue for the 50 and 100k was long, snaking through the mining museum car park. It moved quickly though and we were through without a hitch. A useful tip here is not to pack your bag as you would on race day, just take your kit in a separate bag and it will be much easier! A bit more socializing and I headed off for pizza and a good night's sleep.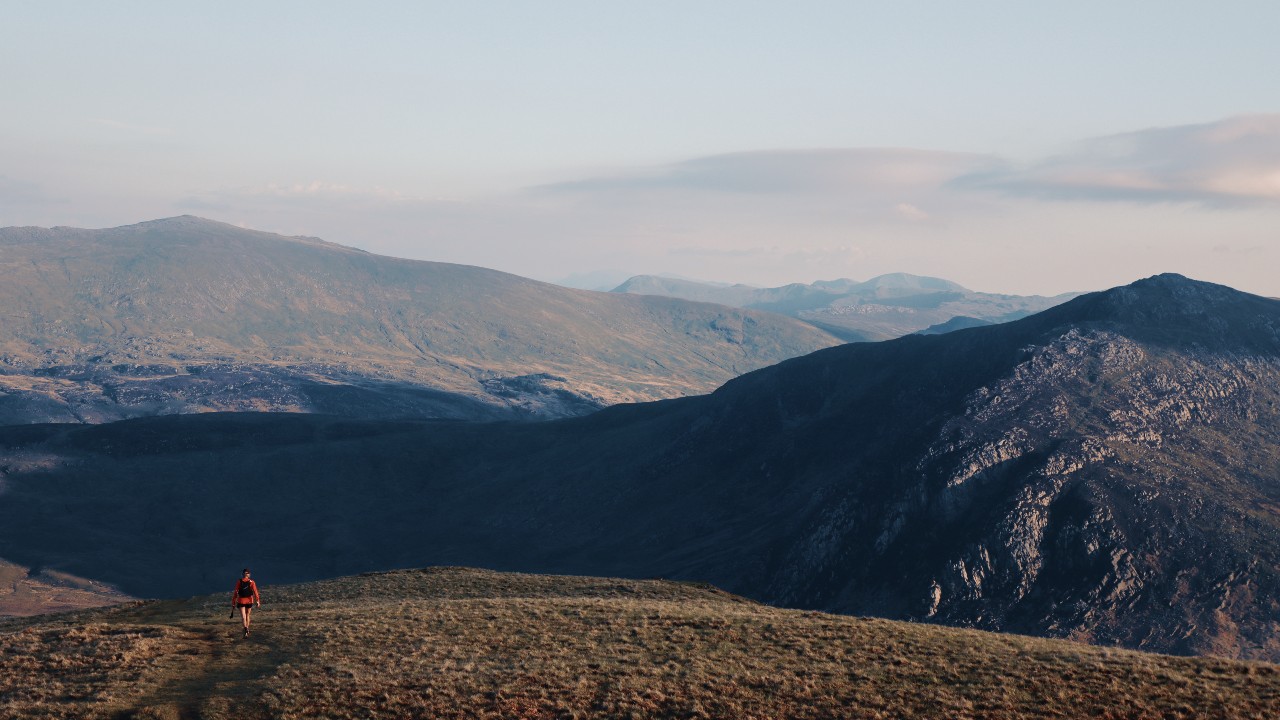 Setting off
Race morning was also pretty smooth with a finish bag facility meaning you could get clean clothes and shower immediately afterwards. Because I arrived a little later than I meant to, I found myself closer to the back of the very large field of runners, but having not trained for this, I wasn't expecting much from myself!
I shuffled slowly towards the start line with the masses and we eventually made our way towards the long climb to Snowdon up the Llanberis path. This is a long and steep road to start with and one that needs to be walked.
With it being such a glorious day, the route was already busy with walkers too: I have never seen so many people on a mountain path at once! I have also never seen so many runners stop to take pictures.
Topping out not quite at Snowdon summit on this first climb, we were treated to a spectacular cloud inversion and such a clear panorama that went on throughout the day. The sun was already warm though as we headed down the Pyg track towards out first checkpoint at Gwastadannas.
The Pyg track is a rough path, with a steeper section at the top, leading into large steps the further down you go. Again, it was busy with walkers in both directions, as well as the many runners, so even more confident descenders would struggle to get any pace going unless they were at the sharp end of the race.
I pootled down, thinking that I would be able to get into more of a rhythm when the track flattened out a bit after Pen-Y-Pass, but it was still very busy. The sun was getting hot by now too and I ran out of water well before each checkpoint. There are streams on the route but I didn't feel the need to use them to drink from, just to splash on my neck, face and arms to cool off.
This checkpoint just had drinks and some fruit, so after a refill, some coke and some orange segments, it was back up Snowdon, this time taking the Watkin path. Heading up here, we coincided with a triathlon too, so more people racing but some added interest for sure!
This path is more technical than the others, with some short sections of easy scrambling, but going up it is not as bad as coming down! Topping out on Snowdon for a second time, we saw some of the 25k runners coming down. This is a great introduction to mountain running and to the whole UTMB circuit in general, one I would definitely suggest if you want to dip your toe in and still a very challenging few hours in the hills.
With all of that climb and descent in your legs, this second descent down the Ranger path feels hard. The descents here are not just rough and vertiginous, they are long. Very long. Prepare for some sore quads, even with around 20km still to go!
Cheese sarnies and Coke
The next checkpoint was B-y- F Uchaf, where sandwiches and more waited for us. Again, I saw runners filling up from streams only a couple of km away from it, but I waited for the sweet coke and cheese sarnies which were much needed.
From here the route becomes greener, with sections of forest singletrack and boggy moor leading to Mynydd Mawr, where another grassy descent leads to the last checkpoint of the day. This was better running if your legs would allow it, but also some very wet ground, maybe a blessing after such a hot and exposed first half!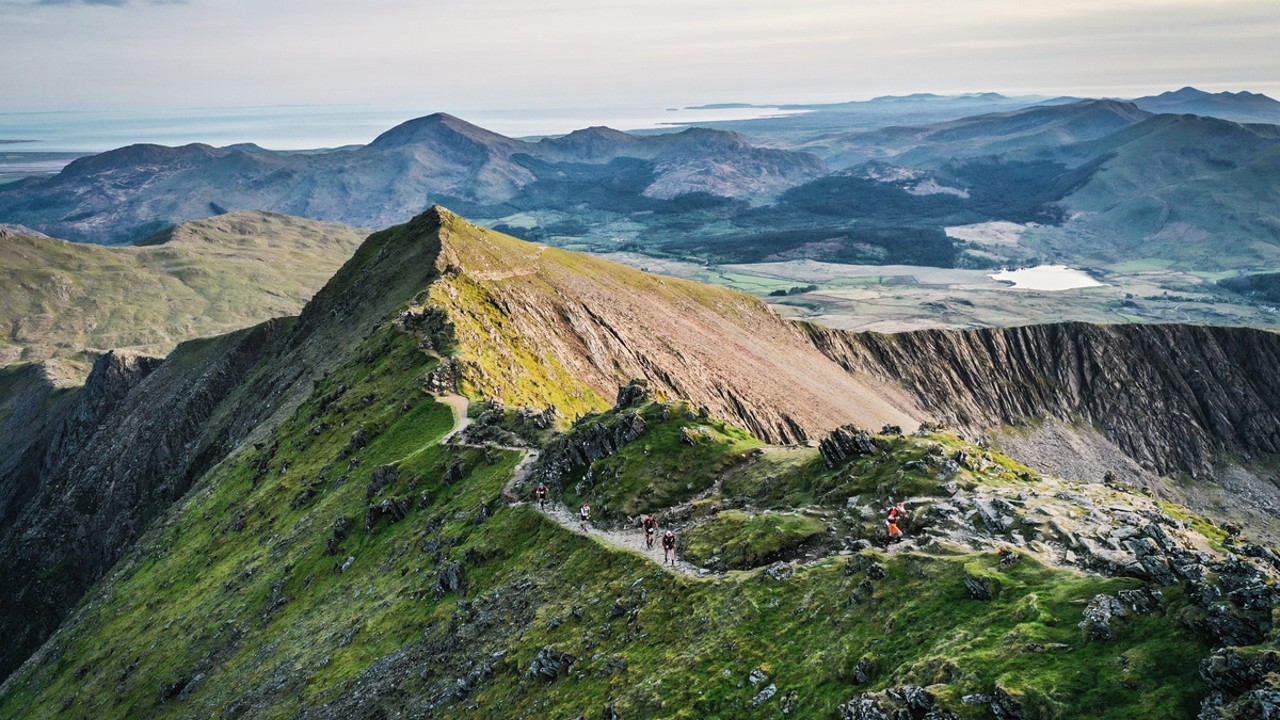 The checkpoint here was manned by Trail Fam, a group that encourages young people into the outdoors and give massive support at events. It was great to see them all-hands-on-deck and hopefully getting excited to give these races a go in the future.
Despite the beautiful day, stunning views and cheese sandwiches, I was flagging with very sore feet from poor shoe choice. I knew what was coming though, with the rest of the race being the reverse of last years event.
I took the chance to catch up with someone I had met a couple of years ago here and we had a great chat for a few miles before she cruised away down a hill that my feet were too sore to do well. The third and final checkpoint was really lovely, set up in a campsite where I took advantage of a proper loo stop before I went in for a feed.
Giving my crust to a dog, I set out for the final 'small' climbs of the day, at a mere 726m, 629m and 605m. It was along here that I met another runner who I had a great chat with and we talked all things UTMB, getting me geared up for the race in September.
When races are this busy, you can get caught up with that being a negative but it means that you can always find someone to chat to, to pull you along and that navigation is rarely an issue! I was getting tired now and I knew that when I caught my foot on my pole and fell over, I just needed to be done. I left my new buddy and headed for Llanberis.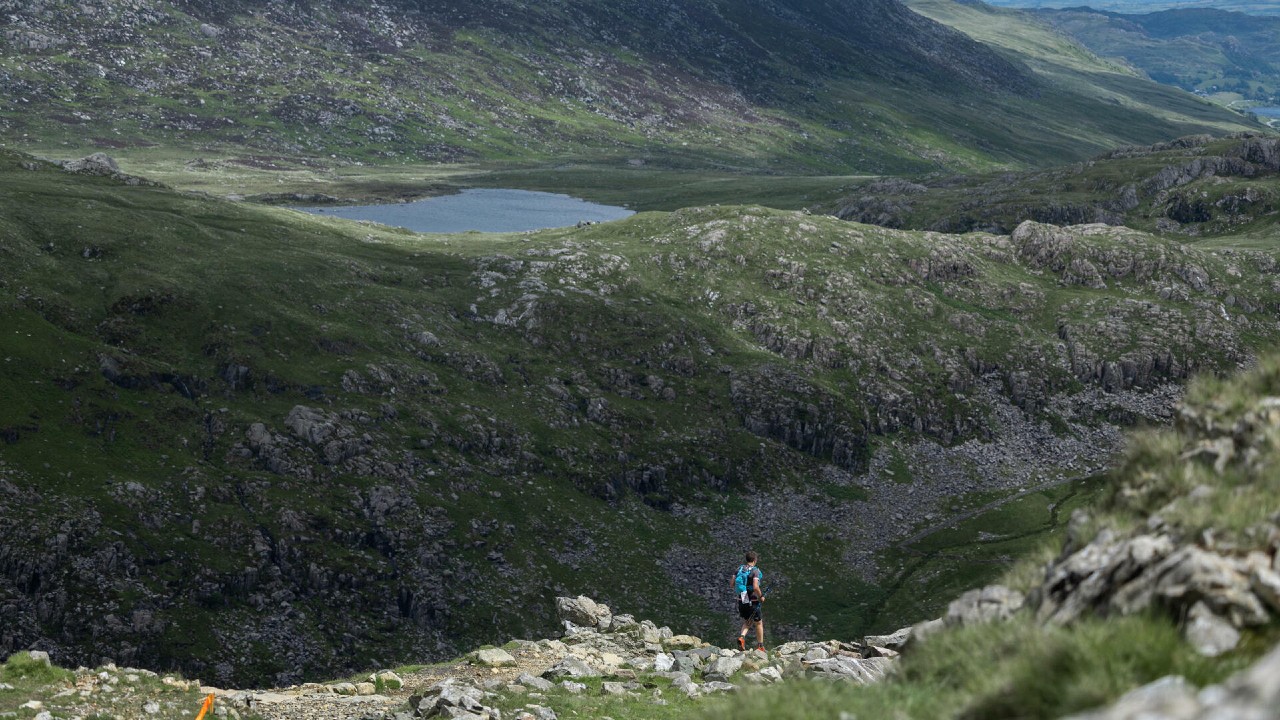 Final stretch and a 'UTMB finish'
The last section of the UTS 50 at Ultra-Trail Snowdonia by UTMB, Moel Elio and its smaller two friends, felt pretty unforgiving, especially the final and once more, steep grassy descent. My feet were battered by now so it hurt quite a lot but once I hit the path through the valley, I was able to run again.
It was here that I should have taken a final gel but didn't, so the last few km felt very tough. The road descent that I had headed up nearly 10 hours earlier battered my toes, but then I was in Llanberis, hitting the road back to the museum.
Running along that red carpet with a crowd cheering you in is a very special feeling and one that is very much a UTMB 'thing'. A third Ultra-Trail Snowdonia by UTMB UTS50 in the bag!
These races are unique in the UK. There are plenty of UTMB detractors and I understand their viewpoint: this is a big machine and it is not for everyone, but it is also an exceptional challenge that is supported and marked, something that is hard to find at a truly tough mountain event.
If you want to complete one of these races, especially the 50k, you have to accept that you will be around lots of other runners, that you won't be 'racing' as such unless you are near the front.
This is much more about the experience as a whole and it is the experience of a lifetime for many people. My top tip would be to go in prepared: learn about the terrain, go there if you can and if you can't, find the biggest hills you have!
I expect these races to fill up for 2024 so if you want a truly testing day out with the most spectacular views you will find anywhere in the UK, then get signed up!