UPDATE THURSDAY MORNING 7.30AM: PAUL HAS 14 SUMMITS LEFT TO DO AND IS EXPECTED TO FINISH AROUND LUNCHTIME/EARLY AFTERNOON. WE ARE OFF TO KESWICK TO SEE HIM FINISH! 
It has been an amazing few days following Paul Tierney's progress on his attempt on the Wainwrights record. At the time of writing (Wednesday morning) he's summited over 170 Wainwrights over the course of 5 days. It's been phenomenal to watch.
There's a danger that Paul has made this look easy. It's true that he's smiling in a lot of the photos and seems to still be moving well. But he's also endured some incredibly difficult conditions – such as Fairfield at night in driving rain and wind – and he's been in a lot of pain. He's only been getting a few hours of sleep a night – often not stopping until after 2am – and that sometimes hasn't even been particularly restful because his legs have hurt so much. The mental strength he's shown is quite amazing.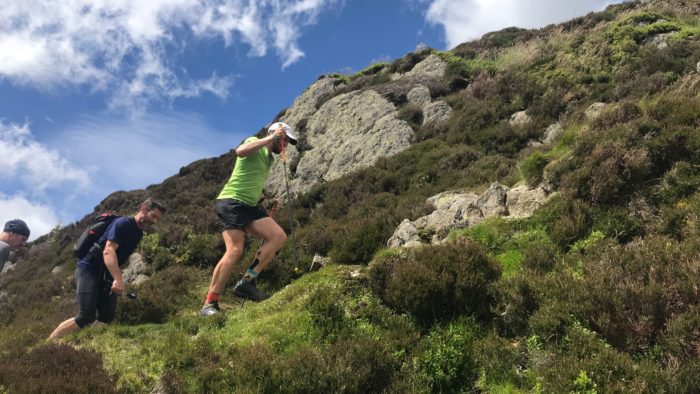 So what does he need to do to complete this incredible record?
As of Wednesday morning he has 40 Wainwrights left to summit. This means he's completed 174 in 5 days.
Fact: he still has Great Cockup and Barf left to scale. What could possibly go wrong on those summits?
In order to beat the record he needs to finish by around 8pm on Thursday. But it looks likely that he will finish around Thursday lunchtime, all being well.
He's still moving incredibly well and his feet are still in reasonably good shape. I think it's fair to say that by this point Steven Birkinshaw was in a worse state (certainly his feet) and so not moving as well and having to stop more.
All in all it's looking very good for the record.
What will the record mean?
I can't think of any bigger UK challenge that combines so many hills in such a short space of time. This record is just an enormous feat. It's unimaginable to most people that somebody could just keep going, with very little sleep and rest, and keep ticking off these Wainwrights. But he has. And what's more, it's brought out so many people from the local area and much further afield to support, help out, run with him and cheer him on. It's brought out everything that's positive in our running community and news of this feat will go much further than that, reaching the national media. And people who previously haven't shown much interest in running will say 'what about that Paul Tierney guy?'. It will inspire so many people in so many ways.
How can you support him?
If you can get there, get out and cheer him on. He's really appreciating all the support out on the route. If he makes it to Keswick tomorrow I'm sure there will be hundreds gathered.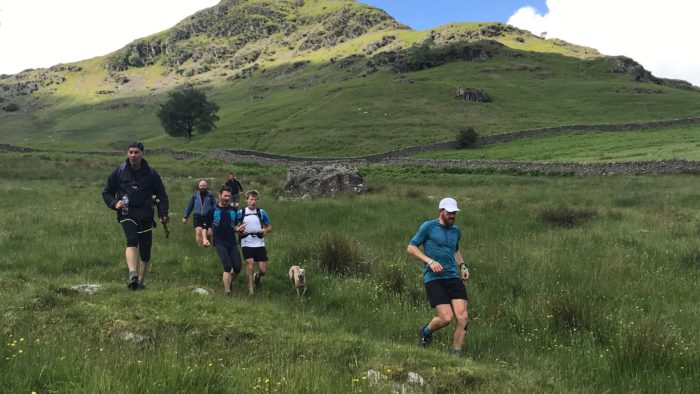 You can also donate to the charity he is supporting: Mind, which gives support to those experiencing a mental health problem. He's doing this in memory of his friend, fellow member of Ambleside AC and fantastic runner and triathlete, Chris Stirling, who sadly died earlier this year. Here is his fundraising link. He's aiming to raise £10,000 for this very good cause and he is very nearly there, so please support him if you can.
Read more about Paul's Wainwrights challenge and keep up to date on his progress via the inov-8 blog.