Sky racing returns to the fold this weekend with the Rab Pinnacle Ridge Extreme – which I regard as the most technical sky race in the UK.  
It's a 28km race with 2,700 metres of climb around the Lake District's Hellvellyn Massif – and is a climbing/scrambling test as much as it is a running test.
For me, that's the appeal of Pinnacle Ridge. It's the challenge of transitioning to climbing and scrambling from fast technical running and descending.
Hands on rock – Grade 3 scrambles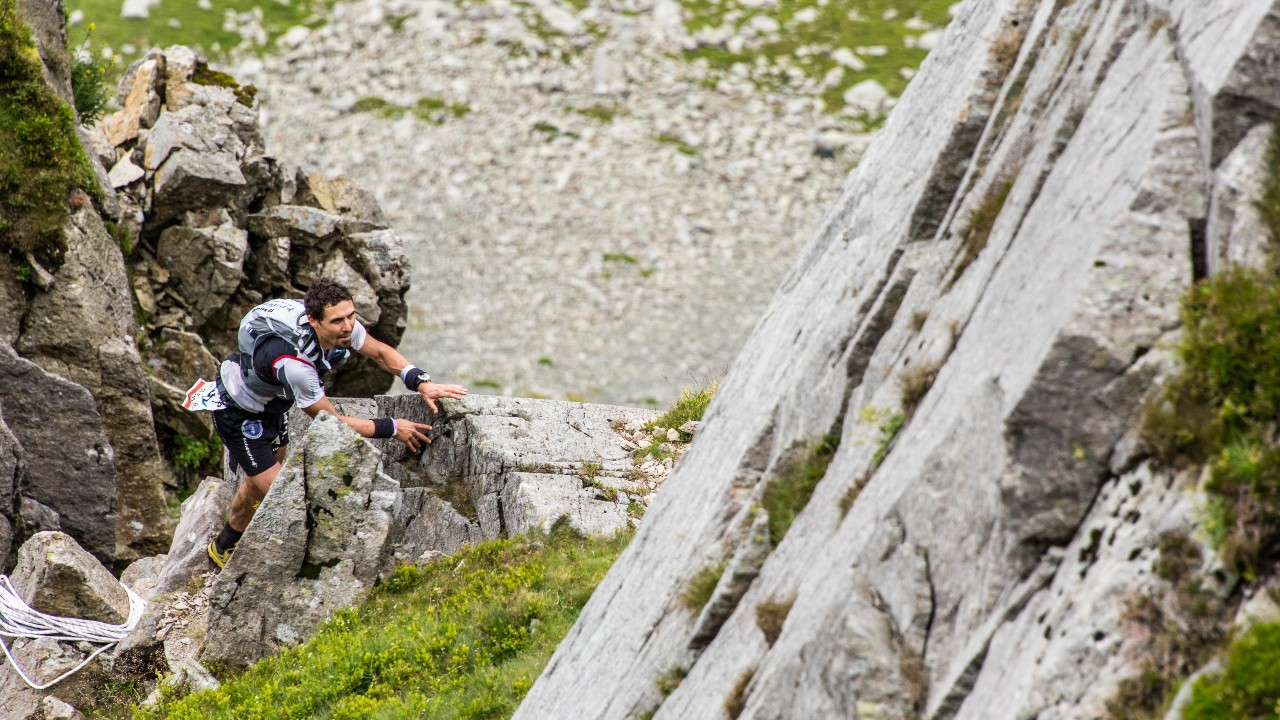 You have the technical hands on rock aspects of the climbing and the Grade 3 scrambles, where you really need to think about what you are doing. From the start you are running up a big climb, and working hard before a fast descent, to then controlling your breathing, calming yourself and moving into a climbing frame of mind.
I also like the intensity of Pinnacle Ridge Extreme. Being a relatively short Sky race at 28km it packs a big punch. There are not many sections on it where you are just slogging away and not having to focus on what you're doing. This combined with the amount of separate scrambles' both ascending and descending is why I regard it as the most technical in the UK. For example It's a lot shorter than Glencoe (52km) which was one of the first originally classed as an "Extreme" Sky race and received some interesting press in its first year. So Pinnacle is more condensed yet spectacular. 
For this weekend, the forecast is quite good – which is nice as at least we don't have to worry about whether it is going to be a bad weather course, though this will mean Striding edge may be busy with walkers so could require some crowd dodging, though last year everyone seemed excited and supportive to see runners weaving through the ridge
I feel a lot better going into this race than I did going into Scafell Sky Race at the start of last month. I finished fifth there and was happy with that as it gave me an idea of what I needed to work on. I feel that I've made the most of the time between the two races and am in better form than when I did this race last year, finishing second in 4:17.
Competitive field
Looking at this year's Pinnacle Ridge Extreme entries, it should make for a good and competitive race. Andrew Lamont probably comes into the race showing the best form after winning the Snowdon SkyRace in May, so he is one to watch.
Will Birkett's entry is a really interesting one as well. He holds the record for the Lakeland Classic Rock Round and completed an unassisted solo round of the Classic Rock routes in Wales at the end of May in an incredible 21hrs 45mins. Although he is perhaps best known as a climber, he is proving himself as a decent runner as well. He also has experience of SkyRacing – he put in a good performance in the Glen Coe Skyline last year.
Excited by Pinnacle Ridge challenge
Will is excited by the challenge, telling RUN247: ''For me the Pinnacle race hits a sweet spot of trails, hills and scrambling, packing in a bunch of ascents over a vast array of terrain, staying focused and having to transition from trail running to scrambling, all while your heart and lungs feel like they're exploding, is a great buzz. Compared to the usual fell races it requires a more advanced skill set.
''My current aim is to stay with the faster group, as all my running this year has been focused on longer, stamina intense running for last month's Welsh Classic Rock Round. I get competitive but I'm also aware I'll need to manage my expectations for this race.''
In the ladies race I think we could see another big performance from Alicia Schwarzenbach. She ran an impressive Scafell Sky Race last month finishing third and with recent selection into the UK's team for the Skyrunning World Championships, will be a strong contender here.
The course certainly suits strong technical descenders and climbers so it will be interesting to see how some of the international runners adapt to the Lakeland rock.