This weekend it's the Red Bull Quicksand race. At just a mile long you might be fooled into thinking that it's a pretty easy event. You'd be wrong. Red Bull have something of a reputation for quirky and somewhat dastardly races.
Over the course of that mile competitors will have to negotiate rollers, trenches and towering sandcastles (the tallest of which is 23 feet tall – the height of 2 double decker buses), all on the energy-sapping sand. Red Bull Quicksand could be the toughest mile you'll ever run.
Following on from its inaugural event last year, 2019's Red Bull Quicksand will be held on Saturday 18th May at Margate Beach, Kent. Registration opens up at 8:30am, with an open warm up following at 09:15am and the first heat underway at 10:30am.
Competitors, who it's estimated will expend 1.6 times more energy running on sand than on a road surface, face an energy-sapping knockout format with heats, semi-finals and finals. It will be a full examination of endurance, acceleration and determination as this year's custom-made course boasts even tougher obstacles, including a new loose sand tabletop obstacle.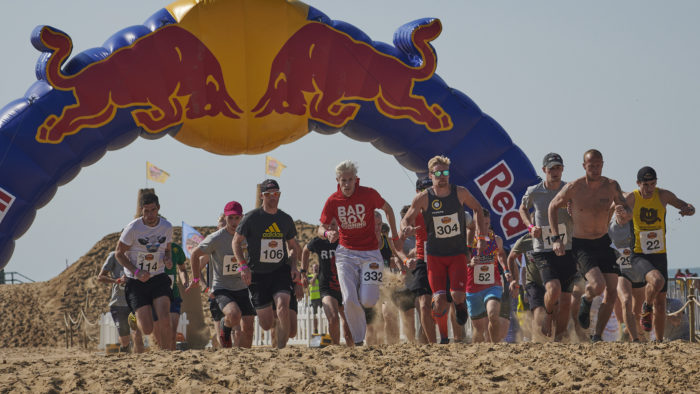 Last year's winners finished outside seven minutes, proving the ½ mile loop course that uses 10,000 tonnes of sand is a brutal day at the beach. Participants called the experience "a bad dream you can't run away from", "a really evil high-intensity workout" and similar to "running in high heels".
All 750 spots have sold out now, but if you're taking part, good luck! And it sounds like a great event for spectators.
If you're travelling from outside Margate to Red Bull Quicksand, the local train station is a five-minute walk from the beach. Trains from London St Pancras are just over an hour and a half. If you are driving it's best to plan ahead and use public parking in the area.
Find out more about the event HERE or join the conversation @RedBullUK with the hashtag #RedBullQuicksand
See Andy Baddeley's top 5 tips on how to train for Red Bull Quicksand