The award nominated* Outdoor Fitness of Festival is returning to East London's iconic Hackney Marshes from 15-17 May 2020 under a brand new name – Hackney Moves.
Hackney Moves is a full weekend festival combining running and fitness experiences with community celebration and live entertainment.
The festival kicks off on Friday with race pack pickup in the Market on the Marshes. On Saturday there will be a multitude of sports and fitness activities including the free Hackney 5K and Hackney Schools' Challenge for local primary school students.
Hackney Moves is highlighted by the Hackney Half on Sunday 17 May, London's largest and most environmentally friendly half marathon. A new and improved route has just been announced for the 2020 race edition, with fewer hills and many more graffiti walls, leafy green spaces, and canal views.
Hackney Moves is the signature event produced by Virgin Sport, a fitness event company founded in 2015 by Sir Richard Branson's Virgin Group with the purpose of making movement fun for everyone.
Jessica Frey, CEO, Virgin Sport commented: "We're thrilled to unveil the weekend schedule for Hackney Moves, bringing together all aspects of the weekend to create a new and irresistible fitness experience that can move local residents and visitors together. It's a privilege to produce this sporting moment where Hackney's local sporting community can take centre stage."
Philip Glanville, Mayor of Hackney, said: "As a three-time participant in the Hackney Half, I know how incredible it is to join the thousands of runners enjoying the borough's streets and green spaces. On the day, the powerful image of closing our streets for people to come together and the transformative impact of physical activity is plain to see and I hope, as the event gets bigger and bigger, it inspires even more of the borough's residents to get active."
RACE PACK PICK-UP takes place on Friday 15 and Saturday 16 May 2020. Runners are invited to come down and enjoy the pre-race celebrations at
Hackney Marshes before the Hackney 5K and Half Marathon take place.
MARKET ON THE MARSHES will bring together a multitude of Hackney borough's most exciting markets, breweries, galleries and start-ups for one big pop-up retail celebration on the marshes. Open to the public all weekend, we will have the best of local Hackney traders and top sport & lifestyle brands. A full list of vendors to be announced later in 2020.
HACKNEY 5K & HACKNEY SCHOOLS' CHALLENGE – SATURDAY 16 MAY 2020
The HACKNEY 5K is a completely free 5K event taking place on Saturday 16 May, for everyone aged 13 and above. All finishers receive a medal and official race-time. All speeds welcome – sprinters, joggers, and walkers. A new and exciting Hackney 5K route will be announced later in 2020. Registration is open now.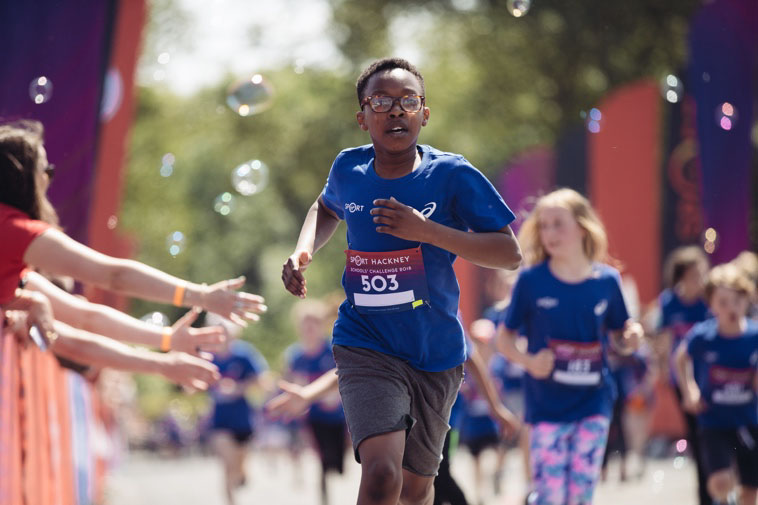 Plus, the HACKNEY SCHOOLS' CHALLENGE is back for another year. 1,600 children (5-11 years) from 40 Hackney schools will take on the 1.1 mile race to complete their own 13.1 mile challenge.
HACKNEY HALF – SUNDAY 17 MAY 2020
The Hackney Half marathon returns following last year's sold-out event that saw over 17,200 people take part in London's largest and most vibrant half marathon!
The public are invited to come down and support runners through the 13.1 mile route and enjoy the activities taking place on Hackney Marshes, with dynamic warm up / cool downs and recovery / stretch sessions.
Plus, a multitude of local food & drink trucks with live entertainment and post-race celebrations.
NEW HACKNEY HALF ROUTE FOR 2020
Virgin Sport listened to feedback from runners and has made exciting changes to the Hackney Half route for 2020. The route allows more of the community to get involved and spectators to cheer whilst letting runners immerse themselves in this unique borough. From graffiti walls to canal views, this route is their best yet! Download a PDF here.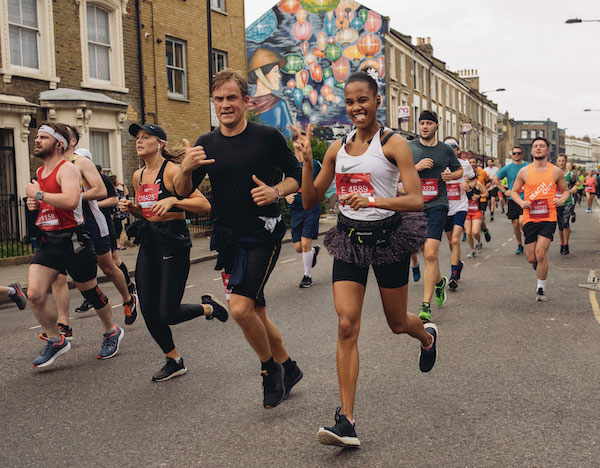 No more mile-12 hill climb:
More steps have been added through Hackney Central and Hackney Wick. This addition will give supporters more opportunity to see and cheer runners as they move through the streets. This also means they've removed that surprise hill at mile 12 – runners asked… Virgin Sport listened!
Make moves along the canal:
Let the sight of Regents Canal and iconic Bethnal Green gasholders keep runners moving just after mile 8 on Andrews Road. Loop back around on Ada Street and run onto one of East London's foodie hot spots, Broadway Market – lined with homegrown pubs, eateries and everything else in between.
Additional run along leafy green Victoria Park:
This year, runners can soak up more of picturesque Victoria Park along Gore Road. Dash past unbeatable views of London's most visited green space before hitting the electric streets of Hackney Wick!
Running through Hackney Wick:
The most vibrant addition! Home to industrial spaces, graffiti murals, eccentric cafes and eateries; this section of the route will bring all the vibes. Hot tip: Cheer Dem Crew will be stationed along here with all the Cheer Dem Spirit!
Ian Allerton, Race Director, Virgin Sport said: "We've designed the 2020 route to use more streets within Hackney this year, offering loads of great new spots for spectators to line the route and cheer on the thousands of runners. The new sections – alongside the canal, taking in more views of Victoria Park and the hype through Hackney Wick – makes this the best Hackney route we've ever had!"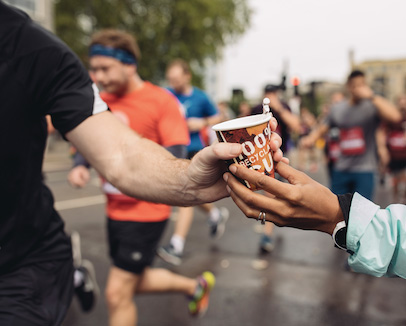 SUSTAINABILITY
The Hackney Half 2019 became the "Largest Race in the UK to Eliminate Single-use Plastic Bottles." This formed part of Virgin Sport's effort to remove 500,000 single-use plastic bottles from its three race routes last year. Over 25,000 plastic kit bags were also replaced with long-life natural cotton tote bags.
CORPORATE TEAM CHALLENGE SERIES
Workplace wellbeing is top of the agenda at Virgin Sport, who agree that an active lifestyle leads to better performance at work. The
Corporate Team Challenge Series has been created to get work colleagues moving together, with plenty of fun along the way!
Corporate Team Challenge participants get access to free training sessions and special hospitality with private loos on race day. Bespoke packages include catering, private marquees, health assessments and access to online educational resources. There will be an exclusive medal ceremony at CNBC's central London Studio to celebrate the fastest and most spirited teams.
The Corporate Team Challenge series is for all businesses – large and small – to rally their employees and start a shared running journey with Virgin Sport.
*HACKNEY MOVES – AWARDS NOMINATION
Virgin Sport's signature event Hackney Moves has been rewarded for an incredible year with a place on the Active Award Official Shortlist for the Sport Industry Awards 2020 – the industry's biggest night of the year. Honouring the work done across the sport business sector, the Sport Industry Awards bring together the great and the good of sport under one roof for an evening of success, sharing and celebration. Welcoming more than 1,700 high profile guests annually, #SIAwards2020 is the most prestigious commercial sports awards in the world and has been the industry's flagship evening for nearly 20 years.
TICKET INFORMATION
HACKNEY HALF – SOLD OUT
General Entry tickets for 2020's race have sold out. However, runners can still enter through a 'Hackney Half + Perks' ticket, via the Corporate Team Challenge or through one of the many charity partners involved in the race.
HACKNEY 5K – FREE (online registration required)
Hackney Moves event and ticket information: virginsport.com/hackney
Hashtags: #HackneyHalf #HackneyMoves
Instagram: @hackneymoves
Twitter: @hackneymoves
Visit the website here www.virginsport.com/hackney