Many races are making efforts to limit their environmental impact. The ASICS London 10k, which takes place this weekend (21st July), has announced that they will replace all single-use plastic bottles at the finish line with JUST Water cartons. All the single use plastic bottles on the aid stations (all 40,000 of them) will also be replaced with 100% recyclable cups.
JUST Goods was founded by Will and Jaden Smith and they've announced a partnership with Virgin Sports, who in addition to the London 10k also have Hackney Half and the Oxford Half. This is part of Virgin Sport's pledge to create the most eco-friendly mass participation fitness events in the UK.
So how did what some might see as an unlikely partnership between Hollywood superstars and these races come about. According to Jessica Frey, CEO of Virgin Sport: "Virgin Sport and JUST Water have the shared objective of reducing single use plastic and both businesses were conceived during a sporting activity. Will, Jaden and Richard all share a passion for sport and there is an added layer of looking after the wellbeing of the planet."
The CEO of JUST, Ira Laufer, said: "JUST is incredibly proud to join efforts alongside Virgin Sport at the Asics London 10K to reduce plastic at the event."
"Together, we aim to inspire and show that a small change, such as changing your bottled water to a more sustainable option, is something we all can do to create a positive impact on our planet."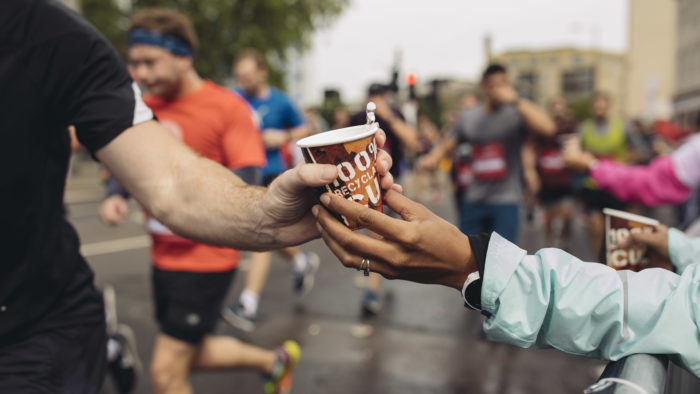 Jessica went into more detail about how Virgin Sport are aiming to create the most eco-friendly mass participation sporting events in the UK: "As a mass participation event company, we promote health and wellbeing, and we don't want to stop with personal health. We want to consider the health of the planet and the impact of our events on the environment.
This year we are eliminating over 500,000 single use plastic bottles from all race routes across our three events, Hackney Half, ASICS London 10K and Oxford Half. The Hackney Half Marathon in May 2019 was the largest race in the UK to eliminate single use plastic bottles, having removed 190,000 single use plastic bottles from the route and 35,000 from the finish line. That's something we are really proud of.
We are also excited to say that the ASICS London 10K will be the first Virgin Sport race to replace plastic kit bags with long-life natural cotton tote bags. These cotton totes will be implemented at all our events moving forward."
But eliminating plastic bottles hasn't come without difficulties. Jessica says: "Eliminating plastic comes at a cost. The 100% recyclable cups we're using are more expensive than plastic water bottles, and we have to recruit additional volunteers to staff aid stations and fill the cups. We also pay for waste management services to ensure that the cups are recycled properly in a closed-loop process. At the same time we're teaching runners how to drink from a cup during a race – it's not as easy as you might think!"
Find out more about the ASICS London 10k HERE
You can see the story of how the Fresh Prince of Bel Air and his son came to launch JUST HERE.