Ben Dave is a man on a mission. And that mission is to run round Yorkshire to raise funds for the charity CALM (Campaign Against Living Miserably). Here are some facts about Yorkshire:
– it's the largest county in the UK, at 6,000 square miles
– it includes the Yorkshire Dales and North York Moors, which are huge areas of remote, unspoilt land, where you may not see another soul for a long time
– the distance around the border is approximately 470 miles (possibly more if Ben goes wrong at all)
– the elevation you experience when running round the border is approximately 41,000 feet
Ben set off from Scarborough on August 1st (Yorkshire Day) and plans to complete the challenge on August 18th. We caught up with him on day 7, to see how it was going.
Ben's day had started by ascending and descending Whernside, a 736m mountain which is one of the Yorkshire 3 Peaks. That's enough of a day out for many people but Ben still had about 25 miles to go for the day after that. He'd actually been up there alone the afternoon before, in rain and clag, and given himself a bit of a scare after going off route. Fortunately, his lovely sister was watching the tracker and alerted him to his error!
Navigation is turning out to be one of the key challenges for Ben. In order to stay as close as possible to the border there aren't always nice, obvious paths for him to take. He has to take a mix of roads and footpaths, some of which may take him a slightly extended route. He really does have to keep his wits about him all the time to keep on the right route.
You might also think that wobbly legs might pose a bit of a challenge after 7 days straight, averaging a (hilly) marathon a day. I actually expected a run with Ben to be a 'one foot in front of the other plod', but not so at all! He was not only chipping along at a very nice pace, he's running all the road uphills and just seeming really strong.
Ben is being helped along the way by his friend, Tom, who's taking photos and doing videos (including some amazing drone footage you can see on his website) and people are coming from far and wide to run with him and help him along the way. When I met up with him he was running with the owner of the Whernside bunkhouse, where he'd stayed the previous night, and Mike, who had come over from Manchester to run two full days with Ben. The previous evening a massage therapist had volunteered to come out to give his legs a much-needed massage. Ben said that this challenge was showing him the good in people. He described it as a life-affirming experience and I could really see what he means even just spending a couple of hours with him.
At one point a group of cyclists ran past and asked "Where are you running to?" Ben answered, "Scarborough". "Where did you start?". "Scarborough".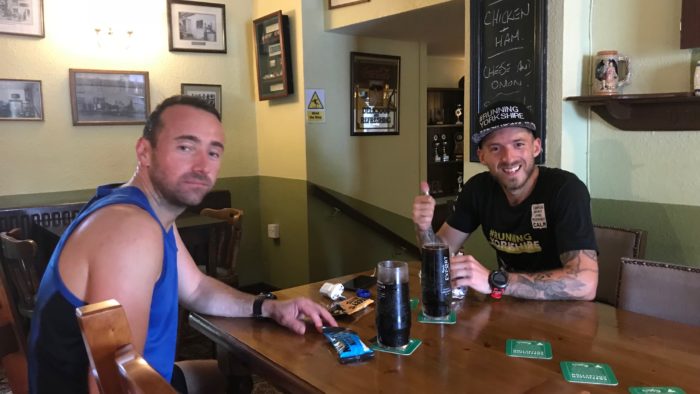 So what are Ben's top tips for keeping going? Firstly, it's beer. Some days he is spurred on by the thought of a nice, refreshing recovery beer when he stops. I can imagine that having something to look forward to like that is really nice. He's also really trying to pace himself and keep eating, to ensure he isn't getting too depleted.
Has he had any doubts about whether he can actually complete this challenge? He's had a few tough moments, especially the one at the top of Whernside, but when it's tough he just wants to put his head down, knuckle down and crack on. He's finding that he just can't think about the challenge as a whole, as it's too overwhelming. He has to just chunk it up, and take it day by day, or even section by section. I think that's good advice we can all relate to, no matter what distance we're running.
And why is he doing this? He suffered from depression in 2016 and he really wanted to do something to help to raise awareness about mental health issues and raise funds for a charity close to his heart – CALM.
If you want to donate to Ben's fundraising, or even go out and run with him all the details are on his website. He will really appreciate your support. And if you want to run the final 10k 'glory leg' with him from Filey to Scarborough on 18th August he would love that. We will give you the details on how to get involved.