Courtney Dauwalter has made trail running history becoming the first runner ever to win the Western States 100 and the Hardrock 100 in the same year – breaking the course record that she set in last year's race.
Just three weeks after her record-breaking Western States victory Courtney Dauwalter stormed to first place in the Hardrock women's race only just missing out on third place overall as she was passed in the closing stages by Spain's Javier Dominguez.
Courtney achieves impossible
Many had thought that this achievement was impossible. The Western States 100 covers 100.2 miles through the Sierra Nevada mountain range in California, and has nearly 5,500m of elevation gain. The Hardrock 100 features 10,000m of elevation gain across 102.5 miles of the San Juan Mountains of Colorado's famous Rocky Mountains.
With so little time to recover between the two it seemed so unlikely that back-to-back wins were even a possibility.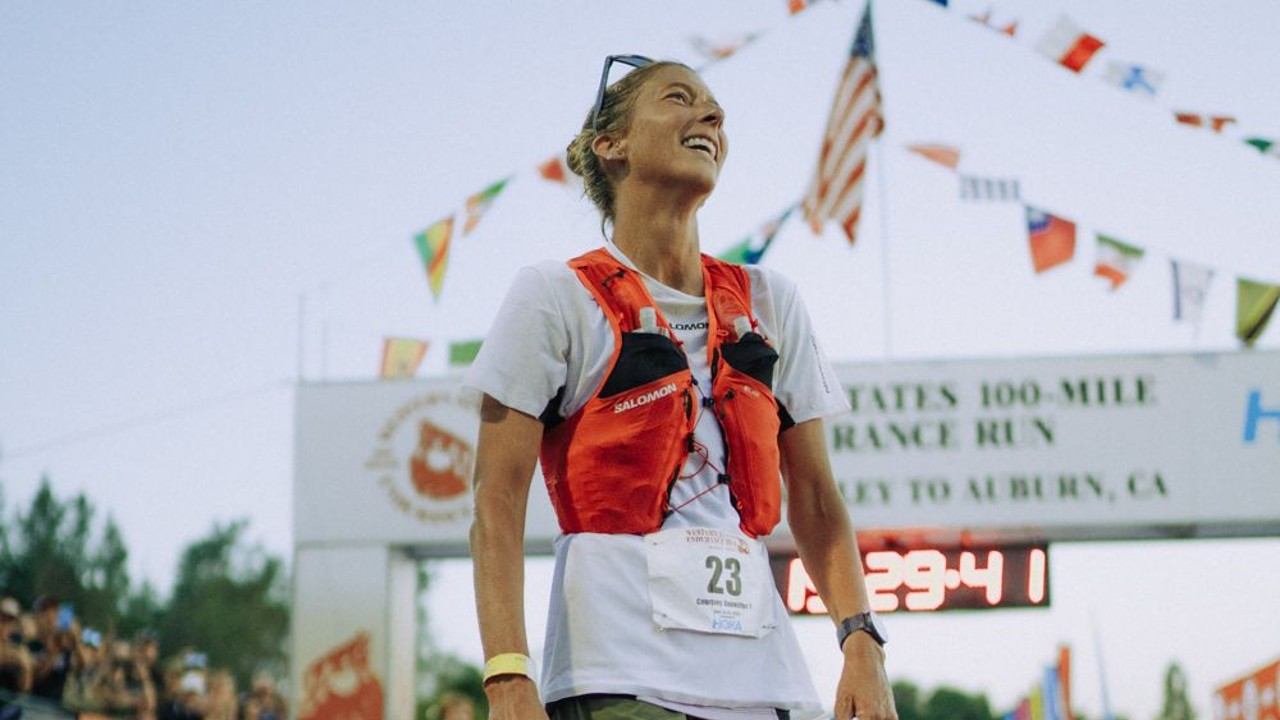 Prior to the race Courtney Dauwalter had admitted she didn't have a set plan for recovery saying:
"The basic idea was to listen to my body, take care of my brain, and get as recharged as possible.
"It's been a combination of walking, biking, napping, jogging, hiking, and, of course, EATING," Dauwalter revealed.
Courtney Dauwalter made a solid start keeping in touch with France's Anne-Lise Seguret Rousset who held the lead until just after the half-way point when Courtney Dauwalter got into her stride, passing her between the Ouray and Governor checkpoints and building a 20 minute advantage.
She survived a navigation error at the 87 mile point as she took a wrong line at Grant-Swamp Pass and had to descend to get back on the right path.
Finishing strongly with her pacer, husband Kevin Schmidt, Courtney Dauwalter crossed the line in 26:14:08
Europeans dominate men's race
Europeans dominated the men's race taking all podium places with France's Aurelian Dunand-Pallaz first overall leading the race from start to finish. He crossed the line in the eighth fastest time ever 23:00:07 Aurelian Dunand-Pallaz was followed by his countryman Benat Marmissolle who finished in 23:52:03. Javier Dominguez finished third in 26:12:01.
Men
1st Aurelian Dunand-Pallaz 23:00:07
2nd Benat Marmissolle 23:52:03
3rd Javier Dominguez 26:12:01
Women
1st Courtney Dauwalter 26:14:08
2nd Anne-Lise Rousset Seguret 27:29:55
3rd Annie Hughes 32: 13:03