One of our favourite ultras, Ehunmilak, opens for entries tomorrow, but with one big change.
The 2020 edition of Ehunmilak will take place from July 10 – 12 and entries open at 5pm tomorrow (7th November). However, the race will no longer offer UTMB points to runners, for reasons explained by the organisers below. ITRA points will still be offered and the race will still be a qualifier for Hardrock 100.
Ehunmilak said, "The philosophy of our organizing team has always been the same: make a race by and for the runner. We dedicate all our efforts and financial resources, until the last €, in the runner, to offer you a racer of excellent quality and safety… To do this, we have the invaluable financial help from local, and regional businesses, from institutions, such as the Provincial Council of Gipuzkoa and the Basque Government, and thousands of people who, with their selfless collaboration, have made this race be what it is today.
We will follow admiring UTMB®, its participants, environment and public but we simply believe that our main objectives have moving farther from the UTMB® philosophy, which has motivated us not to be qualifiable for Chamonix."
See their full statement in this article.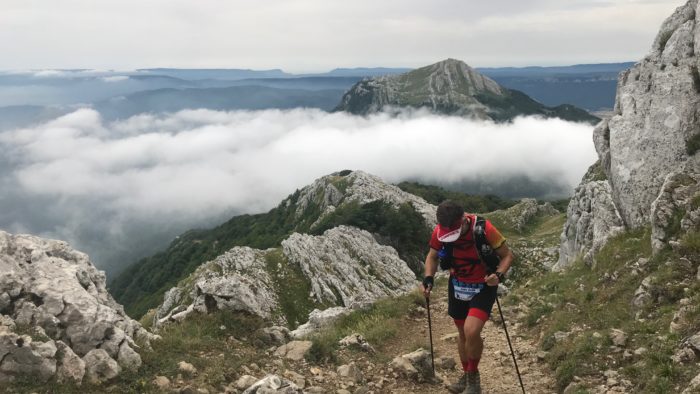 Ehunmilak is certainly a race focussed on the runner. They have never embraced the commercial aspect, instead preferring to have local sponsors and maintain a more low-key profile. This is a race which prides itself on tradition, from the 'txapela' berets awarded to the winners, to the 'txalaparta' xylophones played at the start and at checkpoints. This race is no big, brash, noisy ultra. It's a hidden gem in the world of mountain ultras. Read about the 2019 race.
There are 3 distances at Ehunmilak: the 100 miler (this is what 'ehunmilak' means in Basque), which has 11,000m of ascent, the 88k g2haundiak (+6,000m) and the marathon distance Marimurumendi (+2,300m). All are pretty tough races, with technical sections, lots of climbs and the weather can be pretty changeable. The area is absolutely stunning (which is why some it is now a UNESCO heritage site) and, like the race, utterly unspoilt. If you're looking for a big race in a great place next year it's definitely worth considering. You won't get UTMB points, but the main race is harder than UTMB, so you may choose to do it instead. Particularly if you don't fancy the hassle of collecting points and going through a lottery.
You can enter from tomorrow HERE.
Check out this great video from Factor Running, which really captures the atmosphere of the race: