China's Shen Jiasheng and Switzerland's Katharina Hartmuth claimed victories at the Eiger Ultra Trail at the weekend, the latest event in the 2022 UTMB World Series.
Jiasheng finished the 101km race in a new course-record time of 10:44:38 to triumph in the men's category, 20 minutes clear of Jean-Philippe Tschumi (CHE) and another half an hour ahead of compatriot Yanqiao Yun.
Confidence boost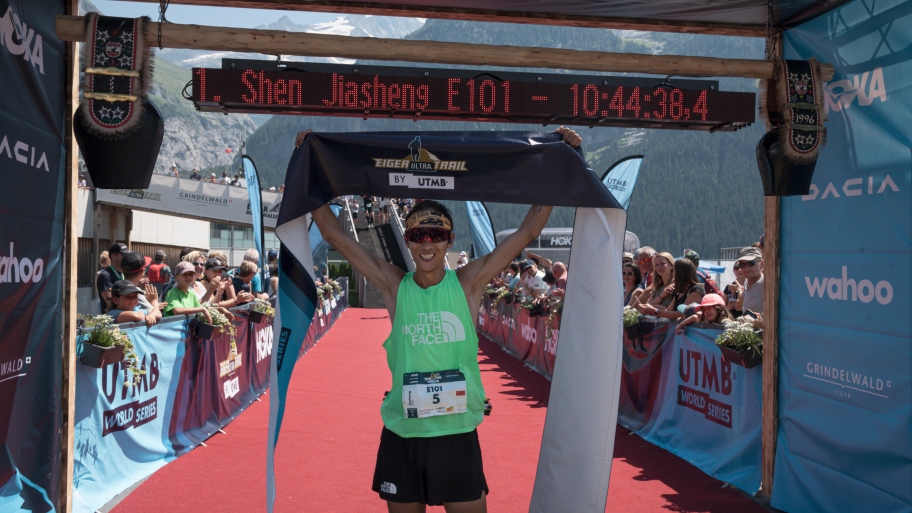 With his next race being the CCC at UTMB Mont-Blanc in August, the victory was clearly significant and he said afterwards: "I am delighted with the win here and this experience will be an unforgettable one for me.
"I ran very well in this race and controlled my mind and running rhythm well. This win has really helped with my confidence going into upcoming competitions."
Drama at the start
In the women's race, it was a heartbreaking start to the race for hat-trick-seeking Swiss athlete Kathrin Goetz who was forced to pull up shortly after the start with a calf injury.
With Goetz being one of the favourites to win, the event was now wide open. And British athlete Emma Pooley looked on course for the title until a fall in the latter part of the course slowed down her progress.
It was Swiss athlete, Hartmuth who was first to hit the red carpet and come out on top after putting together a perfectly executed race, finishing in 13:37:20.
That gave her a gap of over an hour to Pooley, the ex-pro British road cyclist who has lived in Switzerland for 16 years, and Sara Ammann.
As a previous volunteer at the race, it was a special day for Hartmuth and she said: "It's a dream come true. Taking the win at Eiger was just amazing and totally unexpected."
Pooley meanwhile added, "One of the things that made this a fun experience is the kind and sympathetic encouragement from every runner who passed me. This is especially true for Katharina whose awesome victory was well deserved. This is trail running solidarity at its best."
Gruelling team event
In the inaugural 250km team event, dubbed the UNESCO Jungfrau Aletsch Trail, the Austrian duo of Florian Grasel and Tom Wagner were winners in the men's/mixed category, clocking 50:47:47.
Swiss pair Anja Karau and Brigitte Daxelhoffer clinched top spot in the women's race, crossing the line in 83:33:14.
Anthony Felber (FRA) and Rosanna Buchauer (AUT) were winners of the 51km Panorama Trail, while Mohamed Elmorabity (MAR) and Déborah Chiarello (CHE) reigned supreme in the 35km North Face Trail.
Philipp Stuckhardt (GER) and Julia Peter (CHE) picked up wins in the 16km Pleasure Trail, with Florent Ferrara (CHE) and Ilka von Hubatius (GER) conquering the 10km Trail Surprise.