Julia Davis admitted that she didn't expect such a strong performance at the Arc of Attrition 50-mile race as she came home in second – just over a year on from the birth of her first child.
The RUN247 contributor completed the event on the Cornish section of the South West Coast Path in 8:32:42, finishing behind fellow British runner Fiona Pascall.
Locally-based Davis said the result – and time – exceeded her expectations and was the perfect way to kick off her year.
"Huge" start to 2023
"The Arc 50, what a race to come back to ultras with," she told us. "Luckily the weather gods were on our side and the trails had mostly dried out after months of rain so the course was mostly runnable, even the big technical section to St Ives.
"It was great to have women to race and although I could see Fi Pascall, who ran an incredible race, up ahead, I didn't quite have that kick to catch her just yet.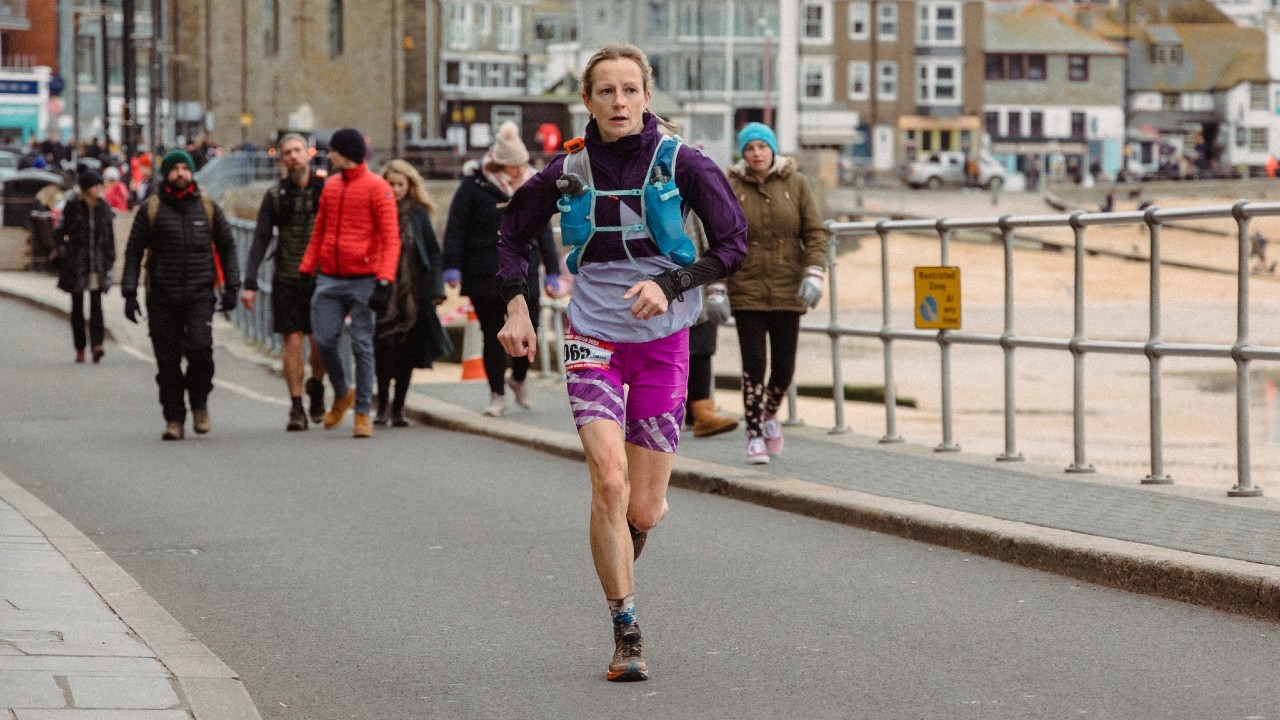 "It's a great stake in the ground for how longer races feel and there's a strong base to build on with some extra gym work and longer days out on the trails in the months ahead.
"To tackle a difficult race like the Arc 50 just over a year after having a baby and coming away with a time close to two hours off the previous women's record, and not far off the old men's record, feels huge. What a start to 2023."
Taking a tumble
Aside from one stumble, Davis coped well with the terrain and as the race wore on, she harboured hopes of reeling in eventual winner Pascall.
"I was so pleased to get going, I'd been so nervous all week," she added. "It felt amazing to just get going and get started on what felt like a big adventure on fairly home trails.
"Underfoot it was actually pretty good. There was only a few really boggy bits and only a few bits that were pretty slippy, so, I was really pleased.
"But I was fine, I ran it off and, yeah, obviously I managed to make it to the finish line, so it was fine.
"But I could see Fi in the distance for the first half or so, I could see her just tracking ahead and I kept wondering if maybe I'll be able to catch up with her."
Super proud
Although overhauling Pascall eventually proved a step too far, Davis accepted that even being in proximity of her compatriot was a massive positive.
She hailed Pascall and went on to detail how she hopes to improve in the coming months: "I didn't think I'd be able to run this strong so soon after having a baby and that. There's plenty to work on, which is mainly just getting in the gym and trying to get out for some longer runs where time has been really tight.
"But I think just changing around some of the priorities of time will be good. But absolutely incredible to be able to chase someone down like Fi.
"I was really pleased to be able to greet her at the finish line and thank her for pulling me in, because without somebody to chase, you probably wouldn't have run as fast.
"[It was a] brilliant race. I'm so happy to be back running longer distances and excited to fill up my calendar now and work on some of those weaknesses, but be super proud of some of the strengths."