Kilian Jornet battled through injury in the Eiger Ultra Trail by UTMB E16 Pleasure Trail in pursuit of the single UTMB Running Stone that would allow him to compete at the UTMB World Series Finals in September.
The Spaniard, who leads the UTMB Index with a 945 rating, did manage to complete the race despite the injury – picked up in training two days prior to the event – finishing in 48th place in a race won by 16-year-old Swiss athlete Lorick Buclin (1:21:26). Roxana Elisabeta Rotaru (Switzerland) won the women's event in 1:31:14.
German Hannes Namberger (11:38:35) took the spoils in the events longest race, the E101 Ultra Trail, with his compatriot Katharina Harmuth (13:17:32) claiming the women's race.
Elsewhere there was a win for Great Britain's Robbie Simpson (3:21:22) in the E35 North Face Trail, with USA's Dani Moreno enjoying the accolades in the women's race. Sweden's Petter Engdahl (4:48:26) and Emelie Forsberg (5:59:10) topped the podium in the E51 Panorama Trail.
Injury hampers Jornet
Kilian Jornet was the headliner of the event, but his preparations for the race suffered a setback two days prior. Despite the disappointing 48th place finish, the Spaniard was delighted to be on the start line in Grindewald.
"Today was nice, it's a beautiful race. Grindelwald is an amazing place…Training was going very well until two days ago when I got an injury. So now I will try and recover from that. I am happy with my shape and how training was going, so I just need to recover from my small injury."

Kilian Jornet
The 35-year-old was in the top ten during the first half of the race, but dropped back into the field as the race progressed towards the finish. With his completion of the race, Jornet, who won the Ultra Trail du Mont Blanc in a new course record last year – earned the vital UTMB Running Stone that confirms his place at this year's UTMB World Series Finals in September.
Buclin claims first career win
Switzerland's Buclin took his maiden career victory in a time of 1:21:16 in the 20K category E16 Pleasure Trail. Buclin, who's only other appearance at a UTMB Index race was a seventh place finish at Trail Verbier St Bernard by UTMB seven days ago, took the plaudits 19 seconds ahead of his nearest rival.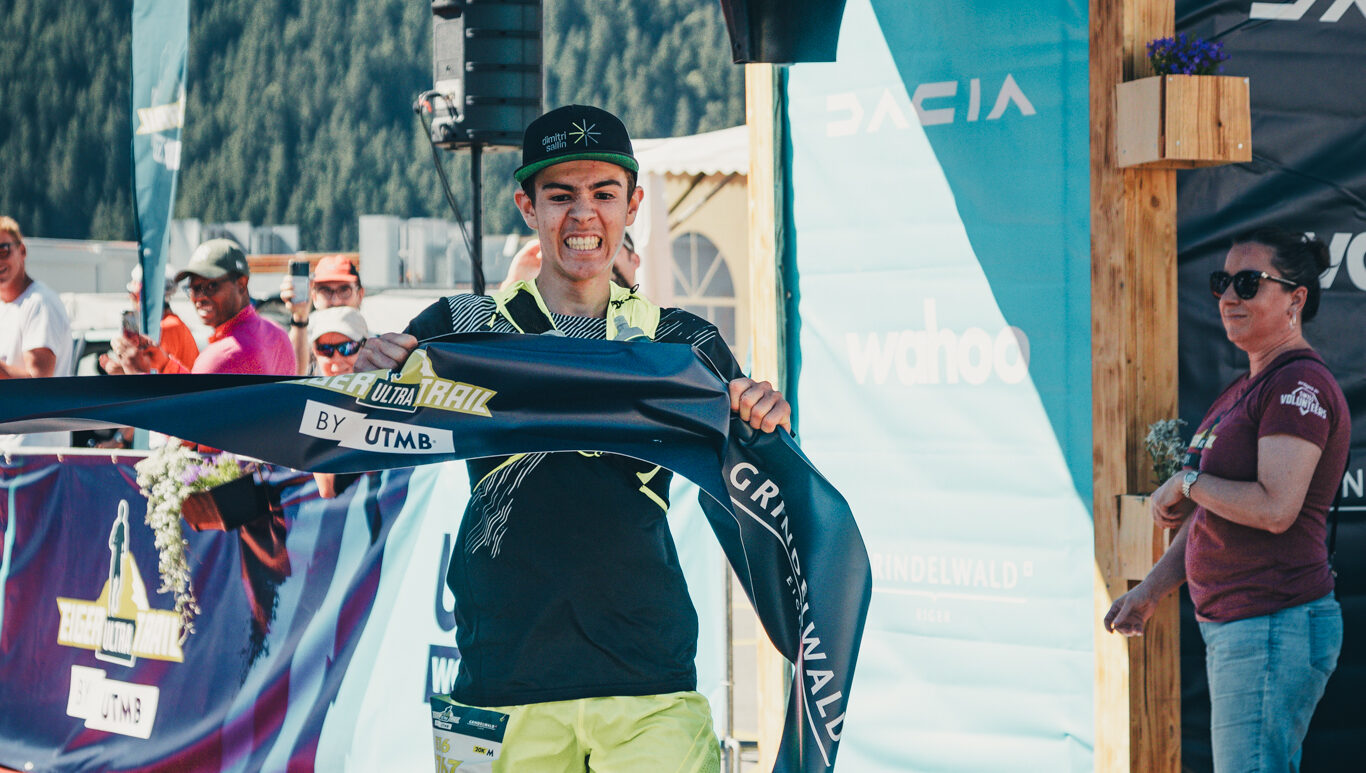 Fellow Swiss runner Raphaël Devantay, who's best effort on the UTMB Index was a eighth place finish in the 50K category at Trail Vallée de Joux in 2021, was the second man over the line in a time of 1:21:45. German Armin Reif (1:22:43) was a further 58 seconds back in third.
In the women's race Rotaru, making her maiden appearance at an UTMB Index event, was the first female across the line in a time of 1:31:14. She was followed by Swiss compatriot Priska Fuhrer (1:32:56) one minute and 42 seconds off the pace.
A Swiss 1-2-3 was completed by Emilie Arsenijevic who finished the course in a time of 1:43:12 – 11 minutes and 58 second behind Rotaru.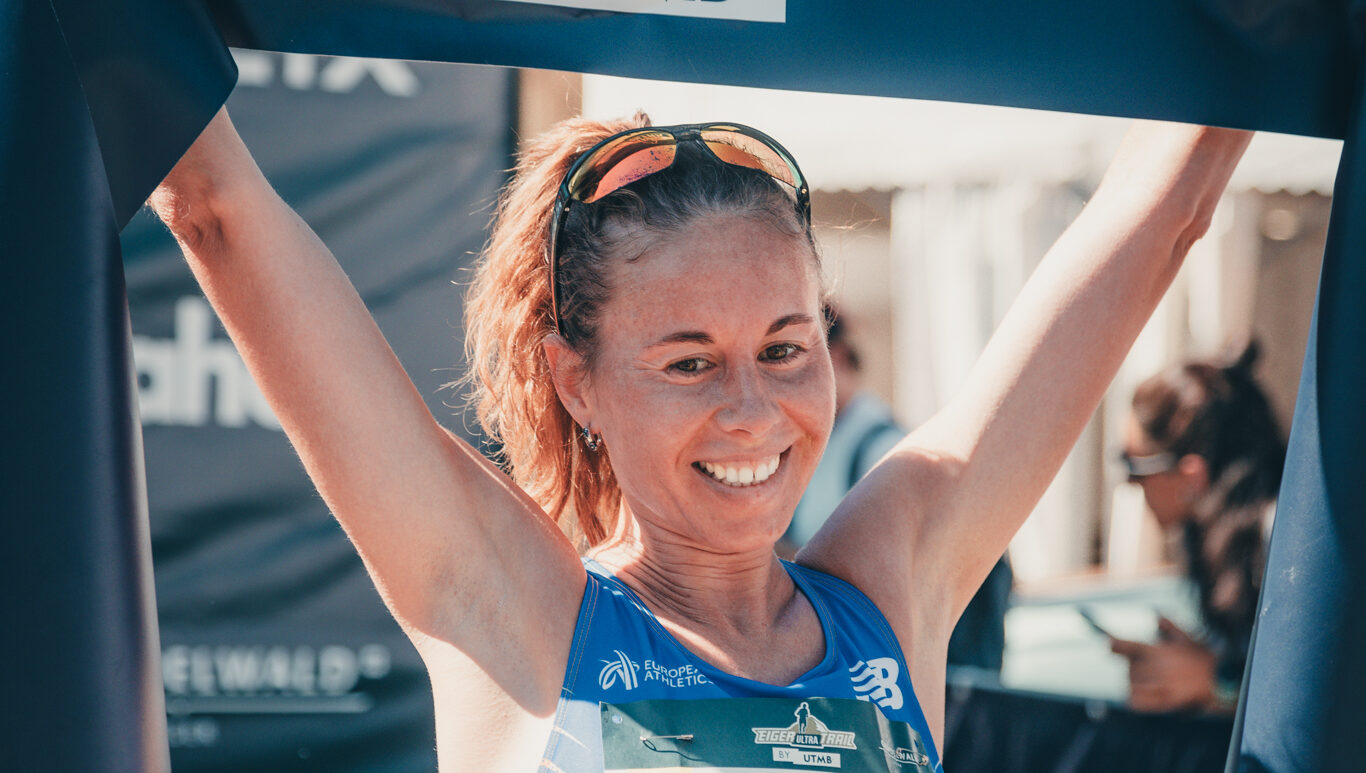 Namberger, Harmuth win E101
In the E101 Ultra Trail race – the 100K category race – it was a German double as Namberger and Harmuth took the plaudits in the event's longest jaunt.
Namberger, who is currently 21st in the UTMB World Rankings and has victories at Chiemgau Trail Run 2023, Ultra-Trail Cape Town 2022, Lavardeo Ultra Tarail by UTMB 2022 and Penyagolosa Traills 2022 over the last 18 months, dominated the competition. He completed the course in a time of 11:38:35.
He finished 25 minutes and 42 seconds ahead of second placed Raphael Sprenger (12:04:17), with Great Britain's Josh Wade a further 12 minutes and 58 seconds further back in third.
"It was a very hot day, I was suffering a lot but in the end I am super happy with the success of first place. Now I start to focus on the UTMB training, and we'll see what happens on Mont Blanc."

Hannes Namberger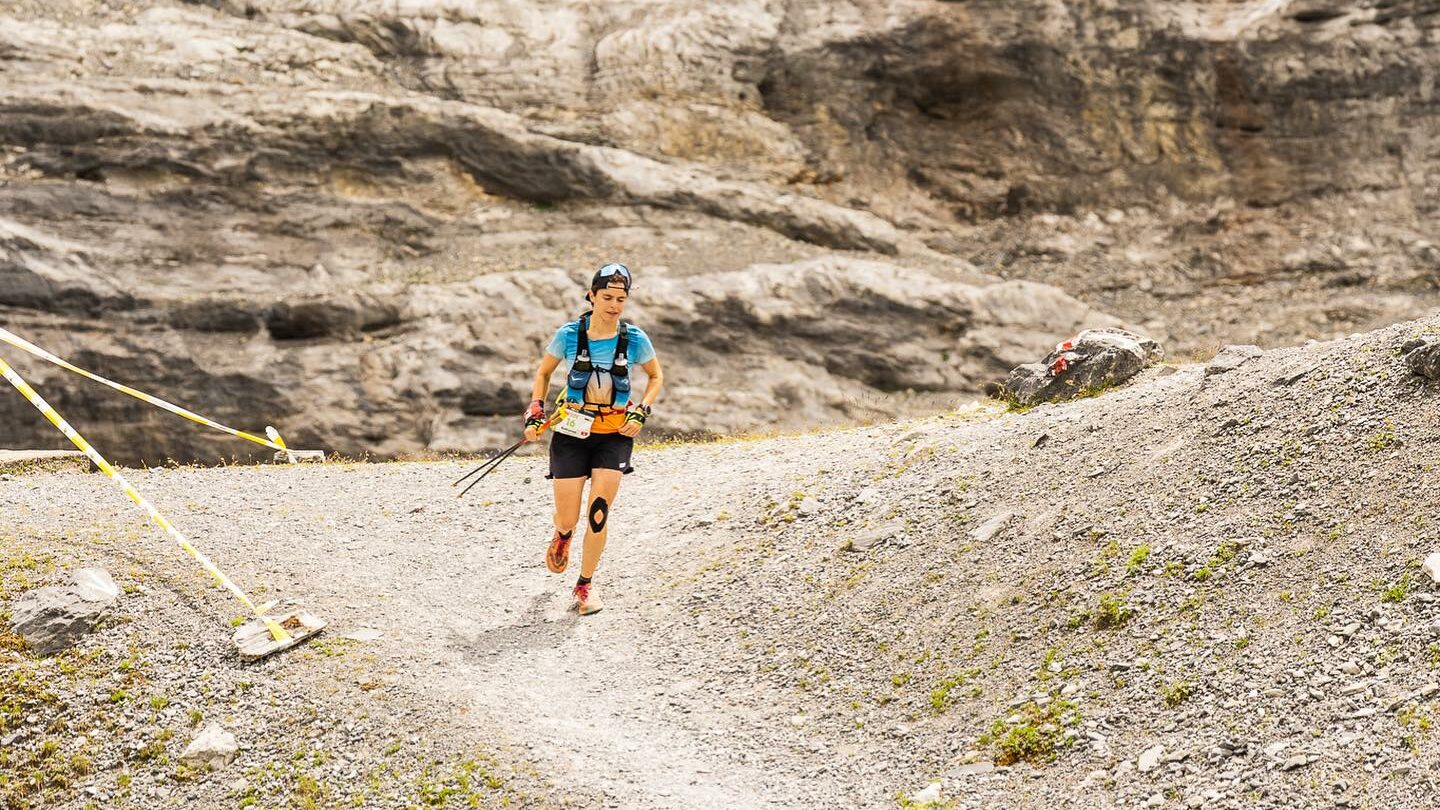 It was an equally spectacular performance from fellow German Hartmuth who tasted success in the women's E101 Ultra Trail. Hartmuth, who finished third at UTMB Mont Blanc TDS in 2022, enjoyed an eighth UTMB Index triumph in a time of 13:17:32
Switzerland's Virginie Quiodoz (13:41:38) was 25 minutes and six seconds back in second place, with France's Jocelyne Pauly (14:41:45) finishing an hour and seven seconds further behind to round off the podium.
Simpson shines
There was success for British athlete Simpson as he took the honours in the E35 North Face Trail. The 31-year-old, currently joint-17th with Tom Evans (GBR) and Sylvain Cachard (FRA) in the UTMB World Rankings, earned a comfortable victory in a time of 3:21:22.
He bested Norway's Stian Dahl Sommerseth (3:26:26) by five minutes and four seconds, with Switzerland's Gian Marchet Schicktanz (3:29:36) completing the podium a further three minutes and 10 seconds back.
"It felt really good because all the way I was struggling a little bit to get into my best running," said Simpson following the race.

"I did Comrades Marathon a few weeks ago, and I've only done a few mountain sessions since then so I wasn't sure how I'd feel. I felt really average, but then I never got worse and I felt stronger and stronger. On the descent I felt good and managed to hang on.

"I always wanted to do [Eiger Ultra Trail], and the 35k looks like one of the most stunning courses out there."

Robbie Simpson
American Dani Moreno (3:47:32) was the queen of the field in the women's E35 North Face Trail as she took the race victory by a considerable distance from South African Bianca Tarboton (4:05:11) – 17 minutes and 39 seconds to be exact. Julia Peter (4:30:34) of Switzerland was third across the line 43 minutes and two seconds off the winner's time.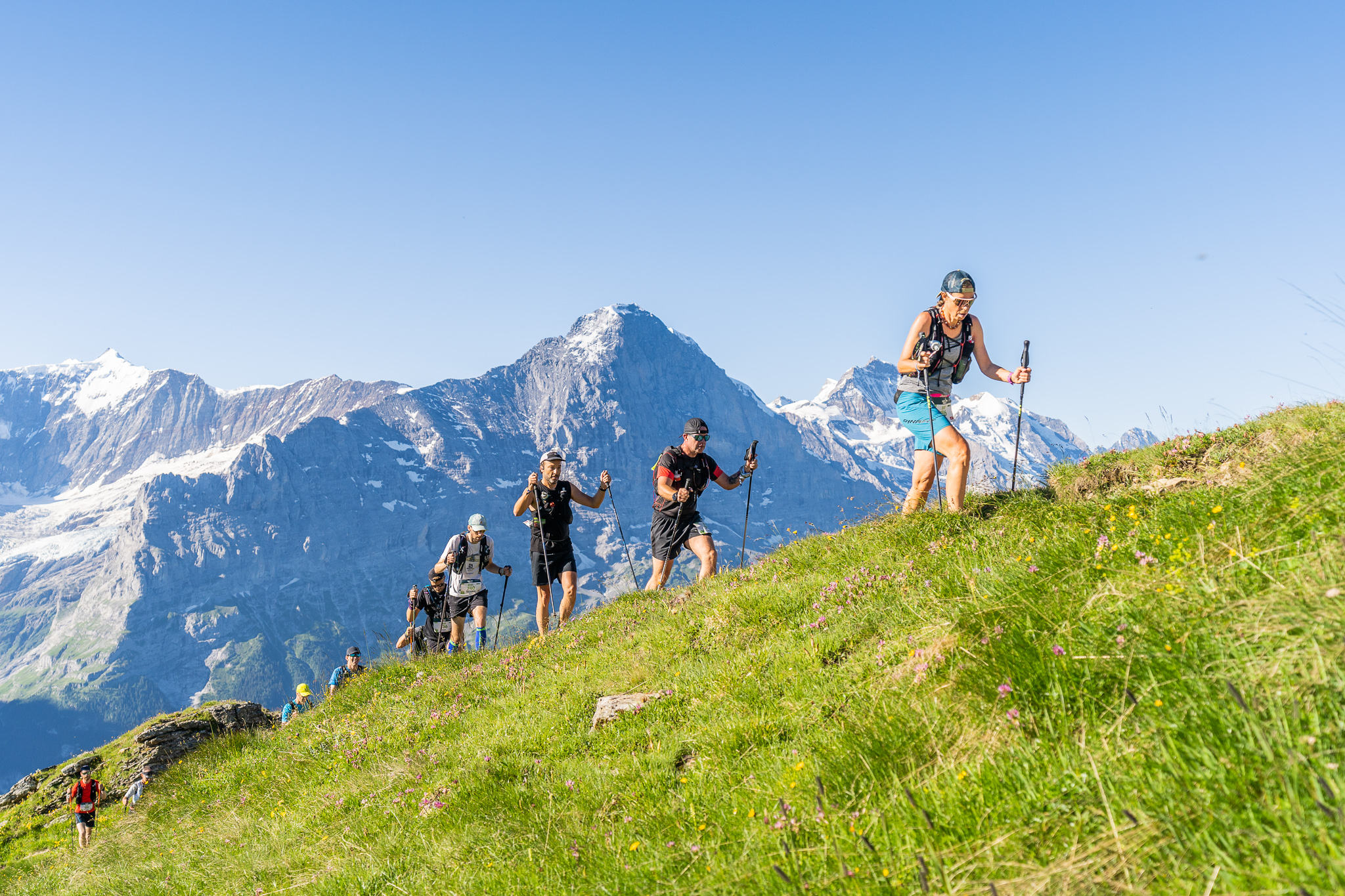 In the E51 Panorama Trail, Engdahl of Sweden, ranked 11 in the world by UTMB, topped the timesheet in 4:48:26. He finished 15 minutes and 56 seconds ahead of Stephan Wenk (5:04:22) and 20 minutes and two seconds ahead of Andreas Reiterer (5:08:28)
"I felt really good today. I made it hard for the others from the beginning, but then the heat started to kick in from halfway and then it was a real fight.It's an amazing course, and an amazing race, I really enjoyed it."

Petter Engdahl
The Swedish double was completed by Forsberg (5:59:10) who beat the six hour mark in the women's Panorama Trail. She beat Britain's Elanor Davis (6:12:27) by 13 minutes and 17 seconds, with France's Anne Cécile Thévenot (6:20:06) 20 minutes and 56 seconds behind Forsberg in third.
Eiger Ultra Trail by UTMB results
Eiger Ultra Trail by UTMB, E101 Ultra Trail, Saturday 15 July 2023, 100K
MEN:
Hannes Hamberger (GER) – 11:38:25
Raphael Sprenger (SUI) – 12:04:17
Josh Wade (GBR) – 12:17:15
WOMEN:
Katharina Hartmuth (GER) – 13:17:32
Virginie Quinodoz (SUI) – 13:41:38
Jocelyne Pauly (FRA) – 14:41:45
Eiger Ultra Trail by UTMB, E51 Panorama Trail, Saturday 15 July 2023, 50K
MEN:
Petter Engdahl (SWE) – :4:48:26
Stephan Wenk (SUI) – 5:04:22
Andreas Reiterer (ITA) – 5:08:28
WOMEN:
Emelie Forsberg (SWE) – 5:59:10
Eleanor Davis (GBR) – 6:12:27
Anne-Cecilé Thévenot (FRA) – 6:20:06
Eiger Ultra Trail by UTMB, E35 North Face Trail, Saturday 15 July 2023, 50K
MEN:
Robbie Simpson (GBR) – 3:21:22
Stian Dahl Sommerseth (NOR) – 3:26:26
Gian Marchet Schicktanz (SUI) – 3:29:36
WOMEN:
Dani Moreno (USA) – 3:47:32
Bianca Tarboton (RSA) – 4:05:11
Julia Peter (SUI) – 4:30:34
Eiger Ultra Trail by UTMB, E16 Pleasure Trail, Saturday 15 July 2023, 20K
MEN:
Lorick Buclin (SUI) – 1:21:26
Raphaël Devantay (SUI) 1:21:45
Armin Reif (GER) – 1:22:43
WOMEN:
Roxana Elisabeta Rotaru (SUI) – 1:31:14
Priska Fuhrer (SUI) – 1:32:56
Emilie Arsenijevic (SUI) – 1:43:12
Full results available here.