Earlier this year, we brought you news of Rhys Jenkins, the first Welshman to complete the infamous Badwater Ultramarathon.  It turns out that the Jenkins family breeds them tough because Rhys's brother, Scott, is currently preparing for his own epic American adventure, which will be another first for Wales.
On the 11th October 2019, Scott Jenkins will be the second ever British person, and first Welshman, to line up (a mere 4000 ft above sea level) on the starting line for the Moab 240 Endurance Race. The Moab 240 is a gruelling 240 mile footrace through the Moab desert in Utah. It has an exceptionally high elevation gain for the course of 29,467 ft. To put that into context, the elevation gain is the equivalent of Everest. He'll be raising money for Operation Smile in the process.
So what is driving Scott to attempt such a long race?
"Ultra running is about living a life of adventure, experiencing the epic scenery the world has to offer and to help people along the way – whether it be helping someone during a race or through raising money and awareness for charities. Ultra running is competitive but competitive with yourself. You endure with other ultra runners during a race, support one another, there's a sense of camaraderie in ultra running with your competitors that I've not experienced in any other sport." Scott explains.
"For me, ultra running is such a unique and special experience, where you see people hit rock bottom and then somehow are able to build themselves back up through the support of others to often complete what many thought was not possible" Scott adds.
Scott is not new to ultra running or raising money for charity, having started ultra running 9 years ago with his brother Rhys, by running from Boston to Austin (2000 miles in 75 days) for Help for Heroes and British Heart Foundation, and since then both have completed many challenges together and individually. This year, Scott recently completed the Canal Slam. A set of 3 UK races of 145 miles, 150 miles and 130 miles along the historic, industrial canals of the UK landscape seeing runners run from Birmingham to London, Bristol to London and Liverpool to Leeds over a 3 month period (a race a month). Scott finished 6th in the canal slam with a total time of 117 hours and he and his brother, Rhys, are the first brothers to complete the Canal Slam.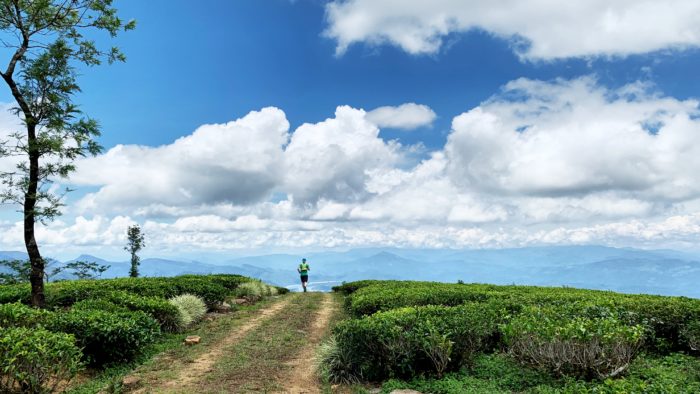 "Running and being able to share such experiences with my brother is very special and I feel lucky we get to do these challenges and events together as well as achieving our own goals. The canal races organised by Keith Godden are beautifully difficult events due to the flat nature of the courses, meaning you are using the same muscle groups continuously. They formed a large part of my training plan for Moab that my coach, Lawrence Cronk (@enduraprep) built as it would test my endurance and provide data in a race setting of improvements or gaps. With every ultra running event, you start off with a plan but it can quickly evaporate as you can imagine. Over the longer distances anything can happen and I am fully aware that unforeseen challenges will present themselves during Moab. I just need to keep my head and remain mentally strong and put one foot in front of the other to get to the end and hopefully will raise enough money for Operation Smile to help repair many children's cleft lips "
The 150 runners taking part in this year's Moab will have desert, slick rock, canyons and mountain trails to contend with and if they want to finish before the 112 hour cut off (5 days), they will need to run, not hike, suffer sleep deprivation and high altitudes as well as having hallucinations to contend with. Many runners quote seeing rocks as people and sticks as snakes on the course as a result of exhaustion and sleep deprivation.
This race is what many would class as the next level of ultra running. The Moab 240 Endurance Run caters to a special group of ultra runners. Only 150 registrants are allowed and only the bravest may enter. The race began in 2017 in memory of a fellow runner and already made headlines in the ultra running community when Courtney Daulwater set the course record in 2017, finishing 10 hours ahead of the competition. Only one British runner has competed and finished it.
Scott says of his fundraising goal, "I'm keen to push myself in the hope of raising lots of money for Operation Smile as it's a charity that touched me personally after I was lucky enough to go on a mission in 2015 to Ethiopia after raising money for them. To see first hand the work the charity do was unbelievable. Being a typical guy, I rarely cry but when recounting the experience to my wife about a little girl called Mezarai, I started to cry as I told her about the 5 day journey her and her mum made to the aid station in the hope, not with a guarantee, that her cleft lip could be repaired. The impact post-op was unbelievable. To see someone see themselves smile for the first time and the sheer joy that accompanied it was amazing. That moment is what I will hold onto in my dark moments during Moab, for which there will be many".
Scott's aim is to complete the race in under 80 hours. If he completes it he will be the first Welshman to do so and second British person.
If you want to follow Scott's journey during Moab, you can find him on Instagram or on Facebook or you can hear him talk at the National Running Show in Birmingham on 25/26th January.
If you wish to donate to Operation Smile, you can do so here: https://uk.virginmoneygiving.com/fundraiser-display/showROFundraiserPage?pageId=1096817