(This is a preview of the race – men's and women's reports and results now available)
The Spine Race, sponsored since 2013 by Montane, is an annual winter unsupported, non-stop, ultramarathon held in the UK and is widely regarded as 'the most brutal race in the world'.
Here is our full guide to learning about the event, following it live in 2022 or even taking part.
Date, start time & live tracking
Spine Race 2022 starts at 0800 UK on Sunday January 9, 2022, and it runs through to 0800 UK on Sunday January 16.
Each competitor carries a GPS tracking device – provided by Open Tracking – which allows race organisers to monitor their progress and to ensure every competitor stays safe. The GPS device also allows fans to follow the race online.
Dot Watchers can follow the progress of the runners pretty much in real time by tracking those GPS signals. A combination of the remoteness of the route, potential severity of the weather and a very light race calendar for most non-competing runners at this time of year makes it one of the most followed races of the year.
Spine Race route
Participants start the 431km (268 miles) course – which has an overall descent of 36,729 ft – in Edale, a village in the Peak District of the UK. They then race along the Pennine Way National Trail before finishing in Kirk Yetholm in Scotland.
The route takes in stunning landscapes in the Peak District, Yorkshire Dales, the North Pennines and the Heritage-listed Hadrian's Wall.
Facts, Tips & FAQ
Wind chills can reach as low as –20C during Spine Race, with winds regularly reaching 45mph on the 268-mile route. Past competitors have spoken about their physical and mental exhaustion as they were broken down by this brutal race.
There is a time limit to the race, with competitors given seven days to complete this demanding course during the freezing temperatures of January. The race is unsupported, meaning competitors cannot run with pacemakers, have planned support or have their own support vehicles following them.
Unlike many other ultramarathon races, The Spine Race is non-stop with the clock starting in Edale and continuing until you reach the finish line.
Artic explorers Philip Hayday-Brown and Scott Gilmour founded Spine race. Hayday-Brown, who is managing director at Ultra Endurance Series, has worked in the outdoor industry for over 20 years and helped organise and participated in the first ever race to the South Pole in nearly 100 years in 2009. Gilmour meanwhile was the race director until 2020 and is now an expedition guide and training provider in Scandinavia.
There are mandatory checkpoints along the Pennine Way, which runners must reach before a specific time. At these checkpoints, Spine Race volunteers provide hot meals, medical support and somewhere to sleep. However, runners are still required to carry their own tent, stove and rations.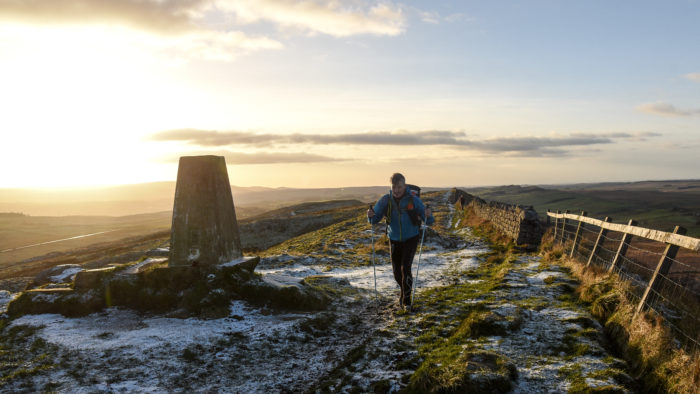 The five main checkpoints are at Hebden Hey, Hawes/Hardraw, Middleton-in-Teasdale, Alston and Bellingham. The distance between some checkpoints vary depending on their locations, with some being 60 miles and 14-20 hours apart.
It is these long distances between checkpoints, as well as being unsupported, which leads to competitors missing out on sleep. Sleep deprivation then plays a key role in Spine Race as it influences decision making and tactics, especially during the latter stages when the navigation becomes harder and the weather usually worsens.
The inaugural Spine Race was held in 2012 with 11 people starting the race, but only three finished. The following year 30 people took part and 11 crossed the finishing line. Hypothermia and frostbite are a constant concern for participants.
How to qualify and enter for Spine Race
The Montane Spine Race is open to anyone with appropriate experience who wants to test their physical resilience and mental strength.
A competitor's application for the Spine Race must provide details of those relevant skills and experience – helping the organisers determine their suitability for the event.
If a candidate has past experience competing in the likes of the Bob Graham Round, Ramsay Round, expeditions or ultramarathons then they can expect their application to be looked on favourably.
However, you will need good navigating and orienteering skills if you plan to take on England's oldest National Trail. Skilled navigators have run into problems on the Spine Race before – especially in bad weather or whilst racing at night, so solid navigation skills will go a long way along the route.
Applications can be found online and are reviewed on a first-come-first-served basis, with applicants finding out on email whether they have been successful or not.
Entries for the 2022 race (and all Spine events in January 2022) are sold out, and we will provide details of the 2023 entry process once available. The cost of entry for the 2022 race was £975.
Fastest times & past winners
In 2019, fell and ultra-runner Jasmin Paris set the Spine Race course record with a time of 83:12:13. – becoming the first woman to win the race and beat the previous course record by an impressive 12 hours. Throughout her four days on the course, Paris only rested for a mere seven hours – where she ate, slept and even expressed breast milk for her baby daughter.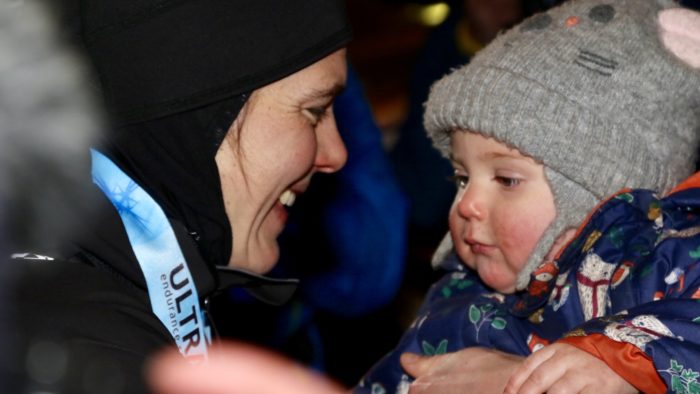 John Kelly set the fastest men's record when he recorded 87:53:57 in 2020. Czech adventurer Pavel Paloncy has the most Spine Race titles – winning in 2014, 2015 and 2018.
Past winners
2012 Gary Morrison and Steve Thompson 151:02:00
2013 Eugeni Roselló Sole 124:52:00
2014 Pavel Paloncy 110:45:00
2015 Pavel Paloncy 81:34:00*
2016 Eoin Keith 95:17:00
2017 Tom Hollins 99:25:36
2018 Pavel Paloncy 109:50:22
2019 Jasmin Paris 83:12:23
2020 John Kelly 87:53:57
*The 2015 result is not considered a record due to significant route changes due to extreme weather
Who is taking part in Spine Race 2022?
The 2022 race features a number of Spine Race legends including previous winners Tom Hollins (2017), Eoin Keith (2016) and defending women's champion Sabrina Verjee.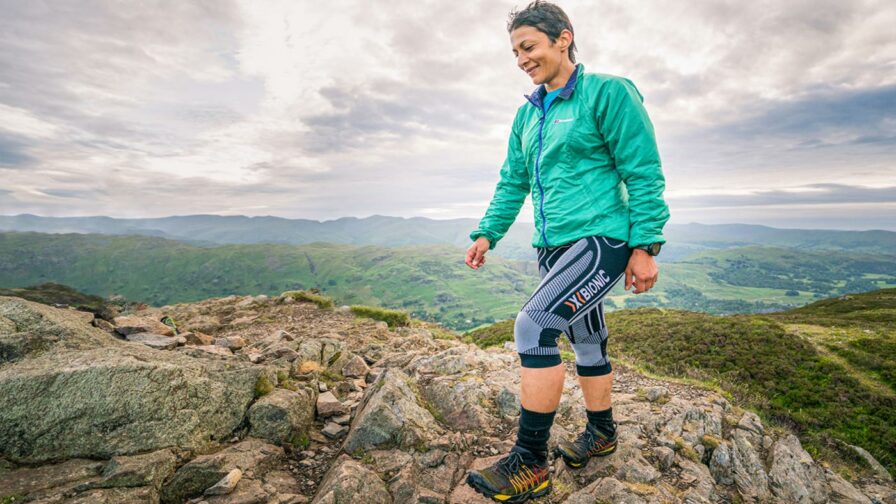 They will be challenged by a high-class field including 2020 Spine Challenger winner Doug Zinis, Paddy Buckley round record holder Kim Collison, Damian Hall, Anna Troup – who set the women's record for the fastest time on the Pennine Way in August – and Debbie Martin-Consani (second behind Vejee at the 2020 Spine Race).
Spine Race kit list
All participants in the Spine Race must carry mandatory kit at all times. A full kit check takes place prior to the start, with additional checks throughout the route. Time penalties are applied if any mandatory kit is found to be missing:
Backpack – has to be capable of carrying all mandatory as well as any personal choice items for the duration of the race.
Compass – needs to be a baseplate magnetic compass – digital compasses on phones, watches or GPS devices are not allowed.
Maps – of readable size with grid squares and covering the entire route, must be waterproof or in waterproof case.
Knife – with 3cm or longer blade for cutting open food packets and helping with repairs.
GPS device – hand-held GPS device displaying route and showing current location as a British National Grid (BNG) Reference. Wrist-mounted devices/watches or mobile phones are not allowed.
Whistle – for signalling for help in emergency
Goggles – Clear glass Ski goggles or safety glasses are allowed, but must have a strap around the head to help keep them secure. Regular prescription glasses or sunglasses are not allowed.
Head torch – this needs to be a minimum of 100 Lumens, and you must carry spare batteries or back-up head torch.
Waterproof jacket – with hood and fully taped seams.
Waterproof trousers – with fully taped seams.
Hat – this needs to be a warm hat that covers the whole of your head and ears – baseball caps are not allowed.
Gloves – at least two pairs must be carried with one pair being waterproof while one pair must have fingers.
Spare socks – one pair of spare socks
Neck gaiter – this can be a gaiter or a tube scarf
Spare base layer top – this must be in addition to the clothing you start the race in. It must be long-sleeved and can be natural or synthetic
Spare base layer trousers – additional to clothing you start the race in, these need to be full length to ankle.
Spare cold weather mid layer – this could be a fleece or synthetic down jacket or a mid-layer long sleeve top.
Appropriate footwear – suitable for winter trail, mountain, running and walking.
Ice spikes – these must be additional to any spikes that are part of a shoe
Medical kit – this is a personal medical kit which must include: Foil/Emergency Blanket (full size); Plasters/Dressings; Loratidine or Cetirizine Hydrochloride tablets x2 (Antihistamine); Loperamide (Imodium) x4; Antiseptic Spray or wipes; Personal blister care kit; Any regular personal medications – in original packaging or labelled clearly.
Sleeping bag – with hood, Comfort or Lower limit
Sleeping mat – this must be a minimum of ¾ of your body length and at least shoulder width.
Shelter – a minimum requirement is a Bivvy Bag which must be waterproof with taped seams and the bag must be suitable for multiple uses. Competitors may carry a tent if they wish, but if they do they must also carry an emergency Bivvy Bag.
Cooking stove and drinking mug – this must be a gas or liquid-fuelled stove and one Pan or Mug capable of boiling a minimum of 400ml of water and a minimum of 100grams/ml of fuel. You must also carry a solid (non-foldable) plastic or metal cup for hot and cold drinks of at least 400ml capacity.
Matches, lighter or firesteel – this should be waterproof matches, windproof lighter or Piezo lighter for lighting your stove
Spork – or a similar kind of eating utensil.
2L water carrying capacity – all participants must have the capacity to carry at least 2L of water at any point on the course.
Food – 3000kcal from the start and from CP3/1 and CP5/3 where you must start with another 3000kcal. This food can be eaten along the route during the race.
Mobile Phone – with charging ability at checkpoints and on the trail. This must be linked to a UK network and capable of making and receiving calls – not just emergency 999 calls
Rear Red Pack Light – each participant must have an LED rear light that is visible during darkness hours
Spine Event Calendar
The Montane Spine Challenger 2022 starts at 0730 UK on Saturday January 8, one day before the Spine Race and it covers the first 108 miles of the Pennine Way, starting in Edale and finishing in Hawes or Hardraw. The time limit for the Spine Challenger is set at 60 hours as competitors test themselves on the shorter but still physically and psychologically draining route.
In 2022, the Montane Spine Challenger North will be holding its inaugural event. The course begins in Hawes at 0800 on Sunday January 9 and finishes at Kirk Yetholm, with participants given 108 hours to complete the 160-mile course.
The Montane Spine Sprint provides participants with a 'taster' before deciding if they wish to take on the Challenger and Spine Race. Set over 46 miles, the course starts at Edale and finishes in Hebden Bridge with a time limit of 18 hours. The 2022 event starts at noon UK on Saturday January 8.
The Montane Summer Spine Race is the summer version of the Spine Race without the bitter, cold weather. This means that athletes have a slightly shorter time limit – at 156 hours (six-and-a-half days) – to trek from Edale to Kirk Yetholm. The 2022 race gets under way on Sunday June 19 at 0800 UK. Eoin Keith holds the fastest Summer Spine Race time with 77:34:52. Anna Troup has the women's record after recording 80:28:35.
The Montane Summer Spine Sprint gives competitors 18 hours to complete the 46-mile course – Edale to Hebden Bridge. There are no checkpoints on the route, but there are roadside welfare checks and support from the Spine team. The 2022 race starts at noon UK on Saturday June 18.
The summer version of the Spine Challenger – the Montane Summer Spine Challenger – is a non-stop 60-hour, 108-mile race from Edale to Kirk Hardraw. In 2022 it will get under way on Saturday June 18 at 0800 UK time. The course record is held by Mark Denby (23:53:36) with Lisa Wallis the women's record holder courtesy of a time of 31:33:56.