The Trail World Championships took place in Spain at the weekend and there were some big stories. Luis Alberto won his third title in a row, Spain won the men's and women's team competitions and Tom Evans won the bronze medal for GB. Team GB took 3rd and 4th in the men's race, winning silver in the team competition, and 9th and 11th in the women's race, finishing 4th out of the women's teams (read about it here). There were some huge headline stories. But there were also many human stories at the championships, which didn't make the headlines.
Team Nepal
For the team from Nepal the big story was them getting there. They had never taken part in the world championships before, and yet, they are a trail running powerhouse, boasting many hugely talented runners. Their proposed team included Samir Tamang, who was 2nd in the TDS in 2014, Tirtha Tamang, winner of the Hong Kong 100, Chhechi Sherpa, who won the 1600km (yes, you read that right) Great Himal Race and Manikala Rai, who has come 6th in the CCC. They deserved to be there, but they had no funding. There was no national athletics federation support to get them there.
So a crowdfunding appeal was launched to get team Nepal to the Trail World Championships. And the trail running world is such a close-knit, supportive community that they responded and donated. But the barriers to them getting there weren't just financial, there were hoops to jump through to get visas and it was all very touch and go to see if they would make it, and if so, how many runners would get there!
In the end 7 Nepali runners got to Spain, 4 men and 3 women. And for one glorious moment, it looked like Nepal could have a runner on the podium. Tirtha Tamang really went for it in the men's race and at 30k he was in 5th position. Unfortunately it was just too big an ask and he faded and finished in 36th place. The men's team ended up 14th and the women's 17th, out of 49 countries. A very good first outing which earned them huge respect from around the world.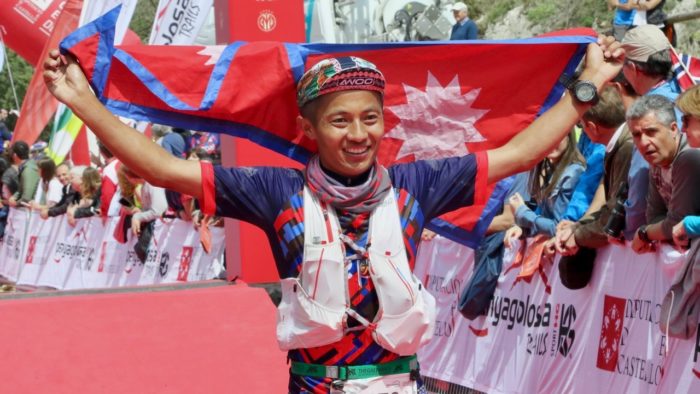 Robert Ressl-Moyer of Austria
Staying with the crowdfunding theme, an Austrian runner who lives in the US managed to fulfill his ambition of getting picked to represent his country. He was selected for the Austrian Trail World Championships team. He had amassed a string of impressive results in the US including a win at the San Francisco 50 in 2017 to earn his call-up. But he needed to raise the funds to get to Spain to compete.
What makes Robert's story even more remarkable is that 10 years ago he was diagnosed with a Menigioma, a form of brain tumour. He had to have brain surgery and learn to walk again.  Robert raised the funds he needed to get to the championships, represent Austria, and he finished 77th.
From 'you'll never run again' to a world championship in 2 not very easy years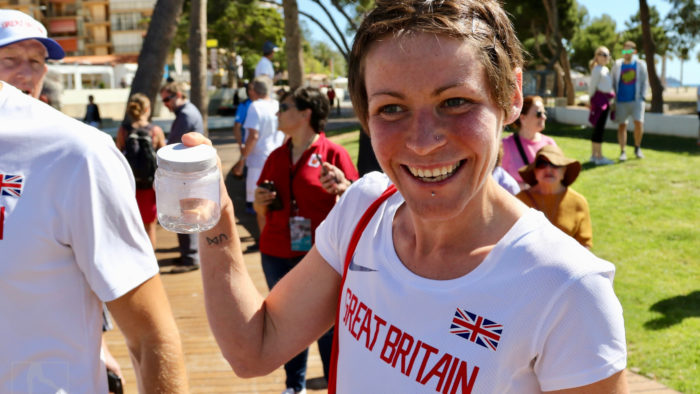 In January 2016 GB runner Sarah Morwood was hit by a car while riding her bike. Sarah, who had represented GB at the 2015 Trail World Championships and finished 11th at the 2014 UTMB among many other impressive results, fractured her patella and was told she would never be able to run again. Tentative rehab steps were begun, with Sarah's kneecap held together with bits of metal. She began running again, but felt that she'd never be able to recapture her previous form. The metal was removed and she then made great strides forward in her form, culminating in selection for the Trail World Championships 2018!
Sarah battled the heat and her knee held up to allow her to finish in 34th place. And as a reminder of how far she has come, her mum presented her with a jar full of the bits of metal from her knee after she finished!
A pretty successful outing in her own backyard
Everybody loves it when a local does well. And they don't come much more local than Laia Canes, who came second in the women's race. Laia lives a few minutes from the start of the race and she trains on these trails day in, day out. It wasn't a surprise to see her do so well, as she's had great results in recent years, but it was certainly a heart-warming sight to see how the local crowd celebrated her success!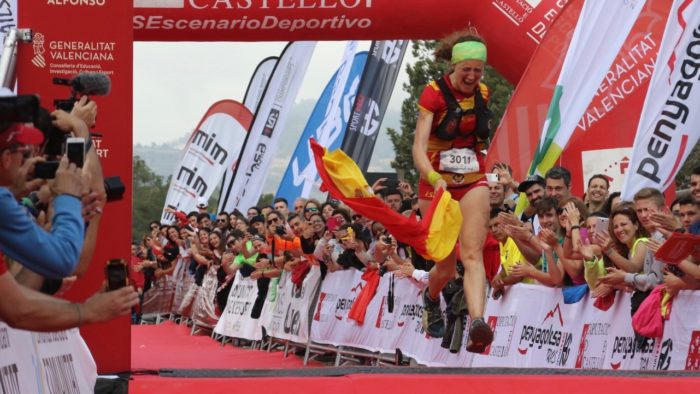 Full results from the Trail World Championships can be found here.