Winning a world title is pretty impressive but how about winning two in the course of just over a week? That's exactly what Joe Gray and Grayson Murphy have done. The US athletes both won gold in the World Mountain Running Championships in Argentina last weekend, then this weekend they won the XTERRA Trail Run World Championship half-marathon titles in Kaaawa, Hawaii.
It was a record-tying fourth win in a row for Gray and his unprecedented fifth elite title in Hawaii, surpassing Max King who won four-straight from 2008-2011. For Murphy, it was her first title in her first-ever XTERRA race, and she finished a remarkable fifth overall.
Sage Canaday (also US) and Mauricio Mendez (Mexico) finished second and third for the men. Polina Carlson from Hawaii and Mel Aitken from New Zealand finished second and third in the women's race.
In the men's elite race Andy Wacker, who also competed in the World Mountain Running Championships, set a blistering pace early on and had a 10-second lead on Gray at the two-mile mark, and only a few other men – Canaday, and Mendez – were even close.
"Andy and I went to the front early," said Gray. "We're used to working together up front, and from there we just kept working together until I put on some moves about halfway into the muddy section in the back of the valley. I love the mud, so it was fun, and I was able to get a good lead from there and run at a more comfortable pace."
Winning in 1.20.59, Gray's pace was 6:05 per mile, an astonishing clip considering the tricky conditions and considerable amount of climbing on the course. Once in front, Gray never looked back.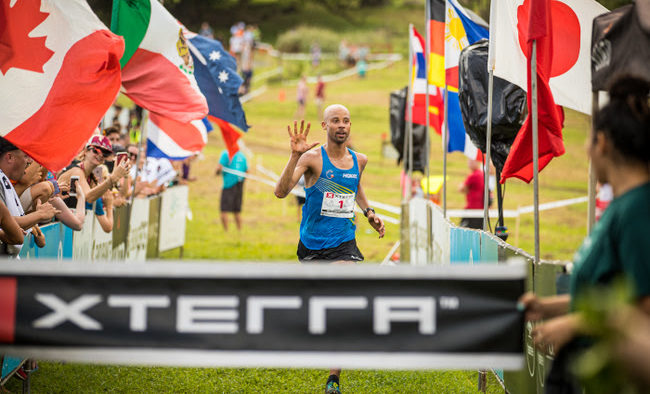 "I'm tired. Worlds was last week, and I'm pretty beat up," said Gray. "The travel and the course last week were tough as well, so I think Andy and I, we're both hurting a little bit."
As for winning his fourth straight and fifth title overall at XTERRA Trail Run Worlds, Gray said, "Anytime you can win consistently it's a huge blessing. It's a testament to the hard work and dedication, and that's what I want to be known for."
In the chase for second place, Canaday passed Wacker at about mile six to move into that position and held it through the finish.
"About the six-mile mark I caught Andy on a downhill road," explained Canaday. "I saw him for a couple miles, so I was slowly gaining on him. I saw his arms come up a little. I'm usually better on the steeper uphills, and I knew that was coming in the second half so I tried to put some time on him so he wouldn't kick me down in the end because he's a really good downhill runner. Andy took it out hard this morning, and he's a 13:40 5K runner, a two-time All-American, he's got a 1:03 half-marathon on the roads, so I knew I had some work to do."
Canaday put in some good work indeed, and his finish time of 1:22:27, was just 1:28 behind Gray.
"I saw Joe a couple times, but he was way ahead, like a minute, two minutes," said Canaday, who finished 2nd to Gray two years ago on this course as well. "I could only see him on the really far straightaways. Still, it was good motivation to have such a world class field pushing you all the way. It was redlining all the way."
As for his favorite part of the day, Canaday said, "it's that downhill in the back of the valley. I knew it was coming. Last year I fell there. This time I got the rope and was able to stay upright. That's one of my favorite sections, real jungle running, and just a beautiful trail all around. This really is a great course, great mix. Breathtaking scenery. Well-marked. Great atmosphere. I couldn't be happier."
Mendez, the 2016 XTERRA Triathlon World Champion, fell short of his bid to become the first elite to win both an XTERRA Tri and Trail Run title, but did get past Wacker at about the seven-mile mark to move into third place for a podium finish.
"That was something else," he said. "This is one of the hardest races I've ever done in my life, including triathlons. Even the very beginning of the race was hard, it was 5K flat out to start. The true race starts right away, and few races have that, so it's a really honest race. And it was hot, and humid, and I fell down like 10 times on the downhill. It was an amazing race. I'm really happy, and I'll be back, stronger, to give this another shot."
Wacker held on for fourth, following a pair of third place finishes the previous two years.
In the women's elite race Grayson Murphy led from start to finish, winning in 1.33.44.
"I never saw her," said two-time XTERRA World Champion Polina Carlson. "I only saw her at the start, and then she was just a speck, running away."
Murphy ran at a 7:02 per/mile pace and finished in fifth place overall, nearly four-minutes behind Wacker and more than five-minutes ahead of the fifth-place man, Nicolas Escobar.
"Yeah, I was running with some of the guys for a while but from about mile five to the end, I was all alone," said Murphy. "It was fun, and kind of a surreal time alone."
Since turning to trail running from road racing Murphy has been nothing but a success, with U.S. and World Mountain Running titles and now an XTERRA crown to boot.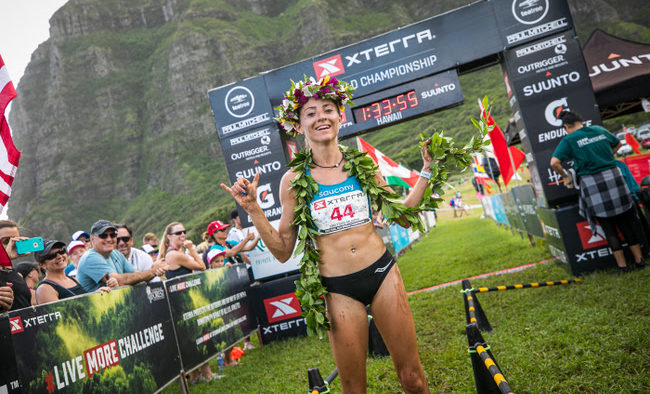 "What's funny is I really didn't know what to expect from my body today, so I tried to be a little conservative from the beginning," said Murphy, who juggled the travel from Patagonia and a busy week of touring Hawaii with her sister like a true pro and said that now she's looking for some downtime. "I'm overdue for a break, so I will be taking a nice long one now."
As for the hardest part of the race today, Grayson said "the hardest part was not to stop and appreciate the beauty. I wanted to stop at the top and just hang out so bad. It's gorgeous here."
In the race for second-place, Carlson held the advantage and then kicked it into another gear when she saw Aitken coming up from behind.
"About mile seven I saw her and that was great motivation for me to pick up the pace," said Carlson. "She was amazing and made me push really hard, so hard I collapsed at the finish. Today I gave everything I had."
Carlson crossed the line in second place with a time of 1:44:41, more than one-minute ahead of Aitken in third.
"I caught up with Polina just before the last big climb, and then she was off on her own and I didn't quite catch her again and the three of us stayed in position," said Aitken, who won four of the five races she entered in the XTERRA Wellington (New Zealand) trail run series this year.
Zoe Sims from Kailua-Kona on the Big Island of Hawaii finished fourth, and Emily Naylor from Kaneohe rounded out the top five.
All images copyright XTERRA