Update 1.30pm Tuesday 21st: sadly, Dan has had to abandon the attempt. Dan, you gave us huge inspiration for 8 days and we could not be more proud of you. It's been an amazing run to follow and it was an epic effort! Recover well. 
Update 7.45am Tuesday 21st: Dan had to stop for a while yesterday so the record is now impossible, but as of this morning he has set off again to complete this thing! So he needs your support more than ever. 
Dan Lawson set off from John o' Groats last Monday (13th August) on his attempt to break the JOGLE record. The current record stands at 9 days, 2 hours and 26 minutes so to break it he needs to get to Land's End by Wednesday morning. So, how is he getting on?
Over the last week Dan has passed through Scotland, the North of England and, sticking to the West of England he's gone through Shropshire and Herefordshire. He's been averaging 90 miles a day for 7 days and he's endured horrendously busy A roads, where he's had nowhere to run but the side of the carriageway, as huge lorries buzzed past constantly only feet away. He's had sleepless nights because his legs were too painful for him to sleep. And yet, he's still going and he remains one of the most cheerful people you will ever meet!
As of this morning he is just approaching Bristol. He is approximately 670 miles into the 870 mile challenge. That essentially gives him 2 days to complete 200 miles. Now, under ordinary circumstances Dan is a man who can run 160 miles in 24 hours, but that's when he starts with fresh legs. Is he going to be able to do this?
I think he can. There are few people in the world who have the experience and are the calibre of endurance athlete of Dan. This is a man who has the world record for distance covered in 7 days on a treadmill (don't get me started on the person who claimed to have beaten this last year – their claim was rightly denied by Guinness). This is a man who has proved time and time again that he is one of the best 24 hours runners in the world. This is a man who has quietly collected podium finishes at some of the toughest races in the world (Badwater, Spartathlon).
But this attempt isn't just about Dan. It's about the team around him. His partner, Charlotte, and Mick are crewing him every few miles and working out all of the considerable logistics, as well as helping to motivate him when it gets tough. It's a massive amount of work and they are amazing. Robbie Britton from Fastrunning is being a one man publicity machine, raising awareness of what Dan's doing, encouraging people to run with Dan and organising physios to help keep Dan's legs together. And the running community has just been incredible.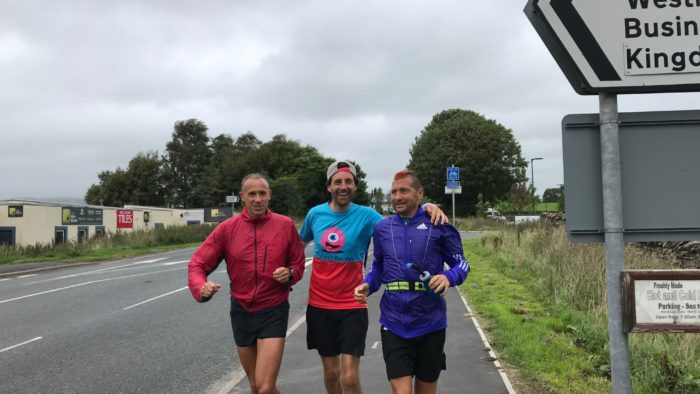 We went out to run a few miles with Dan when he came through Kendal on Friday and he told us about the people who'd been coming out to join him and we witnessed it first hand. From a policeman who'd spotted him running down the A9 and came back later to run with him for a few hours, to David, who ran the whole 90 miles with him on Friday, to just people who turned up in the street to cheer him on. Dan was so grateful to everybody and the community is really helping to keep him going. If you want to see the good in the world in action, I'd say go and run a few miles with Dan and the people running with him. It's a truly uplifting experience.
So please, if you're anywhere near Bristol, Weston-super-Mare, Bridgwater, Taunton or Tiverton today, or Okehampton, Launceston or Bodmin tomorrow please go and support Dan. Run with him, cycle with him, or cheer him on. Dan and the team will be so appreciative and you might just find yourself being a small part in running history. The men's JOGLE record has stood since 2002 and many have tried to break it. It might finally happen on Wednesday morning.
Find out exactly where Dan is at all times on the tracker here: http://live.opentracking.co.uk/fktdanlawson/.
COME ON DAN!