Increasingly runners are looking for ways to minimise their impact on the environment. Race organisers are listening to feedback and acting to reduce single-use plastic and one size race t-shirts that end up at the back of the wardrobe. But one aspect we can still get better at is how to recycle trainers effectively. Runners Need and the Royal Parks Half Marathon are trying to highlight this issue and help.
There are various ways to recycle your shoes. You can take them to a charity shop, donate them to running charities or social enterprises or you can put them into recycling collection bins. But a lot of trainers still don't maximise their recycling potential and can end up being incinerated (or in some cases going into landfill) for a couple of simple reasons: they're not paired or they're dirty. So for starters some very simple changes in our behaviour could have a big effect (for context we throw away 300 million pairs of shoes per year in the UK). Just make sure your shoes are tied together and clean when you recycle them to maximise recycling potential. Odd shoes can't be repurposed and dirty shoes risk contaminating the recycling processes.
The ideal for recycling is for the items to be reused as they are. So if you have shoes with a bit of life in them then effective recycling will involve them being repurposed, either through a charity (such as A Mile in Her Shoes), a community project like Rerun, which aims to extend the life of running clothing and shoes, or through a scheme like the Runners Need Recycle My Run initiative.
Runners Need have partnered with clothing and shoe recyclers SOEX to ensure each pair of used trainers is maximised to its potential. Working in 90 countries across four continents they are one of the largest textile recycling companies in the world. The trainers will be reused and resold where possible across the world and kept as functional shoes for as long they can.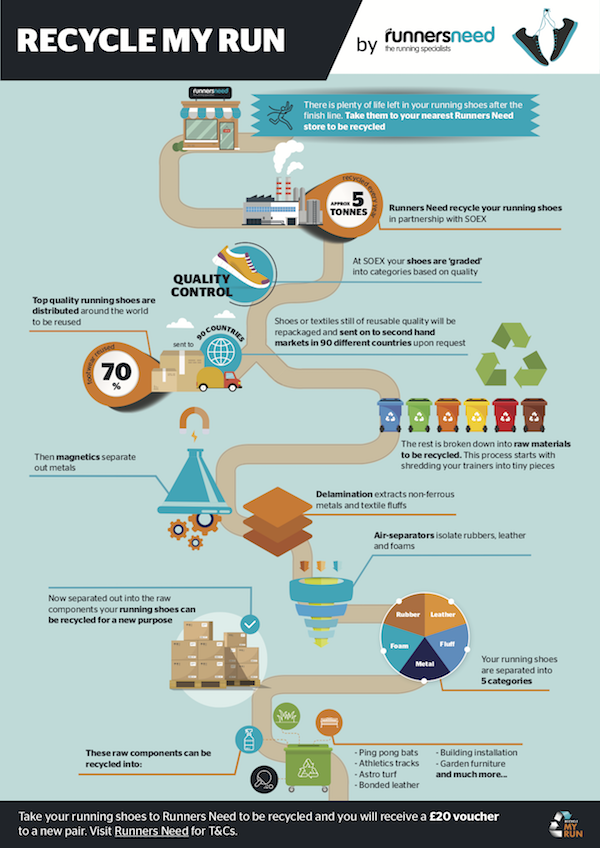 When trainers become unwearable, they will be broken down in to over 80 different components, with every single part being recycled. Each element is milled down to become a whole host of items: including new trainers, athletics tracks, and all-weather sports pitches. No other recycling initiative recycles each component so comprehensively.
You can drop trainers off at any of the 38 Runners Need stores and there will also be bins at the Royal Parks Half Marathon race village where you can recycle your trainers. And if you take your trainers to a Runners Need store between October 13th and November 24th you'll receive a £20 voucher to use against a new pair of trainers in store! See the full information and terms and conditions. So it's a win-win for you and the environment.
It's a great idea and I hope that other race organisers, retailers and brands will get on board with schemes like this. Whatever you decide to do with your trainers when you no longer want them, just don't put them in landfill.